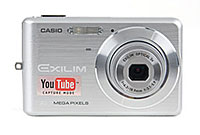 The Casio Exilim EX-Z77 is a pocket-sized, point-and-shoot digital camera offering 7.2 megapixels of resolution, a 2.6-inch LCD and a 3x optical zoom lens. Part of Casio's Exilim series, the EX-Z77 packs a surprising amount of features into a camera the size of a deck of cards. It also features MPEG-4 video recording.
Want to buy a Casio Exilim EX-Z77?
Compare prices and shop for a Casio Exilim EX-Z77 digital camera >>

Pros
Very small and lightweight — perfect for carrying in a pocket or small purse
7.2-megapixel resolution for excellent prints to 8×10
Extensive menu settings and "Best Shot" exposure modes
"Easy Mode" for pure point-and-shoot photography
Built-in flash includes a flattering soft flash setting
Self-timer includes a 3x option
$159 price tag!

Cons
LCD quick-review makes photos you've just taken look blurry
Image quality suffers in poor lighting conditions
Battery charger has a long, awkward cord

Introduction
In the interest of full disclosure, I should mention that I haven't used a camera this small since the Kodak Disc Camera I owned back in the early 1980s. I think the Casio EX-Z77 is actually a bit smaller. However, the comparison ends there. We've come a long way since the fingernail-sized negatives of the disc camera. Where the disc camera barely produced a decent 3 x 5 print, you can get spectacular enlargements from the 7.2-megapixel Casio if you desire.
I used the Casio Exilim EX-Z77 around my home in Montana and during a weekend trip to New York City – where its small size was truly a blessing. I'm accustomed to using medium-sized, higher-end consumer digital point-and-shoots (and before that, film SLRs). But I wanted to try a small point-and-shoot to see if the quality met my standards while taking up less space in my purse. The Casio EX-Z77 fit the bill perfectly as one of the best pocket-sized, lightweight cameras available in its price range.
Features
The 7.2-megapixel Casio Exilim EX-Z77 combines a petite profile – and a relatively petite list price of $159 — with impressive features for its size and class. Those features include a 2.6-inch LCD, a 3x optical zoom lens and MPEG-4 video recording — perfect for short family videos and YouTube uploads.
There is no optical viewfinder on the EX-Z77, which I missed a little at first. But really, it's not that necessary for the average user. (If you're shooting action, however, you should probably look for a camera with an optical viewfinder.) The EX-Z77′s spacious 2.6-inch LCD screen is excellent for composing and displaying pictures in all but the most glaring sunlight. The settings menu gives two nice LCD display options: Panel On (places display information in a sidebar on the right) and Panel Off (spreads display information around edges of LCD). Within these modes, additional choices — such as flash settings, histogram and all information off – are available by pushing the display button up or down. Serious users will probably prefer Panel On, which provides quick access to numerous settings including ISO and Auto White Balance, but I enjoyed the clean simplicity of Panel Off and display information off.
Children Best Shot mode with description.

When the camera is turned on, it defaults to Snapshot Mode, which automatically sets exposure and flash. The amusingly labeled "BS" button – which I eventually figured out stands for "Best Shot" – reveals 40 scene modes optimized for particular types of images, along with descriptive explanations. For example, Portrait mode says "Enhanced flesh tones. Setting zoom to telephoto blurs the background."
Most of the expected scene modes are here – including Scenery, Sports, Flower, Night Scene, Fireworks – and some I found rather interesting, such as Autumn Leaves, Soft Flowing Water, Splashing Water, Retro ("Uses low contrast and the sepia color filter") and Twilight ("Uses high color saturation and the magenta color filter"). With all these, I was surprised to find there were no Snow, Beach or Self-Portrait modes. Minor criticism, though.
A nice option for those who prefer "idiot-proof" cameras is Easy Mode, a menu setting that turns off all but the most basic of options – flash, self-timer and image size – and makes the menu buttons large and easy to read. Perfect for kids, grandmas and technophobes in general – as long as they can figure out how to turn Easy Mode on in the first place. Hint: If you buy this as a gift, set it for them!
The telescoping 3x optical zoom lens has a range of 38mm to 114mm (35mm equivalent). The telephoto end of the zoom isn't much use for things off in the distance, but it will help you get closer to playing children, pets and the like. It's a nice portrait length, too. The camera also has a 4x digital zoom for a total of 12x – but quality will suffer when you use the digital zoom.
Camera Menus
| | | |
| --- | --- | --- |
| Casio Exilim EX-Z77 during capture w. histogram and "Panel On" | | Casio Exilim EX-Z77 Playback w. histogram and info on |
| Casio Exilim EX-Z77 xxposure compensation | | Casio Exilim EX-Z77 main menu |

Design
The Casio Exilim EX-Z77 is 3.74-inches wide by 2.32-inches tall and .78-inches deep; without its battery and memory card, it weighs 4.16 ounces. For perspective, I went and dug out a deck of standard playing cards. The camera is virtually identical in width and depth and about a quarter of an inch less in height. And it is almost imperceptibly heavier than the deck of cards.
To me, the camera's featherweight size is both a plus and a minus. A plus, of course, because it can fit just about anywhere. But I found myself constantly worried that the thing would fly out of my hands – it simply doesn't have any reassuring heft or grip to hang onto. Also, less weight means the camera is more prone to blur from camera shake.
Except for the clear plastic LCD cover, most of the camera is metal. I had a snazzy brushed silver model, but it also comes in black, blue, red, pink and white. This is one stylish snapshooter. In fact, when I whipped the EX-Z77 out of my purse while having lunch with a friend, she commented, "That's a sexy little camera."
The various display and menu buttons are tiny and I often found myself hunting and pecking with a fingernail. But if you can manage a Blackberry or a cell phone, you can handle this.
The EX-Z77 appears well-made; after about a month of regular use and bouncing around in my purse, it remains unblemished. The one element that seems flimsy is the soft plastic cover for the cable port on the bottom of the camera. I'm pretty sure I could tear it off if I tried, but it probably wouldn't be a big deal if it did snap off.
The rechargeable lithium ion battery and an SD memory card (not included) fit securely in the bottom of the camera. I took a chance and didn't bring the battery charger along on my 4-day visit to New York. I almost regretted that decision; by the middle of my third day in the city, after only moderate use, the battery display indicator was alarmingly red and empty. I had to ration its use for the rest of the trip. However, I'm not wild about the battery charger – more specifically, the fact that it comes with a 6-foot-long cord. Why, I wondered, can't the charger just have a built-in electrical plug like my others?
Reading the included manual, I think I figured out why. It contains basic instructions in 19, count 'em, 19 languages. Some of them I don't even recognize. Suomi? Magyar? This little camera has expanded my world horizons. It's probably easier for Casio to provide cords for different international electrical outlets than to build chargers for them all.
As an English-speaker, I found the 21 pages of the manual that I shared with Spanish- and French-speakers a bit busy. I don't mean to imply any separationism here, only that it's challenging to wade through instructions like "Turn on the camera. Encienda la camara. Mettez l'appareil photo en service."
It should also be noted that the included basic reference manual is very rudimentary. However, a detailed, 265-page PDF manual is available for download from the Casio website (http://exilim.casio.com/current_owners/manuals).
Camera Experience
At first I wasn't that impressed with the EX-Z77 – it was so small, how could it possibly take good pictures? – but it has grown on me.
One of my biggest initial turn-offs was later revealed to be not as bad as I thought: When I pressed the shutter button halfway to focus and meter, the image on the LCD looked good. But after I took the picture, the quick review shown on the LCD appeared blurry and washed out. I kept taking more and more shots of the same scenes, thinking perhaps camera shake was making the pictures soft. But later, after viewing the photos in display mode and on my computer, I realized the images themselves were acceptable – it was just the quick review that didn't look right. I've learned to ignore it – generally a good idea with digital camera LCDs. It's only a preview – not a tool for serious image evaluation.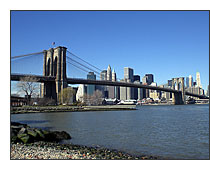 I hit the ground running with the Exilim EX-Z77 when I traveled to New York City. I didn't have time to read the manual or give the camera more than a cursory glance before I was using it to shoot the sights of the Big Apple – the Manhattan Bridge, the artists' loft where I stayed, Times Square, and the Museum of Modern Art. Most of the camera's basic functions – like zoom, flash, and picture and display modes — were self-explanatory and intuitive. However, it wasn't until I returned home and had time to explore the camera that I discovered the depth of features and settings. There are a lot of useful options hiding under that Menu button.
I really like the soft flash setting, self-portrait performance and timer capabilities. The soft flash is so nice for taking close pictures of people, pets and other subjects that are easily blown out. With the soft-flash setting and auto-exposure, I found the EX-Z77 took surprisingly flattering self-portraits at arm's length. And the self-timer options offer a two-second delay, a 10-second delay and 3x (10-second delay, followed by two one-second shots). This is great not only for self- and group portraits, but for taking long exposures without a tripod. (Just find a flat surface and set the camera to Night Scene or Fireworks.)
Another great option is Continuous mode, which lets you take three flash photographs in quick succession or unlimited photos without flash. The resulting images are surprisingly consistent.
I shot a few minutes of video with the EX-Z77 and it seemed to do just fine, although the battery started tanking before my eyes. YouTube aficionados will appreciate the special video mode optimized for them. The camera can also be used as an audio recorder.
Image Quality
I admit, I was skeptical about the Casio Exilim EX-Z77′s image quality. Could a camera this small really take high-quality photographs?
My answer is a qualified yes.
Frankly, it doesn't take the greatest pictures in difficult lighting situations. For example, I was unimpressed with the EX-Z77′s auto white balance under artificial lighting without flash. Pictures I took in a chocolate shop and of lambs under a red heat lamp came out with extreme color shifts, and when I tried to adjust them in Photoshop, the highlights just blew out. These white-balance problems are also noticeable in studio sample photos, which have a warm cast even though they were shot using the camera's tungsten white balance preset.
The EX-Z77′s ISO performance is reasonably good. I set the camera to ISO 400 to take pictures at a political rally held in an airport hangar, and the resulting photos were softly grainy, but more than acceptable. Grain does become significantly visible at ISO 800, the EX-Z77′s highest available ISO setting.
Lens quality is pretty good. There is some distortion, but it's not too bad. There is also some softness on the edges of images shot at large apertures. But thankfully, there is no noticeable purple fringing. Keeping in mind that this is $150 digital camera, the EX-Z77 really has a pretty good lens.
Under normal lighting conditions, the EX-Z77 performs quite well – photos are sharp and well-exposed. The numerous Best Shot modes help with more challenging situations, assuming you take the time to find the correct mode. I did find that I needed to bump up the contrast and saturation on many of my images, even those optimally lit and exposed, since they were a bit flat for my liking.
The Casio EX-Z77′s image quality is great for capturing attractive snapshots of vacations, family gatherings and pretty flowers. However, if you are hoping to shoot fine-art-quality prints that can be framed and hung on a wall or sold for publication, this camera probably isn't what you're looking for.
Click on thumbnails to view sample photos.
Conclusion
The Casio Exilim EX-Z77 has some of the best features and performance available for a digital camera its size and price. It is so small you can easily take it anywhere. Its 7.2 megapixels of resolution will make excellent prints up to at least 8×10 and acceptably good prints up to 16×20 – providing your image was properly exposed. Easy Mode will allow even the least sophisticated photographer to enjoy taking quality pictures. The LCD and lens are great.
I was resistant at first, but now I'm actually considering buying this camera for myself. It would never replace my bigger, higher-end superzoom compact digital camera – or the compact DSLR that I am coveting – but it would be great to pop it into my purse for Girls' Night Out or into the optional $99 waterproof housing for summer float trips. It will capture the memories well enough, and it's not going to break the bank if it gets stolen, soaked or dropped.
But is this the camera I want to carry with me 24/7 in case I spot an incredible moonrise or an elk along the trail? Is this the camera whose photographs will elicit oohs and ahhs from my friends and colleagues? No, it's not.
Who Should Buy It
Don't buy this camera if:
You're a professional whose reputation depends on always getting the best possible shot.
You're an intermediate photographer whose pride depends on always getting the best possible shot.
Buy this camera if:
You're an intermediate to advanced photographer looking for a good, inexpensive camera to carry when you want to pack light or don't want to take chances with your regular camera.
You're an amateur, but aspiring photographer who wants to take good pictures and learn some things along the way.
You're an amateur who just wants to get great snapshots of your vacations and your family and friends.
Or, of course, if you're buying this as a gift for one of the above. The Casio EX-Z77 would make a great graduation present or stocking stuffer.
- end -
Contents of the Casio Exilim EX-Z77 Box

Casio Exilim EX-Z77 Digital Camera
Lithium-Ion Rechargeable Battery (NP-20)
Battery Charger with AC Power Cord
AV Cable
USB Cable
Strap
CD-ROM
Basic Reference
Other Resources:
Shop For Casio Exilim EX-Z77 >>
Casio Exilim EX-Z77 User Reviews >>
Write a Casio Exilim EX-Z77 Review >>
Casio Exilim EX-Z77 Camera Specs >>
Casio Exilim EX-Z77 Sample Gallery >>
Casio Web site >>
Casio Exilim EX-Z77 Camera Manual >>
All Digital Camera Pro Reviews >>
Digital Camera Buyer's Guide >>
All Digital Camera Sample Images >>
patia Profile >>
Read Patia's blog and see more of her photos at www.PatiaStephens.com