I've been trying to get together with David Terry to do a "What's In Your Camera Bag" video for a couple of months now. David is a busy Salt Lake City, Utah wedding and portrait photographer and I thought of him immediately when I started to look for pro photographers to feature in my camera bag video series. I've known David a few years now and I really like his work ethic, the way he deals with people, and of course, I also like his photography. In fact, I like it enough that I hired him as my own wedding photographer, last year. In case you haven't seen one of these videos yet, the idea is to take a look inside a professional photographer's camera bag to get some insight into how they work. David has a lot of tricks up his sleeve and gives us plenty to think about. In fact, I had a very hard time editing this video because he was giving up so much good information.

Here's a list of the cameras and other photo equipment David showed us in the video. Click on the links for more information and to read or write reviews for these products:
Lowepro Stealth Reporter D650 AW
Canon EOS 5D Mark III
Canon EOS 5D Mark II
Canon EF 24-70mm f/2.8L Zoom Lens
Canon EF 70-200mm f/2.8L IS II Zoom Lens
Tamron AF17-35mm f/2.8-4 Aspherical IF Zoom Lens
Canon EF 85mm f/1.2L Lens
Canon EF 8-15mm f/4L Fisheye Zoom Lens
Canon Speedlite 580EX II Flash
PocketWizard FlexTT5 Radio Transceivers
PocketWizard AC3 Zone Controller
Manfrotto Neotec 458B Tripod
Manfrotto 486 Compact Ballhead
Thanks a lot David, for taking the time to do this video and for sharing so much detailed information on your camera gear and portrait photography strategy. Reader – if you have questions for David, please post them in the comments section, below.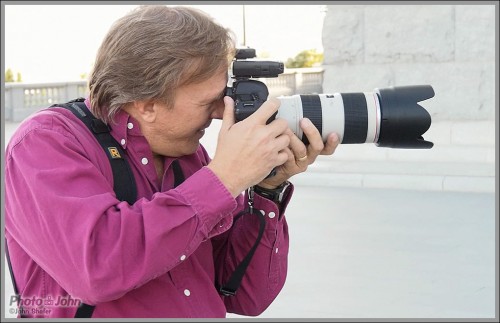 To see more of David Terry's wedding and portrait photography or to hire him to shoot your wedding, please visit his Web site: www.dterryphotography.com