Digital Foci announced a new Pearl White version of its popular Photo Book portable digital photo album. The Pearl White Photo Book was announced at the Wedding & Portrait Photographers International (WPPI) Convention and Trade Show and is a perfect way for people to enjoy and share their wedding photos. It is also a great way for photographers to present their portfolios.
The Photo Book features 4GB of internal memory, an 8-inch 800×600 digital LCD color screen,  over 2.5 hours of battery life, a soft leather-like case, easy album viewing with Photo Album View that organizes photos into different albums such as "Engagement," "Ceremony," and "Reception", Photo Thumbnail View, full screen photo slideshow with effects, the option to add music to play in the background, RAW image support and is compatible with CF, SD, SDHC, MMC, xD-Picture Card, Memory Stick, and MSPRO memory cards. It has been consistently awarded as a Retailer's "Hot Pick".
The Digital Foci Pearl White version of the Photo Book will be available June 2010 for $189.
Digital Foci Pearl White Photo Book Press Release
Related Content:
All Digital Foci User Reviews
All Portable Digital Storage User Reviews
Digital Photo Storage News & Articles
Digital Picture Frames News & Articles
Digital Foci Web Site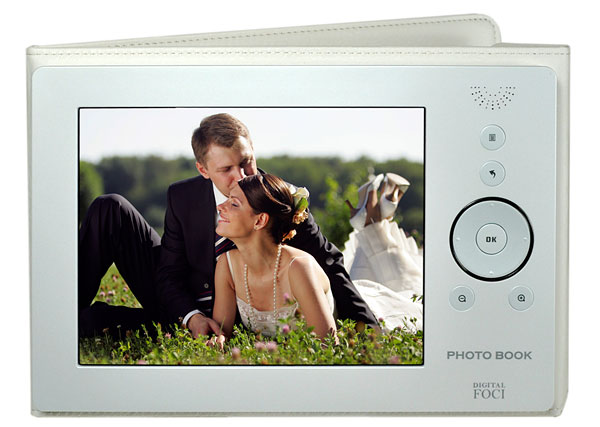 next page – Digital Foci Pearl White Photo Book Press Release >>