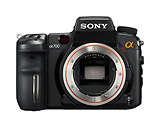 Your opinions and experience matter. Reviews by community members are the foundation of PhotographyREVIEW.com. Share your experience with other photographers by writing reviews for your cameras and other photo gear. You don't have to be an expert – everyone's opinion counts.
---
Featured Review:
Sony Alpha DSLR-A700
by ehealy (Expert)
Price Paid: $1100.00 from Camera Store in Cana
Review Date: December 16, 2008
Used product for: 1 to 3 months

Overall Rating: 4 of 5
Value Rating: 5 of 5

Summary:
What a surprise. Purchased with a wonderful 16-105 lens the combination was an excellent value. That is the only response that is applicable in this instance. A 20+ years of Minolta experience and reluctantly force to give up my 9 and move to digital. It was painful due to the lack of a quality pro-consumer camera. When Sony purchased Minulta I reversed my decision to switch to Canon. I hated to give up the Minolta lens' and Sony said they would be compatible in all future cameras. So I waited. The Sony A700 was well worth the wait. This camera has the ergonomics, ease of use, and overall quality I have always had with Minolta's high end film cameras. With its 12 mpixel capture (that is the equivalent of the maximum 35mm slide resolution. 12 per channel = 36 mb). As for shotting, the 2 position trigger is quiet and smooth. The second position is so smooth it gives you the same feel as a finely crafted rifle trigger.
As for programming flexibility it is feature rich beyond my expectatios: shutter lock; RF remote firing; numerous new style and color enhancing processing for corrections per shot before loading to media; RAW and cRaw (similar to RAW but quicker); anti-shacking in the body; 12 different automatic settings, and obviously the list goes on.
Strengths:
Overall design
Ergonomics
Large, high resolution review screen
Up to 5 frames per second; no limit to the number of frames
Built in flash
Easy, intuitive programming (see weaknesses)
Well over 400 shots per battery charge (flash usage included) and % left data
Easy to adjust primary functions: ISO, WB; M/AF, Drive, AEL while holding camera, all with your right hand
Titanium body and patterned plastic outter parts for holding which give it a tight, well built feel. It is water and sand resistant
Cleaning funcion for photo capture transistor bank, and it tells you when as well
Weaknesses:
Weaknesses
Rear body screen is not used to preview the shot
Although easy to program some of the newer styling functions are difficult to comprehend in espeically in terms of usefulness
Heavy
Similar Products Used:
Minolta 9; 9XI
Minolta 7D
Customer Service:
Previous experience has been great. Out of warrenty was a reasonable flat fee.