Sigma announced five new lenses and new FLD lens optics at PMA this year. They have new OS (Optical Stabilizer) versions of the 50-500mm "Bigma" zoom lens and the venerable 70-200 f/2.8 EX DG HSM professional zoom lens. There's also a rectilinear 8-16mm super-wide zoom and a 17-50mm f/2.8 zoom with OS image stabilization for APS-C sensor DSLRs. And for the photojournalists and portrait photographers, there's an 85mm f/1.4 prime lens. For an expert introduction and overview of the new lenses, watch the video we made at Sigma's PMA booth, below.

The FLD designation stands for '"F" Low Dispersion' glass. FLD glass is supposed to have the same characteristics as the ultra-expensive fluorite glass Canon uses in select "L" lenses – but without the high price tag. It's also lighter than standard glass elements making it possible to keep lens weight down. Anyone who uses a 70-200mm f/2.8 pro zoom lens knows that lens weight is a big deal.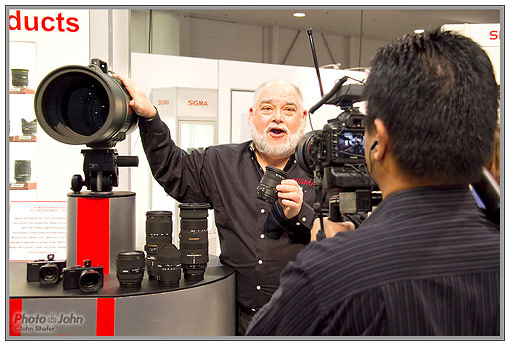 All five of the new Sigma lenses look excellent. They're all serious glass and it's hard to pick out which lens is most important. Most interesting to me is the crazy-wide 8-16mm f/4.5-5.6 DC HSM zoom. It's equivalent to a 12-24mm lens on a 35mm camera and being a "rectilinear" lens, it's totally corrected, with straight lines instead of the bulbous curves you get with a fisheye lens. The 8-16mm lens will be excellent for architectural photographers and sports photographers who like to get really, really close to the action. I also think the image-stabilized 50-500mm lens is a big deal. The Sigma "Bigma" 50-500mm zoom has long been one of the best deals for outdoor and wildlife photographers who want a lot of reach in a small, affordable package. Adding OS image stabilization really sets it apart and makes it an even better buy.
Sigma hasn't announced availability or prices for the new lenses yet. They are supposed to be available in 2010 and we'll let you know when we learn more.

Related Content:
All Sigma Lens User Reviews
Discuss Sigma Lenses (DSLR forum)
All Sigma News And Articles
Sigma Web Site