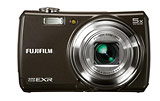 It seems that digital camera manufacturers are finally starting to let go of megapixel marketing. How many of us really need a 15-megapixel point-and-shoot camera, anyway? Isn't everyone starting to figure out that we're sacrificing image quality for more resolution? A few enlightened camera makers are starting to offer cameras that choose overall image quality over increased resolution. A good example is the new Fujifilm F200EXR digital camera. It's built around a new 12-megapixel Super CCD EXR sensor and offers three capture modes so you can choose between maximum resolution, low noise, or increased dynamic range. The Super CCD EXR sensor is housed in a pocket-sized body, with a 5x 28-140mm (equivalent) zoom lens, 3-inch LCD, and sensor shift image stabilization. Based on the specs and sensor concept, this could be my next pocket point-and-shoot camera.

"There is strong demand in the digital camera market to increase the number of pixels on a sensor, which, all too often, is used as a convenient yardstick for image quality," said David Troy, marketing manager, Consumer Digital Cameras, Electronic Imaging Division, FUJIFILM U.S.A., Inc. "Consumers have realized there's more to a good picture than just the number of MegaPixels, and with our Super CCD EXR sensor we prove that true image quality is about a combination of many factors like tone, hue, color fidelity, dynamic range, sharpness, and resolution – all brought to life vividly in the FinePix F200EXR."
The Super CCD EXR sensor's three capture modes are "Fine Capture Mode" which uses all 12 million pixels to capture the most detail; "Pixel Fusion Mode", which combines two pixels for low-noise, 6-megapixel images in low light; and "Dual Capture", which essentially brackets two 6-megapixel images and merges them into one image with increased dynamic range.
Fujifilm claims the F200EXR has "the lowest noise signature to date." That's a pretty big deal, although it's not clear whether they're comparing it to previous Fujifilm cameras or the compact digital camera world at large. They also claim the new Super CCD EXR in combination with the Real Photo Processor allow the F200EXR to capture "up to 800%" wider dynamic range. Translation: more shadow detail and less blow highlights – always a problem a point-and-shoot digital cameras. Image quality isn't everything, though. Speed is important, too. If it's molasses-slow, very few people will care how good the image quality is. No matter what, I'm excited to see the image quality from this camera – maybe a little too excited. It's still a tiny point-and-shoot sensor.
Some excellent high-end compact digital cameras were introduced last year, most notably the Canon PowerShot G10, the Panasonic Lumix LX3, the Nikon Coolpix P6000, and the Sigma DP1. But none of those is a true pocket camera. And for me, if it's not pocket-sized, I'd rather just pack a small DSLR kit. So, with an image quality-over-resolution strategy, nice zoom range, and mechanical image stabilization in a truly pocket-sized package, the Fujifilm F200EXR is looking really good to me. So far it's the camera I most looking forward to seeing at the PMA tradeshow in March.
Official FinePix F200EXR Digital Camera Press Release & Specs >>
Related Content:
Fujifilm Camera Reviews
All Digital Camera User Reviews
Digital Camera Forum
Fujifilm Web Site