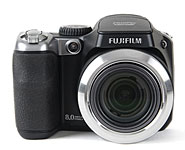 Much more than just a point-and-shoot digital camera, the 8-megapixel Fujifilm FinePix S8000fd has features similar to an entry-level DSLR: image stabilization, a powerful 18x wide-angle zoom (27mm-486mm equivalent), Face Detection and auto red-eye removal. All these features are packed into a compact SLR-style superzoom digital camera body.
Want to buy a Fujifilm FinePix S8000fd?
Compare prices and shop for a Fujifilm FinePix S8000fd digital camera >>
Pros
Compact size
Large LCD
Comfortable, intuitive control layout
Multiple shooting modes
Dual IS image stabilization
High-speed shooting
Uses easy to find AA batteries

Cons
Cumbersome shutter and aperture controls
Small memory card door
Noticeable shutter-lag
Small viewfinder
Lens cap falls off easily
Battery life is on the short side

Introduction
I took the Fujifilm FinePix S8000fd on a few different outings where I would normally take my full size digital SLR. The compact size of the FinePix S8000fd immediately appealed to me. It easily fit into my golf bag, the side leg pocket of my cargo pants, and my CamelBak hydration pack. I found the S8000fd to be an extremely versatile camera, working well in a number of situations, but not particularly well suited for any one type of shooting.
Features
The Fujifilm FinePix S8000fd features include:
an 8-megapixel CCD sensor
an exceptionally long 18x wide-angle zoom (35mm-equivalent 27-486mm)
Fujifilm's Dual IS image stabilization
Face Detection
automatic red-eye removal
a 2.5-inch, 230,000-pixel LCD
an electronic viewfinder (EVF)
a mode dial for easy access to exposure modes
ISO settings up to 1600 at full resolution and 6400 at 50 percent resolution
compatibility with xD, SD or SDHC media cards
easy to find AA battery compatibility
As is apparent from the S800fd's long list of standout user-friendly features, Fuji worked hard to satisfy the desires of most photographers. The large LCD displays a wealth of information in Aperture Priority (A), Shutter Priority (P) and full manual (M) modes: shutter speed, aperture, light meter, histogram, focusing crosshair, date and time, flash, ISO, image size, as well as options like dual IS, high-speed shooting or continuous shooting. Scene shooting modes include Portrait, Landscape, Sport, Night, Fireworks, Sunset, Snow, Beach, Museum, Party, Flower, Text and Auction. And for people who prefer shooting with a traditional viewfinder instead of the LCD display, the electronic viewfinder has full zoom coverage as well as all LCD information in an optical-style viewfinder.
The 18x optical zoom lens offers a huge amount of reach along with a solid wide-angle of 27mm. The S8000fd's Dual IS image stabilization offers two modes. The Dual IS mode combines CCD-shift with high-sensitivity to both freeze action and compensate for camera shake. The PS (Picture Stabilization) Mode automatically adjusts the ISO setting to ensure sharp photos regardless of lighting conditions. Face Detection identifies faces and balances auto focus and exposure to optimize people photos.
The FinePix S8000fd is essentially a do-it-all, compact, jack-of-all-trades. The included features offer much of the power and functionality of a digital SLR in a smaller, lighter, more convenient package.
Camera Menus
| | | |
| --- | --- | --- |
| Fujifilm FinePix S8000fd shooting mode w. live histogram & info | | Fujifilm FinePix S8000fd F-mode menu |
| Fujifilm FinePix S8000fd main menu | | Fujifilm FinePix S8000fd playback mode |
| Fujifilm FinePix S8000fd playback mode with info and histogram | | Fujifilm FinePix S8000fd scene mode menu w. Sports mode |


Design
I found the FinePix S8000fd's layout exceptional. The camera's ergonomic design feels natural in the hand and fits the hands of a wide variety of people. My hands are large; I can palm a regulation basketball with ease and I typically prefer a large pro-sized DSLR body. However, my friends' and fiancée's hands range from medium to small and we all found the S8000fd's controls comfortable and well-placed.
Mode dial and top controls & LCD and rear controls

I would expect a camera with so many features to require menus to select options like image stabilization, Face Recognition and red-eye reduction. Not so with the S8000fd. The vast majority of controls are available via buttons or dials on the camera body. Moreover, the buttons are intuitively placed and not easily activated or deactivated by mistake.
Camera Experience
Overall, my experience with the Fujifilm FinePix S8000fd was great. The camera performed well and is so compact that I could take it almost anywhere. Image quality is very good for a camera in its category, although newer superzooms will likely perform better. The shooting modes do what they say they'll do and Fujifilm's newer, high-tech features, like Dual IS image stabilization and Face Detection, are exceptional. When challenged by my handheld Sekonic L-358 light meter, the S8000fd's meter was spot on. The ability to see the histogram display in real time is also very helpful. And the ability to use SD or SDHC memory cards instead of just the proprietary xD memory card format is a plus. The S8000fd measures up well against comparable superzoom cameras from Canon, Panasonic, Nikon, Sony, and Olympus.
The S8000fd takes great images of still objects like golf balls and golf clubs, scenery and flowers. It also handles portraits and candids very well. In fact, I would say this is where the camera excels. With Face Recognition, automatic red-eye reduction, and Dual IS image stabilization, portraits are a snap.
The S8000fd falls short, however, when shooting sports or other fast-moving subjects. Even with high-speed shooting activated, there was noticeable shutter-lag. After quite a bit of use I was able to compensate for the shutter-lag and get images I was happy with. Even though I was able to compensate for the shutter-lag, I was not able to get the camera to focus very well on fast-moving subjects. The S8000fd does offer a 1.3 continuous frame rate, but that's not even close to fast enough for serious sports shooting.
Fuji Finepix S8000fd wide 27mm-486mm Fujinon 18x optical zoom lens

Most of the things I didn't like about the S8000fd were more a matter of personal preference than actual camera shortcomings. The 27mm-equivalent wide-angle zoom was not wide enough for me. I like to shoot really wide -I often shoot at 16mm on a DSLR. The lens cap falls off easily, leaving the front element vulnerable to scratching. My biggest gripe is that pushing the toggle button's up arrow makes the shutter speed slower, rather than faster as one would normally expect. It took me about a week of consistent use to get accustomed to this counter-intuitive (for me, anyway) control.
AA batteries are convenient and AA NiMH rechargeables are cheap and readily available. However, the FinePix S8000fd seemed to go through batteries rather quickly. While out for a day on the golf course, the four normal AA batteries I'd just purchased died about halfway through the round. This was after being turned on and off for about three hours and taking about 200 images – and only about 25 with the flash. The majority of the images I took on the course were at 300mm or more so it's possible that the image stabilization system is the culprit. Regardless, I think the batteries should have lasted longer.
High ISO settings and the Dual IS image stabilization make shooting in low light simple. The auto focus assist works well, too. Focus is achieved almost as quickly as during daylight conditions. However, the pop-up flash lacks power. I like to balance ambient light with flash for portraits or sports, but had a very hard time in bright daylight conditions where the flash needed more power to match the sun-lit or even shaded subjects. The flash worked best at distances of less than 5 feet from the subject.
Although the Fujifilm S8000fd may be less than perfect for sports – my main subject – any issues I experienced were more nuisances than reasons to avoid the camera. The S8000fd is a powerful camera, capable of capturing frame-worthy images.
Image Quality
The Fujifilm FinePix S8000fd's image quality is pretty good. The 18x Fujinon zoom lens yields mostly sharp images with little or no distortion except at the longest focal length where photos were softer than I expected. Close photos with minimal cropping are clear and crisp and color is pleasing and natural without any distracting color cast. Shadow detail was generally good but started to block up and lose detail at a couple of stops below optimal exposure. Reviewing hundreds of images, I found little to no purple fringing or haloing. Highlight detail was good and I was particularly impressed with photos of shiny chrome in bright sunlight.
In well-lit, low ISO photos (ISO 64 & 100) noise is visible, but you have to look for it. It starts to become noticeable at ISO 200. Image quality takes a definite downturn at ISO 800. The useful sensitivity range of the S8000fd is, for most purposes, ISO 64 to 400. It is nice to have the higher ISO settings, although image quality is seriously compromised and most people will be disappointed with photos taken at ISO 800 and higher.
Click on thumbnails to view sample photos.
See All Fujifilm FinePix S8000fd Photos >>
Conclusion
The Fujifilm FinePix S8000fd really is a jack-of-all-trades. With iffy battery life, and underpowered flash, and a questionable lens cape, it's not perfect. But it can do almost anything you want it to. While not my cup of tea for a compact sports camera or DSLR replacement, the S8000fd is still a very well equipped compact camera packed full of features. I really like the Face Recognition technology, huge 18x zoom range, manual exposure controls, variety of shooting modes, and the camera's layout and ergonomics. These all add up to a robust, well-rounded, and user-friendly superzoom digital camera.
Since we started working on this review, Fujifilm introduced an upgraded, 10-megapixel version of this camera, the FinePix S8100fd, which will likely perform better. But the FinePix S8000fd is still available and will be a good value for people who don't need more performance or simply want to save a few bucks.
Who Should Buy It
Photographers who want point-and shoot simplicity as well as semi-automatic and manual exposure modes
Photographers who want a lot of lens and only one camera
Families looking for a do-it-all digital camera
Pros who want a powerful, all-purpose compact camera
- end -
Contents of the Fujifilm FinePix S8000fd Box

Fujifilm FinePix S8000fd Digital Camera
4 AA-size Alkaline Batteries
Shoulder Strap
Lens Cap
A/V Cable
USB Cable
CD-ROM
Owner's Manual
Notes and Cautions
Other Resources:
Shop For Fujifilm FinePix S8000fd >>
Fujifilm FinePix S8000fd User Reviews >>
Write a Fujifilm FinePix S8000fd Review >>
Fujifilm FinePix S8000fd Camera Specs >>
Fujifilm FinePix S8000fd Sample Gallery >>
Fujifilm Web site >>
Fujifilm FinePix S8000fd Camera Manual >>
All Digital Camera Pro Reviews >>
Digital Camera Buyer's Guide >>
All Digital Camera Sample Images >>
BLS439 Profile >>