There's a new superzoom camera leader, folks. The new Panasonic Lumix FZ70 has a massive 60x zoom lens – the longest zoom range of any superzoom camera to date. The FZ70's 20-1200mm equivalent zoom range is straight up nuts. To get that kind of reach with a digital SLR you'll have to pay $120,000 for Canon's very rare 1200mm f/5.6L telephoto lens. So even if you own a DSLR, you'll still want the Panasonic Lumix FZ70 in your bag if you go on an African photo safari.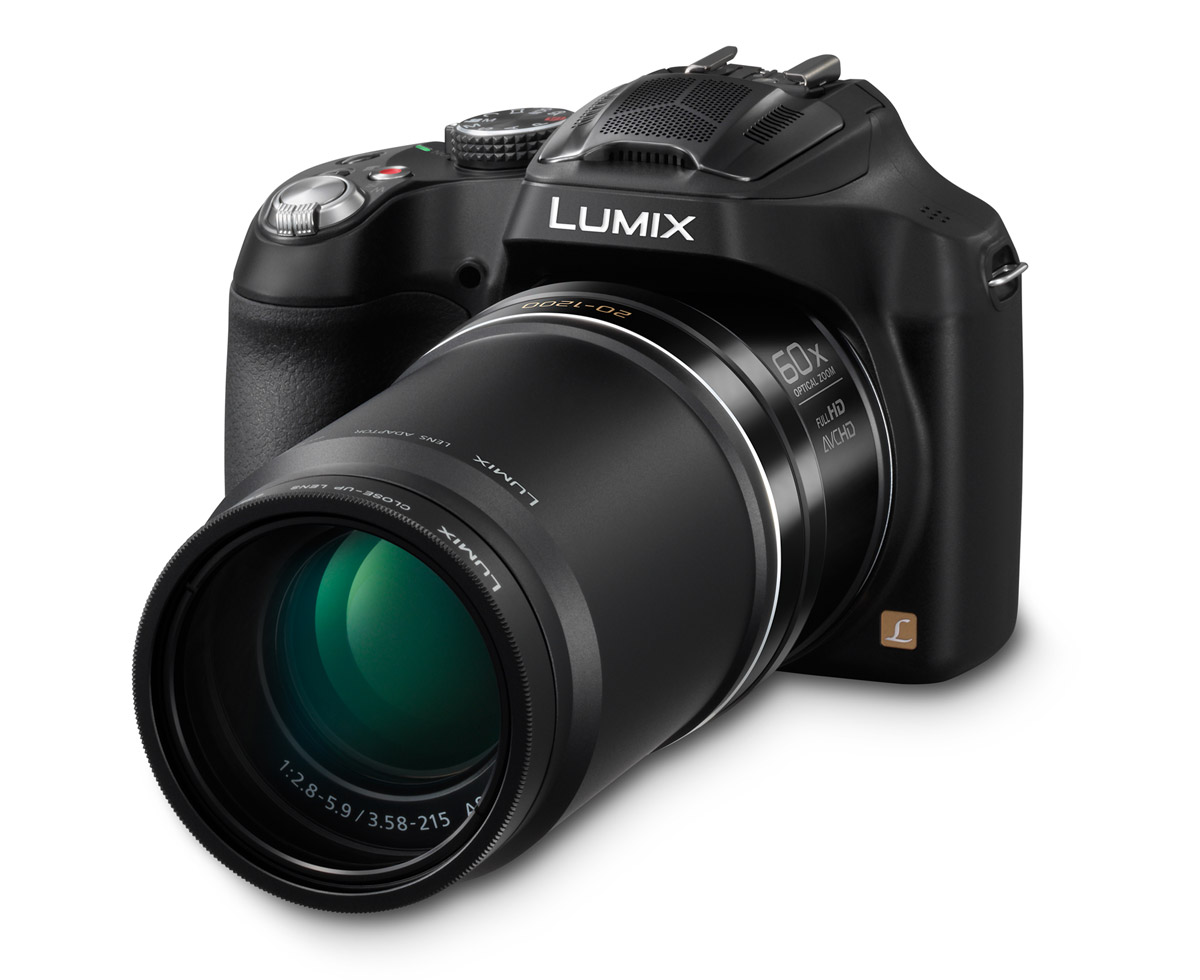 Panasonic Lumix FZ70 Key Features and Specs:
New 16-megapixel 1/2.3-inch MOS
60x 20-1200mm f/2.8-5.9 with improved Power O.I.S.
1920 x 1080 60i AVCHD full HD video
New Clear Zoom stereo microphone design to minimize wind noise
3-inch 460k-dot LCD display
PASM manual shooting modes
9 FPS high-speed burst (3 image limit)
Sensitivity: ISO 100 to 3200 (ISO 1600-6400 in High Sensitivity Mode)
15 built-in filter effects
For those of you who don't know what a superzoom is, it's a compact camera that looks like a small digital SLR and has a long, built-in zoom lens. Sometimes they're called "bridge" cameras because they bridge the gap between a point-and-shoot and a digital SLR. Ten years ago a camera with a 10x zoom was an impressive superzoom camera. Now we have pocket-sized cameras with 20x and even longer zoom lenses (see our Pocket Superzoom Camera Guide). And for the larger DSLR-style superzooms, 30x and longer is now the norm. But 60x with a 1200mm telephoto end just seems like science fiction to me. And as if that wasn't enough, the Panasonic FZ70 also has Intelligent Resolution technology that doubles the zoom range to 120x, or 2400mm. You know there's going to be a ridiculous amount of camera shake at 1200mm so Panasonic improved the FZ70's Power O.I.S. image stabilization so it covers a wider area and can compensate for more shake. The longer the zoom, the bigger the concern that optical performance will be compromised. To address this, Panasonic built a complicated lens with 14 elements in 12 groups, 6 aspherical lenses and 3 ED (Extra-Low Dispersion) lenses. They say this lens design, "delivers exceptional optical performance by suppressing distortion at the wide end and color bleeding at the tele end." Of course, we'll have to judge that for ourselves. But all those aspherical and ED elements show they were serious about making this an accurate lens and not just a long lens.
Behind the FZ70's monster zoom is a new 16-megapixel 1/2.3-inch MOS sensor that Panasonic says has 10-15% reduced noise and much better low light performance. That's compared to other compact cameras with comparable sensors, though – not DSLRs. Even though the FZ70 looks a bit like a DSLR and has a huge zoom lens, the sensor is still much smaller than you get in a DSLR and the image quality won't be as good. That said, you're not gonna get 1200mm of reach with a DSLR. And if you're stepping up from a standard point-and-shoot camera, the FZ70 is a guaranteed image quality improvement.
Since the FZ70 is a bridge camera, it offers a full range of shooting modes. For the less experienced, it has Panasonic's excellent Intelligent Auto (iA) and scene modes. It also has iA Plus Mode, which makes it easy to control creative elements like blur and action with simple sliders. For experienced photographers, the FZ70 has PASM manual modes and can even shoot RAW for the best possible quality and post-processing flexibility. If it's video you're into, the FZ70 can do full HD video at 60 FPS – perfect for slow-motion videos of cheetahs when you go on that African photo safari (are you sensing a theme here?). It also allows shutter speed and aperture control and it has a new microphone design that minimizes wind noise by up to 70%.
It's been quite a while since we've reviewed a superzoom camera but I'm really interested in testing the Panasonic FZ70. It looks like a great compact travel camera and an excellent budget wildlife camera. In fact, I could see serious wildlife photographers who own DSLRs buying the FZ70 just to supplement their big cameras when they really need the reach. Now who wants to sponsor my trip to Africa so I can give the FZ70 a proper test?
Panasonic hasn't announced when the FZ70 will be available but based on past announcements I expect it will be in stores around the end of August or early September. The suggested retail price is US $399.
Related Content:
All Panasonic Digital Camera User Reviews
All Digital Camera User Reviews
Digital Cameras Forum
More Panasonic Camera News
Panasonic Digital Cameras Web Site