Last week, Fujifilm introduced their most affordable X-Series mirrorless camera, yet. The new Fujifilm X-A1 costs just $600 with a lens; and follows in the footsteps of the X-Pro1, X-E1 and X-M1 with a 16.3-megapixel APS-C CMOS sensor and compatibility with all of Fujifilm's XF and XC lenses. However, instead of using Fujifilm's proprietary X-Trans sensor, the new X-A1 uses a traditional (and no doubt less expensive) Bayer array sensor. The X-A1 also has built-in Wi-Fi and a mobile app that makes it easy to share photos and videos with your Smart Phone or tablet.


Fujifilm X-A1 Key Features and Specs:
16.3-megapixel APS-C CMOS sensor (not an X-Trans sensor)
EXR processor II processor
XF and new XC interchangeable lens compatibility
1920 x 1080 full HD video with built-in stereo mic
Built-in Wi-Fi with iOS and Android app
3-inch 920k-dot tilting LCD display
Sensitivity: ISO 100 to 25,600
PASM manual shooting modes
RAW, RAW + JPEG
Film simulation mode
In-camera image filters
In-camera multiple exposure
5.6 frames-per-second burst (JPEG mode)
Built-in pop-up flash
Flash hot shoe
There aren't any new ground-breaking features hidden in the Fujifilm X-A1. But the X-A1's low price brings Fujifilm's X-Series within reach of photographers who appreciate the great controls and retro design but couldn't afford the earlier models – especially photographers who are looking for an affordable way to step- up from a point-and-shoot to a more serious camera. That's really who the X-A1 was designed for – point-and-shoot photographers who are ready for better quality and more manual control. Although the 16-megapixel APS-C CMOS sensor won't produce the same image quality as cameras with the X-Trans sensor, it will still be as good as most entry-level DSLRs, and much better than any point-and-shoot camera. The X-A1 is also a great way to get started with the Fujifilm X-Series system, a camera line that is starting to look very, very good.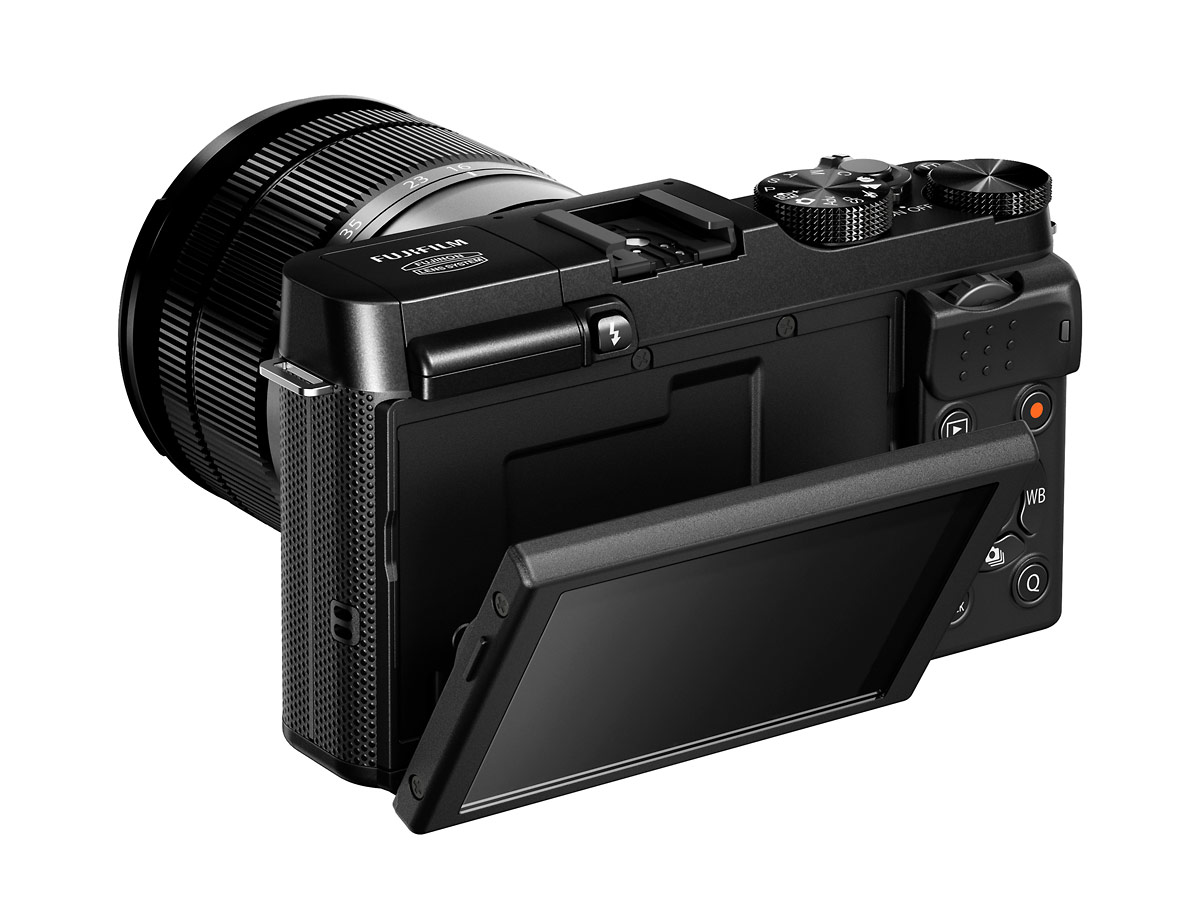 Along with the X-A1, and a perfect complement to the 16-50mm kit lens, Fujifilm also announced a new 50-230mm (76-350mm) f/4.5-6.7 OIS telephoto zoom lens.
The Fuifilm X-A1 should be in stores very soon – probably the next week or so. The suggested retail price is $599.95, and that includes the Fujinon XC16-50mm (24-76mm equiv.) f/3.5-5.6 OIS zoom lens. The new Fujinon XC50-230mm (76-350mm) F4.5-6.7 OIS telephoto zoom lens is scheduled to be available in November for $399.95.
Fujifilm X-A1 Press Release >>
Related Content:
All Fujifilm User Reviews
All Digital Camera User Reviews
Digital Cameras Forum
More Fujifilm News & Articles
Fujifilm Web Site