There's a new entry in the premium pocket camera category – the Fujifilm XQ1. The XQ1 is basically a pocket-sized version of the X20 that Fujifilm introduced at the beginning of the year. It's about the same size as the Canon PowerShot S120 and Sony RX100 and shares many of the same features as those cameras, including a large sensor and fast-aperture zoom lens. The XQ1 has the same 2/3-inch X-Trans CMOS II sensor as the X20, as well as the same EXR Processor II, which delivers more speed, better video and better image quality. Fujifilm also added wireless image transfer to the XQ1, for easy photo and video sharing.


Fujifilm XQ1 Key Features and Specs:
12-megapixel 2/3-inch BSI X-Trans CMOS II sensor
EXR Processor II image processing
Embedded phase detect pixels for hybrid auto focus
4x Fujinon 25-100mm (equivalent) f/1.8-4.9 zoom lens
3-stop optical image stabilization
1920 x 1080 60 FPS full HD video
Tracking focus in movie mode
Focus peaking
3-inch 920k-dot LCD display
ISO 100 to 12,800
PASM manual shooting modes
Auto EXR mode
RAW with in-camera RAW conversion
Film simulation modes
Pop-up flash
12 FPS burst at full resolution (JPEG only)
RAW, RAW + JPEG, in-camera RAW processing
So how does the XQ1 fit into the current high-end pocket camera landscape? Basically, with the 2/3-inch sensor and 4x 25-100mm (equivalent) f/1.8-4.9 zoom lens, it falls right in-between the Canon and the Sony. The Sony RX100 and RX100 II have a shorter, 3.6x zoom and a much larger 1-inch sensor. The Canon has a longer, 5x zoom and a smaller 1/1.7-inch sensor. The XQ1 is also priced in the middle. What sets it apart is Fujifilm's unique 2/3-inch X-Trans CMOS II sensor. The X-Trans sensor has a very different, randomized pixel design that allowed Fujifilm to dispense with the anti-aliasing filter, delivering sharper images with better detail. That's the idea, anyway. I haven't used a compact camera with the X-Trans sensor yet, so I don't have any hands-on experience. I have used the Fujifilm X100S, though. It has a DSLR-sized APS-C X-Trans II sensor and the image quality is excellent – pretty much as good as it gets from an APS-C format sensor. If that's any indicator – and it should be – then the XQ1 should have significantly better image quality than the Canon. However, I don't think the XQ1's sensor will approach the quality of the Sony RX100. Sony's 1-inch sensor is just too big for the Fujifilm camera to compete – in the image quality arena, anyway.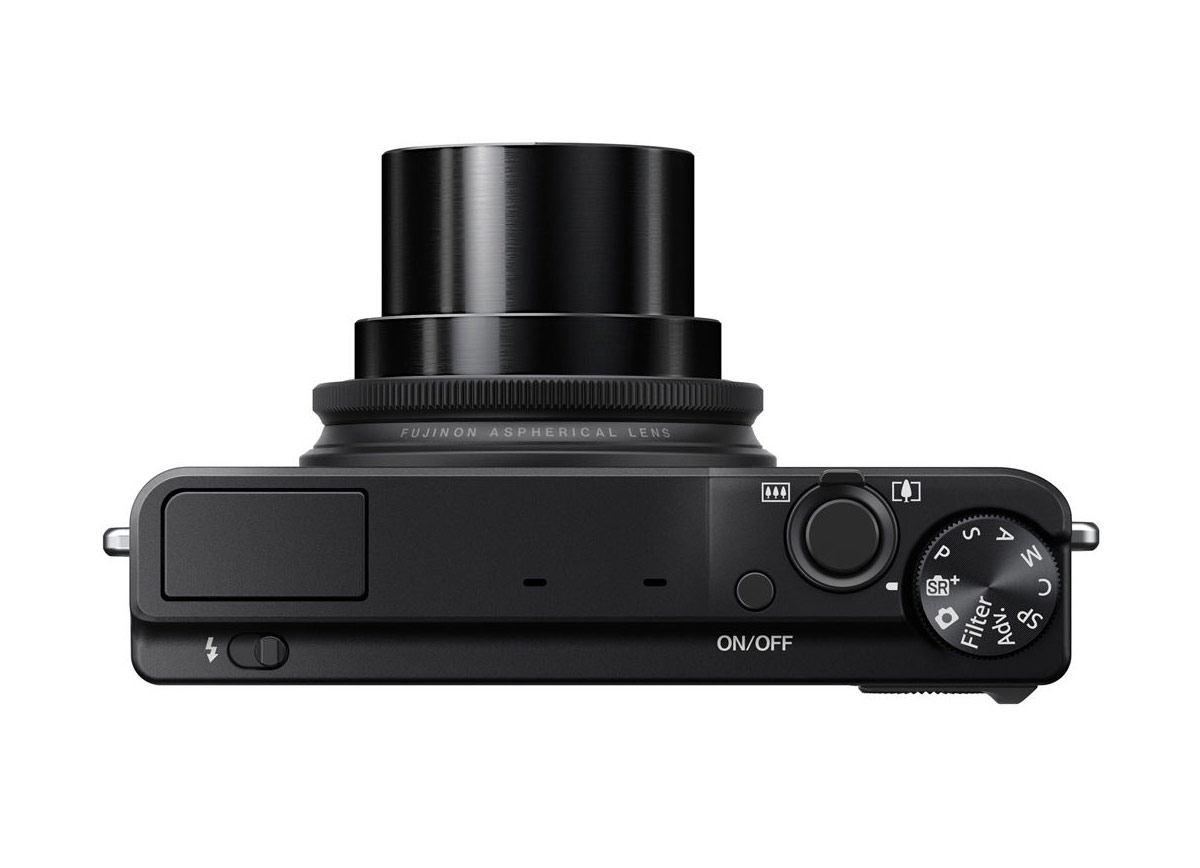 Another thing that's different about the Fujifilm XQ1 is the phase detect auto focus pixels they put on the sensor – over 100,000 of them. I believe the XQ1 is the only high-end pocket camera with phase detect as well as contrast detect auto focus. Phase detect auto focus is what's used for digital SLR AF and it's considerably better for moving subjects. It's starting to find its way into mirrorless cameras now but it's very uncommon in compact cameras. So it could make a real difference as far as focus performance goes with the XQ1– especially if you're trying to take pictures or record videos of subjects in motion.
We can't forget about the Wi-Fi, either – especially since the XQ1 is small enough to carry in a pocket. Let's face it – camera phones are great – for a camera in a phone. But any point-and-shoot can produce better image quality. And a camera like the XQ1, with a big sensor, fast-aperture optical zoom lens, RAW shooting and PASM manual modes, lets you create much better quality photos. Keep the XQ1 in one pocket and your Smart Phone in the other. Then you can use the camera's built-in Wi-Fi to transfer photos and videos to your phone and share them on the spot. You'll raise your Instagram game to a whole new level.
I really dig what Fujifilm is doing these days. They're one of the camera companies that are really moving things forward, and the XQ1 is an example of that. I want to get one of these in for review, ASAP. I especially want to get it in the studio to see where the image quality fits in compared to other high-end compact cameras.
Official Fujifilm XQ1 Promo Video:
Fujifilm's official press release says the XQ1 is supposed to ship in October with a suggested retail price of US $499.95. We're already more than halfway through the month so it should be in stores any day now. Fujifilm has a couple of cool accessories to complement the XQ1, including an underwater housing. In fact, this is the first Fujifilm X-Series camera with an available waterproof housing. There's also a classic leather "bottom" case, just like Dad had on his old rangefinder in the seventies.
Related Content:
All Fujifilm User Reviews
All Digital Camera User Reviews
Digital Cameras Forum
More Fujifilm News & Articles
Fujifilm Web Site