A few weeks ago I attended a Leica Akademie workshop (my Leica Akademie M9 workshop article) and was shown Hoodman's very impressive Raw Steel "ruggedized" SDHC memory cards. I've always thought SD memory cards seemed pretty flimsy and when I got to see a standard SD card and a Hoodman Raw Steel SD card taken apart, side by side, I was impressed with the Hoodman card's superior design and build. I haven't actually used one, but based on what I've seen, the Raw Steel card could be the best SD card on the planet. So when I was at the PhotoPlus Expo a few weeks ago, I made sure to follow up with Hoodman and get more details and some photos of the Raw Steel memory cards.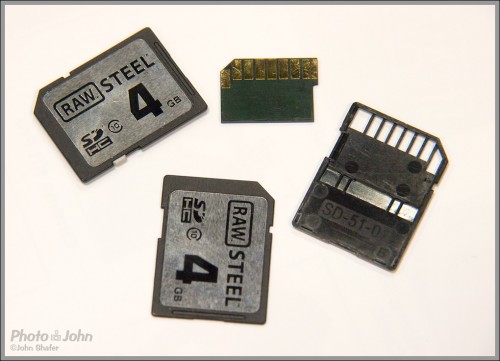 Even the best "pro" SD cards are mostly plastic and way too easy to break (see photo in gallery, below). The Hoodman Raw Steel SD cards, on the other hand, have a steel exterior with a reinforced internal housing so they're nearly impossible to bend or break. They're also assembled with epoxy to provide a waterproof seal. Hoodman is confident enough in the build and performance of their Raw Steel cards that they give them a lifetime warranty. The big memory card companies only offer a limited lifetime warranty on their best SD memory cards. Watch the Hoodman video below for more details on the Raw Steel SD card:
The RAW Steel SD cards are part of Hoodman's Raw memory card line, which includes both Secure Digital and Compact Flash cards. The Hoodman Raw SD and CF cards are both available in 4 to 32 GB capacities, both are built and tested to the highest standards and both have a lifetime warranty.
Related Content:
Digital Cameras Forum
Hoodman Web Site