There's been no shortage of bad news for film lovers in the past few years. So here's some good news – especially for hipster art nerd photographers who aren't content with just using Hipstamatic retro filters on their iPhone photos – the new Lomography Belair X 6×12. This here is the real deal – an honest to goodness, brand new, folding medium format film camera! And not only does it take medium format film – it shoots big – up to 6×12. Back when I was a medium format film snob, I used to say that if you weren't shooting 6×7 you might as well be using 35mm film. So the Belair X meets my high standards. It looks like the Belair X could turn into a really legit medium format system – as long as someone keeps making film to use in it.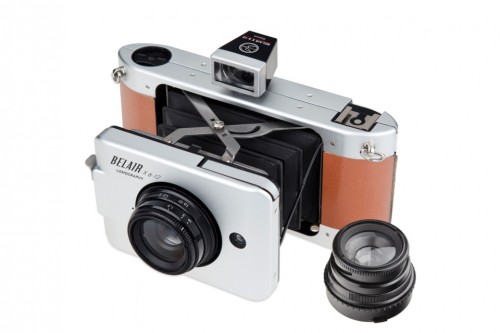 There are three versions of the Lomography Belair X medium format film camera – the Cityslicker, the Jetsetter and the Globetrotter. In terms of features and performance they're all the same but fashion conscious photographers can spend more to get a leather covered Jetsetter or the limited edition snakeskin patterned Globetrotter. The Belair X has interchangeable lenses, a flash hot shoe and a leaf shutter. Exposure control is aperture priority via the aperture ring on the lens with zone control focus possible via the guide on the lens. Right now there are two plastic optic lenses – a 90mm f/8 wide-angle and a 58mm f/8 super-wide – and they're working on more lenses, including ones with glass optics.
The Lomography Belair X medium format camera is available for pre-order now and comes with both the 90mm and 58mm lenses .The standard black City Slicker Belair X has an MSRP of US $249 but if you pre-order the price is just $175. The standard retail prices for the Jetsetter and the limited edition Globetrotter are $299 and $349, respectively.
Lomography Belair X Web Site >>
Related Content:
Medium Format Film Camera User Reviews
Film Photography Forum
More Film Photography News & Articles
Lomography Web Site