If you've got an archive of old film you don't know what to do with; or you're one of the many photographers who have recently discovered the fun of shooting with 35mm film, you'll be excited about the Lomography Smartphone Film Scanner. It's a compact, affordable device that allows you to easily scan your 35mm film with your iPhone or Android Smart Phone.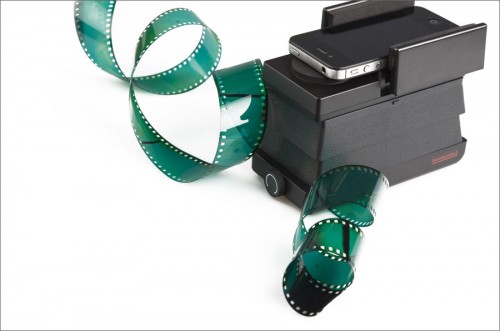 The Lomography Smartphone Film Scanner has a built-in direct light panel for illuminating film to scan color negatives, slide film and black-and-white film. Essentially, you just put your film in the Smartphone Film Scanner and then take a picture of it with your Smart Phone. Then you use one of the many available apps to edit and process your scan*.
The folks at Lomography have their own free LomoScanner App for editing and processing scans but it's only available for the iPhone right now. It can convert negative scans to positives, stitch together panoramas and even animate stop motion movies made from 35mm film. An Android version of the LomoScanner App should be available soon.
Watch the video below to see the Lomography Smartphone Film Scanner in action:
The Lomography Smartphone Film Scanner is available now, for US $59, direct from the Lomography Web site.
*Lomography has an App page with recommendations and directions for editing your Smartphone Film Scanner scans.
Related Content:
Film Photography Forum
More Film Photography News & Articles
Lomography Web Site