Smart Phones are awesome. They connect us in ways that we couldn't have imagined ten years ago and they even take great pictures now. But there's one critical camera feature they're missing – a proper lens. And I'm not just talking about zoom. The teeny little fixed lens on your Galaxy S III or iPhone 5 is pretty impressive – for a phone. But ultimately it's still a miniature toy camera lens. If you've got a bad Instagram habit but want more than your current Smart Phone is able to give, Samsung's new Galaxy Camera could be the answer. Basically, the Galaxy Camera looks like someone took a point-and-shoot digital camera and glued it to a Smart Phone. But unlike a Smart Phone, the Samsung Galaxy Camera has a 21x f/2.8-5.9 optical zoom lens (23-483mm equivalent) with optical image stabilization, full manual exposure controls and a 16-megapixel 1/2.3-inch backlit CMOS sensor. That's the same size sensor used in good point-and-shoot cameras these days, and a much larger sensor than you get in most Smart Phones, including the Galaxy S III and the iPhone 5.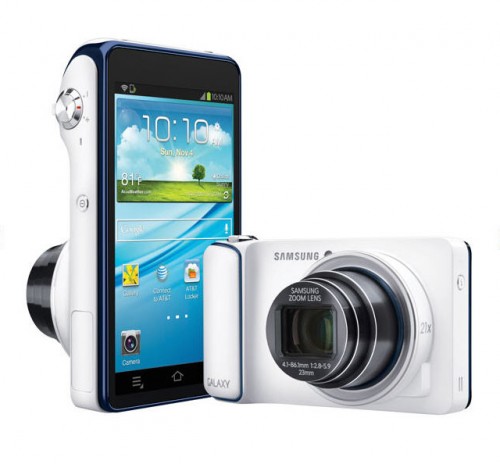 Samsung Galaxy Camera Key Features and Specs:
16-megapixel 1/2.3-inch backlit CMOS sensor
1920 x 1080 full HD video
21x 23-483mm (equivalent) f/2.8-5.9 optical zoom lens
2.35 x 4.16-inch HD touchscreen display
Android 4.1 Jelly Bean OS
Pop-up flash
Full maunal exposure controls via Samsung's built-in camera app
The Galaxy Camera has a big 2.35 x 4.16-inch touchscreen display, it comes loaded up with Android 4.1 Jelly Bean and it has built-in Wi-Fi and mobile network connectivity. The Galaxy Camera lets you use all your favorite Android Apps, including Instagram, Adobe Photoshop Express, Facebook, Twitter, Flickr, etc. – and yes, you can even play Angry Birds on it. Most important of all, you can upload photos and videos anytime, anywhere – as long as you're connected to a Wi-Fi or mobile network (ATT's 4G network in the US).
Check out this hands-on video preview of the Samsung Galaxy Camera (below) to get a better feel for the camera's size, styling and features. Pay special attention to Samsung's cool camera app (at about 3:50), which offers beautiful analog-style controls on the big LCD display.
At about 5 inches wide and 2.78 inches tall, the Galaxy Camera is a bit chunkier than a current pocket superzoom camera. But you don't get a 4-inch touchscreen display or a full mobile operating system with a pocket superzoom. This is also one of the first cameras of its kind (Nikon Coolpix S800c Android camera intro). If it's popular, there will be more and they will get better. Personally, I'd like to see more competition and I'd like to see it smaller. But I do like Samsung's direction here. This is a very nice step forward for both smart mobile devices and connected digital cameras. The Samsung Galaxy Camera lets you have it all – almost. If you want to make a phone call you'll still need a phone.
The Samsung Galaxy Camera is available now in the US through ATT. It sells for $499 with a 2 year mobile contract.
Related Content:
All Samsung Camera User Reviews
Digital Cameras Forum
All Samsung Camera News & Articles
Samsung Digital Cameras Web Site