Lumu Labs is a small team of passionate, creative designers, engineers, and of course, photographers. They've designed a handheld light meter for the iPhone. Or, as they describe it as, "the light meter for the 21st century." They created a Kickstarter project to fund the "Lumu" – that's what they're calling their iPhone light meter. They've got pledges for nearly 8x their original funding goal of $20,000 so they've obviously tapped into something that photographers want. The Lumu is a combination iOS app and electronic light sensor that plugs into the iPhone's headphone jack. It allows you to use your iPhone as a fully-functional incidental light meter. And yes, a handheld light meter will improve your photos – it gives you a more accurate reading than the meter in your camera so you can start with a better exposure.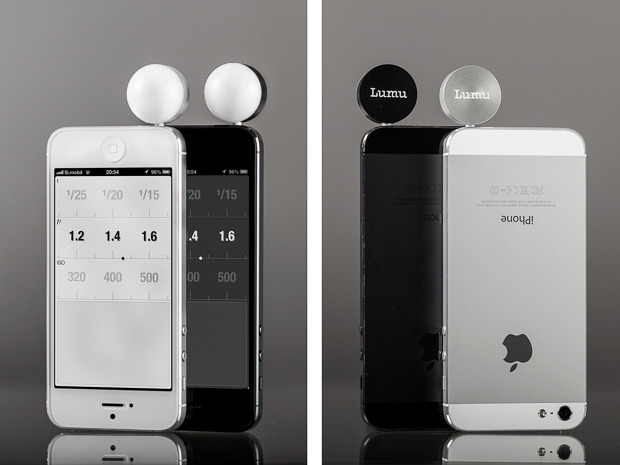 Lumu iPhone Light Meter Key Features and Specs:
Measuring Range (Ambient Incident light, ISO 100): 0.15 – 250,000 lux (EV -4 to 20)
Accuracy: +/- 0.1 EV
Cardioid-type Hemispherical Diffuser
Audio signal (no extra batteries required)
Compatibility: iOS 5 and later devices
It's a lot easier to make a good exposure than it used to be. Modern metering is a lot more sophisticated than it used to be. Plus, with a digital camera, you can shoot a test, check the histogram on your LCD display, and then tweak your exposure as needed. For the most part, it's made the old handheld light meter obsolete. But anyone who's ever used one knows you definitely get a better exposure with a dedicated light meter. An incidental light meter, like the Lumu, measures the light falling on your subject and not reflected light. So it's unaffected by the shades and colors on and around your subject. If you use it right, an incidental meter will always give you a perfect exposure. I used one all the time back when I shot film because it was foolproof. But like most everyone else, the instant feedback I get with a digital camera has made me lazy. Check out the image below to see reflected light meter (your camera's meter) exposures compared to incidental meter reading exposures.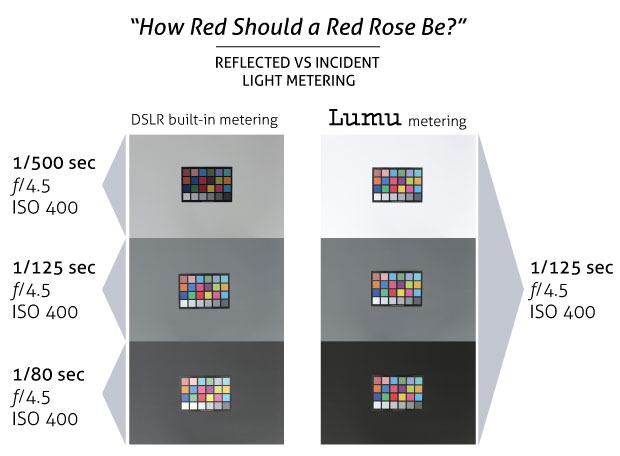 There's also the issue of managing one more piece of gear. Somewhere I have a very expensive combination spot / incidental light meter. But I'm just not motivated enough to carry it around. I always have my Smart Phone with me, though. So if I could get the same kind of results with my phone, why not? It's a win-win proposition.
Lumu iPhone Light Meter Kickstarter Video:
The Lumu light meter is currently available for iOS 5.0 and later mobile devices. According to the Kickstarter page, they plan to make an Android version as well, but more testing is required. For more information on the Lumu iPhone light meter, please visit the Lumu Kickstarter page: