Pardon me for being a little late to the Sony Alpha NEX party. I missed the announcement last night but I spent the day combing through the available material and digging into the features and specs of the new cameras. Read on to learn what I've discovered…
Earlier this year, Sony had a big press conference at the annual PMA tradeshow where they showed off a mockup of a compact, mirrorless camera with a digital SLR sensor. The "Compact Alpha" concept camera – a compact, interchangeable lens camera with digital SLR image quality and HD video – was said to be in development for later in 2010. Basically, the Compact Alpha was Sony's answer to the Olympus / Panasonic Micro Four Thirds cameras and Samsung's new NX camera system. Last night they made it official with the unveiling of the new Sony Alpha NEX-5 and Alpha NEX-3 digital cameras.

The main advantage of compact system cameras like the new Sony Alpha NEX cameras and the Olympus, Panasonic and Samsung models is their small size. Removing the mirror required for a proper SLR design allows for a significantly thinner, lighter camera body. Bringing the lens closer to the sensor also makes smaller, lighter lenses possible. At about an inch thick (at the thinnest point), the new Sony's are the, "smallest and lightest interchangeable lens digital cameras," yet. That's about 1/3rd of an inch thinner than the diminutive Olympus E-PL1. The official Sony press release also calls them "totally pocketable" and says they're, "easy to slip into a small purse or jacket pocket."

Sony Alpha NEX-3 (above left) and Sony Alpha NEX-5 (above right)
There are two obvious design strategies for a camera like this – miniaturized DSLR or interchangeable lens point-and-shoot. Based on Sony's product photos and the press release statement that, "the NEX-5 and NEX-3 cameras have a new easy-to-use interface," the cameras appear to be designed for casual photographers who want something more than a point-and-shoot but less intimidating than a digital SLR. They aren't pure point-and-shoots, though. Even though there aren't any obvious manual controls on the NEX-5 and NEX-3, the specs for both cameras list a full range of manual exposure modes as well as white balance and ISO controls.
Sony NEX-3 and NEX-5 Key Features & Specs:
14.2 megapixel Exmor APS-C CMOS sensor
HD video (720p MP4 files for the NEX-3 / the NEX-5 can capture 1080i AVCHD at 60 FPS)
"New easy-to-use interface" with "80 expert advice shooting tips"
Sony BIONZ processor
A full range of exposure modes including manual and scene modes
7 frames-per-second, full-resolution burst rate
25 auto focus points
New Sony E lens mount
3-inch Xtra Fine, 921k-dot tilting LCD display
Sweep Panorama mode
Built-in stereo recording
Smart accessory terminal (for microphone and electronic viewfinder)
SD and Memory Stick PRO Duo memory card compatibility
HDMI terminal
The Alpha NEX-5 and NEX-3 cameras use a brand new 14.2-megapixel Sony Exmor APS-C CMOS sensor that supports HD video capture in 720p and 1080i at up to 60 frames-per-second (the NEX-3 only does 720p). In the press release, Sony points out that the APS-C sensor is, "about 60 percent larger than the sensor in micro four-thirds cameras." A bigger sensor generally means better image quality, although there's more involved than just the physical dimensions of the sensor – it's the size of the individual pixels that counts most. I'm not sure how the pixel size of the new Sony NEX cameras compares to those on the Four Thirds sensor, but since the Olympus and Panasonic sensor is 12 megapixels, it could end up being a wash. We'll have to get the camera in the studio for testing to find out for sure. Sony's Alpha digital SLRs usually have excellent image quality, though. So my ejumacated guess is that the NEX cameras will have at least a slight edge over the Micro Four Thirds cameras as far as image quality goes.
Along with the two cameras, Sony is introducing three new E-mount lenses to compliment the NEX camera line – a 16mm f/2.8 wide-angle, an 18-55mm f/3.5-5.6 standard zoom and an 18-200mm f/3.5-6.3 wide to telephoto zoom lens. As I mentioned earlier, the mirrorless camera design allows for smaller lenses and the new E-lenses have a smaller diameter than A-mount Alpha DSLR lenses. All three lenses are constructed of aluminum and have steel lens mounts. Since most kit lenses are made almost completely of plastic, the all-metal build of the E-mount lenses is impressive and a bit of a surprise. The Sony Alpha NEX cameras don't have sensor-level image stabilization like the Olympus Micro Four Thirds cameras, so image stabilization is lens-dependant. Both the 18-55mm and 18-200mm zoom lenses have Sony's Optical SteadyShot image stabilization but the 16mm lens does not. Sony will also be offering an Alpha-mount adapter and a 12mm fisheye adapter that works with the 16m wide-angle lens.
I was surprised to see that the final Sony Alpha NEX design looks very much like the concept cameras shown at PMA – those looked like engineer's test models to me. I'm not judging the design; I just expected the finished camera to look different. Maybe that's a good thing, though – indicative of Sony's attempt to think outside the box and make something really different. I didn't like the look of the first Olympus Micro Four Thirds mockups, either. But I loved the Olympus E-P1 once I got it in my hands.
The most exciting NEX features for me are the fast, 7 FPS burst rate, the 3-inch tilting LCD and the ability to shoot video at 1920 x 1080i and 60 FPS. I also like that they're making an 18-200mm zoom lens – I think this is the best all-purpose zoom range and the Alpha NEX cameras with the 18-200mm lens will make a great, compact travel cameras. One thing I'm curious about is the auto focus performance. There wasn't much information about it in the press release or the official product page and auto focus has been the main weakness of the Micro Four thirds cameras if you compare them to digital SLRs.
It's good to add Sony to the list of compact system a.k.a. EVIL (Electronic Viewfinder Interchangeable Lens) camera makers. In the past six months, this category has really started to get interesting and more competition always means better cameras for photographers. With Panasonic, Olympus, Samsung and Sony competing, I think Canon and Nikon have to get involved soon. Panasonic and Olympus got the ball rolling with the Micro Four Thirds format. But this category is really just getting started as far as real competition, design creativity, and investment go. Samsung and Sony money will up the ante considerably.
The two new Sony NEX cameras will be available in July. They'll be sold as a kit with the new E-mount 16mm f/2.8 lens. Kit prices are expected to be a very competitive $650 for the Sony NEX-5 and $550 for the NEX-3. They're already listed on the Sony Style Web site for $695 and $549. The E 16mm f/2.8 prime lens and E 18-55mm f/3.5-5.6 OSS zoom lens will also be available separately for $200 and $350, respectively. The E 18-200mm f/3.5-6.3 OSS zoom lens is scheduled to be available this fall and should sell for about $800.
Related Content:
Sony Digital SLR User Reviews
All Digital SLR User Reviews
EVIL & Micro Four Thirds Cameras Forum
Sony Cameras Forum
Sony Alpha NEX Cameras Web Site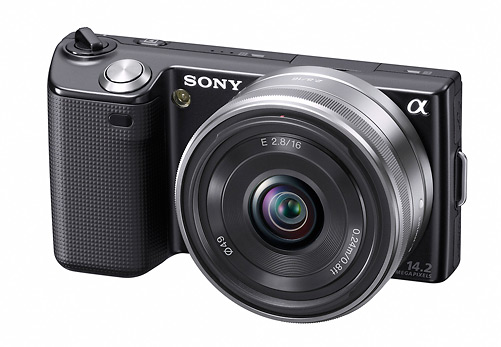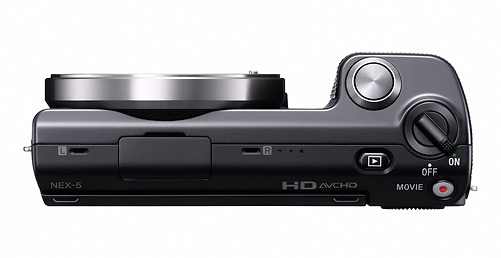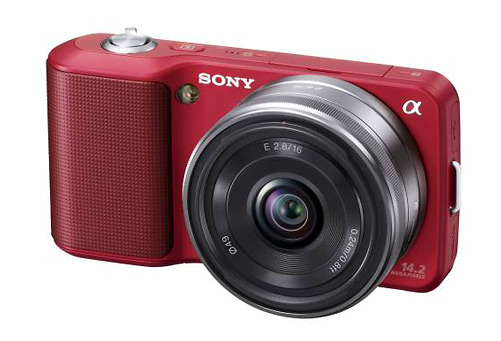 next page – Sony Alpha NEX Cameras Press Release >>