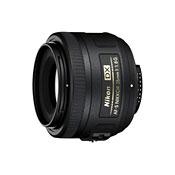 The Nikon AF-S DX Nikkor 35mm f/1.8G prime lens is a great option for photographers who want the traditional angle-of-view, low-light performance and bokeh of a 50mm prime lens for their DX-sensor Nikon digital SLR. I chose this review by havana_joe as a Featured User Review because he gives a very good overview of the lens with lots of details and he's obviously excited about the lens. I also think this lens deserves some extra attention since it is a great alternative for Nikon crop-sensor DSLR owners.
User reviews are the foundation of PhotographyREVIEW.com. If you own the Nikon AF-S DX Nikkor 35mm f/1.8G lens, please write your own review!
---
Featured Review: Nikon AF-S DX Nikkor 35mm f/1.8G Lens
by havana_joe (Casual)
Price Paid: $200.00 from Best Buy
Review Date: May 5, 2010
Used product for: 3 Months to 1 year

Overall Rating: 5 of 5
Value Rating: 5 of 5

Summary:
This is truly a great lens. It works great in low light on my D40- in fact, I have a dimmer switch on my room lights and I tested this lens by dimming the lights and taking pictures as it got darker and darker. I had to turn the lights completely OFF before I could get the lens to not focus. Most of the time you won't need a flash with this lens, which makes it perfect for weddings and churches. The pictures come out tack-sharp and with good lighting look almost 3-D. I like the bokah, especially with a lot of distance between the main subject and the background. In fact, that is the comment I get most often when I show people pictures I've taken with this lens.
It will work with any current Nikon DX, the AF-S means it works with the D40/D40X/D60 line perfectly, since the auto-focus motor is in the lens.. Set your auto ISO to 800 and 1/60 trigger and you will get sharp pictures in almost any lighting. Even 1/30 works well for very dark situations.
The 35mm on a DX camera is equivalent to 52.5mm on a full-frame camera, which is almost a 1:1 or "normal" lens. This means that what you see with your eye will be the about same as what you see through this lens, as far as apparent distance. It's neither a wide-angle nor a telephoto lens. The lens is a bit smaller than I thought, but this works well with the small size of the D40/D40X/D60 line.
It's lightweight due to use of plastic in its construction, although it does have metal mount A nice touch is that to manually focus all you do is turn the focus ring; you don't have to move a switch first. Price was right at $199.99, and my local Best Buy had several of them in stock and none on display, which makes sense since this is a very popular lens and those who know about it won't need to see it on display. My only complaint with this lens is that VR would have been a nice feature, even if it added a few dollars to the price. However, that would have made the lens a bit bigger, which may take away from it's attractiveness.
Strengths:
Good price, AF-S, breathes new life into the D40/D40X/D60 line, lightweight
Weaknesses:
Could benefit from VR for ultra-low light situations; hood could be deeper
Similar Products Used:
No other primes. My other lens is a Sigma 18mm-200mm. The 35mm 1.8 is my preferred lens.
Customer Service:
No problems buying it at my local Best Buy.
Related Content:
Nikon AF-S DX Nikkor 35mm f/1.8G Lens Pro Review
All Nikon Zoom Lens User Reviews
Nikon Review Page
All Lens User Reviews
Nikon Cameras Forum
Digital SLR Forum
All Featured User Reviews
All Nikon News & Articles
Nikon Cameras Web Site