Sigma recently announced the availability of a new image-stabilized 50-150mm f/2.8 zoom lens. Designed for APS-C sensor digital SLRs (Nikon D5100, Canon EOS Rebel T3i / D600, etc.), the new Sigma 50-150mm f/2.8 APO EX DC OS HSM telephoto zoom lens is comparable to a 70-200mm f/2.8 lens on a full frame / 35mm SLR camera. The new lens incorporates Sigma's OS Optical Stabilizer image stabilization technology, which Sigma says will allow shooting up to four stops slower without blur from camera shake. The combination of a fast f/2.8 aperture and OS image stabilization makes the 50-150mm zoom a great lens for sports, event, travel, outdoor and portrait photographers, or anyone else who needs to shoot handheld in a wide variety of lighting conditions.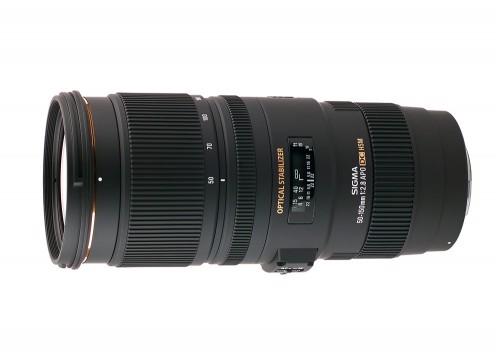 The Sigma 50-150mm f/2.8 APO EX DC OS HSM zoom uses Sigma's HSM Hyper Sonic Motor (comparable to Nikon AF-S and Canon Ultrasonic) for fast, quiet auto focus action with full-time manual override. The lens has a rounded nine-blade aperture for smooth, pleasing out-of-focus image quality (bokeh). It's also compatible with the Sigma 1.4x EX DG APO and 2x EX DG APO tele-converters, which effectively convert the lens to a 70-210mm f/4 or 100-300mm f/5.6, respectively.
The official Sigma press release said that the Canon mount 50-150mm f/2.8 APO EX DC OS HSM zoom should be available now. However, I checked some of the main Internet outlets (B&H, Adorama and Amazon) and it wasn't listed as available yet. In any case, it should be available soon. Nikon and Sigma versions are supposed to be available later this month (April, 2012). The suggested retail price for the Sigma 50-150mm f/2.8 APO EX DC OS HSM zoom lens is $1099. Street prices on Sigma lenses are usually a lot lower than the MSRP so I expect the actual price of this lens will be somewhere between $600 and $750. Sigma's high-end lenses usually measure up well so the 50-150mm f/2.8 APO EX DC OS HSM zoom should be a very nice, relatively affordable alternative to comparable Canon and Nikon pro zooms.
Sigma Macro 180mm F2.8 EX DG OS HSM Press Release >>

Related Content:
All Sigma Lens User Reviews
Discuss Sigma Lenses (DSLR forum)
All Sigma News And Articles
All Lens News And Articles
Sigma Web Site