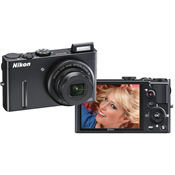 I was pleased to see Footski's review for the Nikon Coolpix P300 compact camera show up recently. The Nikon P300's super-fast f/1.8 aperture lens sets it apart from all but one compact camera (the Olympus XZ-1). It's a very serious camera in a deceptively small point-and-shoot sized body. I'm glad to give it some extra attention by making Footski's P300 review a Featured User Review. Of course, I couldn't have done that if he didn't write a good review. So thanks, Footski, for taking the time to give us such a well-written, thoughtful review.
If you own the Nikon Coolpix P300 or another high-end compact, please contribute your own review. User reviews are the foundation of PhotographyREVIEW.com. Thousands and thousands of people use them to decide what camera gear to buy. Help out a fellow photographer – share your experience by writing a review!
---
Featured Review: Nikon Coolpix P300
by Footski (Intermediate)
Price Paid: $270.00 from Amazon.co.uk
Review Date: January 30, 2012
Used product for: 1 to 3 months

Overall Rating: 5 of 5
Value Rating: 5 of 5

Summary:
I was looking for a replacement for my Samsung NX10, a camera to supplement my Nikon D7000 DSLR and I read many reviews before choosing the P300.Many of those reviews were not glowing, but in my opinion the criticisms were based on criteria that this camera was not designed to be in the first place. More about that later.
The camera is beautiful to look at and handle with a rear screen that is pin sharp and still viewable, even in bright sunlight, something we get a lot of here in the south of Spain. It has a 12 mp sensor, which is ample and uses one SD card as it's memory, although it does have a small internal memory should your card get full for any reason. The lens is a super fast f1.8, making it outstanding in low light, although to be critical it is only f1.8 at the widest zoom setting, decreasing as the zoom increases… (read more)
Read The Rest Of The Review >>
Nikon Coolpix P300 Intro >>
Related Content:
Nikon Review Page
Nikon Cameras Forum
Digital Cameras Forum
More Nikon News And Articles
Nikon Web Site