.!.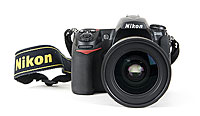 The Nikon D300 is a 12.3 megapixel high-end digital SLR designed to meet the needs of the advanced amateur and professional photographer. Nikon has positioned the D300 as both the class-leading DX body and a smaller companion body to the new D3 full-frame digital SLR. In the tradition of the F-series film camera bodies that made Nikon a household name, the D300 offers all of the features of a professional body at a fantastic price.
Want to buy a Nikon D300?
Compare prices and shop for a Nikon D300 digital SLR >>


Pros
Class leading image quality
Highly innovative and advanced 51-point auto focus system
Six frames-per-second continuous shooting; up to eight with MB-D10 battery grip
14-bit RAW modes
Best-yet Auto ISO implementation
3D Color Matrix Metering II
Renowned Nikon ergonomics, build quality and feel
Weather-sealing
Crisp 3.0-inch 922,000-dot VGA LCD
Live View with two auto focus modes
Compatibility with nearly every Nikon lens made in the last 30 years; full metering with manual-focus lenses

Cons
14-bit RAW slows shooting speed to 2.5 fps
Grip must be removed to replace camera battery
Live view does not display histogram or aperture changes
Top status LCD shows only the dynamic mode, not the active focus point
Multi-selector does not have dedicated center button
Rubber covers on the 10-pin remote and PC sync ports are on the thin side
MB-D10 joystick has a different method of operation than multi-selector
No locking USB cable attachment for tethered shooting

Introduction
In late August 2007, Nikon made a set of groundbreaking announcements. The D3 had been highly anticipated and the subject of rumors for some time. What most did not expect was an update to the D200, much less a full replacement. At first glance the D300 may seem like an incremental upgrade to the D200. But it's actually completely different beast, just as the D200 was to the D100. The D200 was designed as a semi-professional camera, ideal for pros who needed to travel light, as well as advanced amateurs. Nikon must have realized that with the introduction of the D3, there would be a need for a DX-format camera body that could fill these roles. That camera is the D300.
I'm a longtime Nikon fan, as well as a college newspaper photojournalist. I bought the D300 to replace my D200 and use on the job as a complement to my Nikon D3.
Features
Nikon's new flagship DX crop camera, the D300, has it all – or almost all. There are only three significant features the D3 has that the D300 doesn't: a virtual horizon feature; 9 to 11 FPS 14-bit raw shooting (versus the D300′s 2.5); and selectable crop modes. I doubt most D300 users will miss these.
The D300′s 12.3-megapixel CMOS sensor provides industry-leading resolution for the 1.5x digital crop format and a 14-bit analog-digital conversion. The 4288 x 2848 pixel files can be printed at 16-inches with no software resizing necessary. Much, much larger prints are possible with proper setup. Recording formats include three sizes of JPEG (3.1 to 12 megapixels), NEF RAW and TIFF, as well as options for compressed, lossless compressed and uncompressed.
The D3 and D300 both incorporate Nikon's new EXPEED Image Processing Concept, using Capture NX algorithms coded for the lower power processor in the body. An upgraded, on-the-fly version of Nikon's in-camera image processing, Active D-Lighting, offers three levels of dynamic range optimization. Active D-Lighting works in two ways: as a custom-tone curve that dynamically boosts shadow detail and preserves highlight detail, or by actually adjusting the metered exposure to preserve highlights and apply a more aggressive curve. This can be a useful feature. I don't always use it, but it has come in handy in many situations.
If there's a true "killer app" in the D300, it's got to be the new Multi-CAM 3500 DX auto focus system. I'm convinced there's some sort of sorcery involved here, because I'm having a hard time believing that it's technically possible for an auto focus system to be this good. The D300′s 51 auto focus points include 15 cross sensors. Unlike those in previous bodies like the D200, the line-type sensors are extremely accurate and even perform well with tele-converters. An intelligent auto-area auto focus system appears to recognize potential subjects like eyes in a portrait situation, or a face in a wider shot. The Dynamic-area AF mode is the most powerful, with the option to use 9, 21, or 51 auto focus points for tracking. A fourth Dynamic-area AF mode, "51points 3D-tracking", uses color information from the 1,005 pixel 3D Color Matrix Metering II sensor to track a subject from a selected AF point. While it is not intended for use in every situation, it is remarkably effective.
The D300′s LCD is a joy to use. The 922,000-dot full VGA LCD offers seven levels of brightness and an extraordinarily crisp display. In addition to displaying images, menus and Live View, the rear LCD will show the Shooting Info Display when the "info" button is pressed.
No high-end DSLR today would be complete without Live View. But as usual, Nikon has put its own spin on the idea. Live View on the D300 is accessed from the Release mode dial, so there is no ambiguity about whether it's on or not. Composition gridlines and high levels of magnification for focus checking are available, which is especially effective on the large, detailed LCD. Nikon has implemented a two-pronged approach to auto focus in Live View: the standard method of flipping down the mirror to use conventional auto focus, and a contrast-detection auto focus in what is called "Tripod Mode" due to its slower speed. But handheld use of the latter is possible as long as your subject is reasonably static and you don't move too much. The D300 also has an HDMI connector and Live View can be seen through a high def TV or computer monitor.
The D300 also features a self-cleaning sensor, which automatically operates on startup and shutdown, and can be run manually as well.
As Nikon's top-of-the line DX-crop SLR, the D300 offers many features that professional photographers expect. The viewfinder is very large and bright for a non full-frame body, with 100 percent frame coverage. The D300 also has professional-level speed — with high frame rates, optional speed-boosting options and fast UDMA mode Compact Flash writing, the fastest method currently supported by a DSLR. The built-in pop-up flash might not seem like a pro feature. But it uses Nikon's i-TTL flash metering and can be used to control remote wireless flash with Nikon Creative Lighting System-compatible flashes.
Nikon has further refined its menu system. The Playback, Setup, Shooting and Custom Settings menus all carry forward, while the Retouch menu from recent Nikon consumer DSLRs now makes an appearance. The former Recent Settings menu has now become a fully customizable "My Menu." The Picture Control menu replaces the old Optimize Image menu. There are four relatively self-explanatory stock Picture Control presets – Standard, Neutral, Vivid and Monochrome – and each can be retroactively applied to files. They can also be customized with sliders for sharpness, contrast, brightness, saturation, and hue.
The Custom Settings menu has 48 settings with a few submenus, as well as more than 100 options divided into six categories. The new Retouch menu allows photo editing in all-JPEG output without ever leaving the camera. Editing original files will save the resulting image as a new file, preserving your original.
Camera Menus

Nikon D300 Shooting Menu

Nikon D300 Playback w. Overview Data information
Nikon D300 Picture Control Menu (left) and adjustable sliders (right)

Nikon D300 Retouch Menu

Nikon D300 Custom Setting menu

Nikon D300 Customizable My Menu

Nikon D300 Shooting Info Display

Design

The D300 feels every bit as good as its spec sheet suggests. Its rubberized, contoured grip and magnesium-alloy body contribute to a solid, natural feel. Even the command dials are rubberized for optimal grip and quiet operation. They are also tilted slightly to better engage the fingers and enable more comfortable adjustments.
Ergonomic design is one of Nikon's hallmarks. The D300 can be operated almost entirely by feel. Compared to the D200, the D300′s, the grip allows greater freedom of movement for the thumb to interact with the Main command dial and Multi-selector. Controls are placed logically and within easy reach. Commonly used controls have dedicated buttons and selectors on the camera body, with most set up so that you never need to take your finger off the shutter button.
The best part of the D300′s design, however, is customizability. Instead of allowing just one button to be customized, Nikon allows a host of features to be enabled for the AE/AF-L, FUNC and Depth of Field Preview buttons. The AF-On button on the grip can also be customized in a more limited fashion. Command dials can be enabled for playback and menu navigation. The center button on the multi-selector can be configured to zoom in to one of three preset magnifications or to zoom out to thumbnail or histogram view.
Nikon D300 top & back controls
Nikon D300 Pop-up Flash & Release Mode Dial

The D300 features a number of environmental seals designed to safeguard against dust and moisture. I have shot in the rain with the D300 without problems. However, this camera is not designed for serious wet weather operation. So if you're planning to shoot in heavy rain, I'd advise using a cover of some sort, particularly over the pop-up flash.
Camera Experience
The D300′s complex Multi-CAM 3500 DX auto focus system is incredibly accurate and will do precisely what you want it to do, provided you have the patience to learn what makes it tick. The peripheral auto focus points have better accuracy than I have experienced on any film or digital SLR, including Nikon and Canon's previous high-end cameras.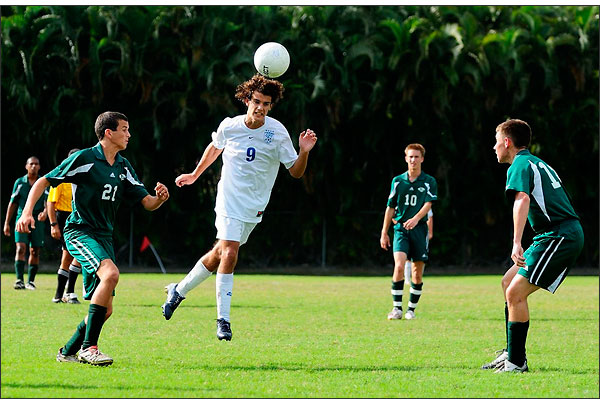 The D300 offers several auto focus modes. The 3D-tracking mode is a cool new concept for auto focus. Once auto focus tracking is initiated with the selected AF point, the sensor stores the subject's colors and tracks it across the frame. It's fun to watch as the focus point follows your subject around. It isn't perfect, and isn't for every situation, since you really need a distinct color to lock on, and areas with similar colors have fooled the camera in my experience. I usually use the 9 or 21-point Dynamic-area AF modes, or occasionally, when the subject fills more of the frame, I use the 51-point Dynamic-area AF. It is important to keep track of your subject size in relation to the frame, and use the proper Dynamic-area AF mode, or you could hurt your chances of proper tracking.
White balance performance is excellent in most situations. As expected, the D300 still hasn't achieved perfection in incandescent (tungsten) light, but using a WB preset or Kelvin white balance easily combats that. The LCD is quite accurate when brightness is adjusted properly, and can be used for rough WB estimates. Live View mode allows you to preview and adjust your white balance settings on the fly without taking superfluous shots. There is also a new series of white balance presets for fluorescent light, including sodium and mercury vapor.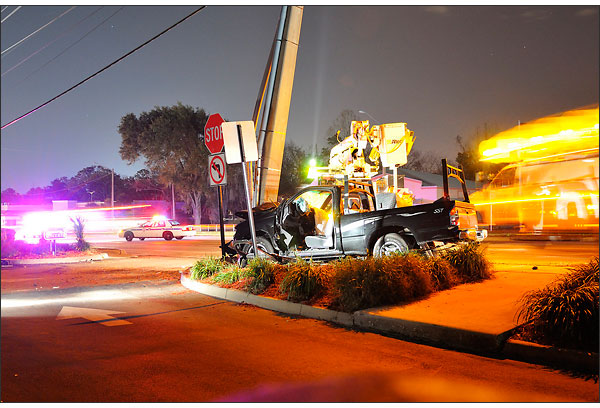 The Scene Recognition System, introduced in August of 2007, lives up to the hype. It identifies types of subjects and scenes and uses that information for better metering, white balance, and auto focus. Nikon has had a great system since the D200, and it only gets better in the D300 with improved metering accuracy and the industry's best Auto ISO. Metering is consistent and reliable, though it seems to expose a bit hotter than some previous Nikon bodies. On the D300 in auto ISO mode, you can do two things you could not previously: set an upper limit in the high range (ISO 6400 maximum) and engage Auto ISO at any sensitivity. This is by far my most used feature. I have Auto ISO on more than 80% of the time, primarily in Aperture Priority and Manual exposure modes. It allows me the flexibility of simply choosing my shutter speed and aperture limits and letting the camera choose exposure settings anyway it sees fit.
The D300 shoots at six or eight frames per second, depending on the battery. However, in 14-bit RAW mode the frame rate drops to 2.5 frames-per-second. And with Auto ISO engaged, maximum shooting rate drops to 7.5 FPS. This is still very fast, and I have not really felt the speed difference between 7.5 and 8. I don't shoot action in 14-bit RAW, for the file size goes up too much and 2.5 frames-per-second is unacceptably slow for that kind of shooting. Not being able to shoot sports in 14-bit RAW mode is the only real disappointment for me in terms of speed.
Battery life is a marked improvement over the D200. In my experience, the D300 gets nearly twice the number of shots per charge with the exact same EN-EL3E batteries. With an EN-EL4a battery in the optional MB-D10 battery pack and an EN-EL3 in the camera, it can keep going for well over a thousand photos.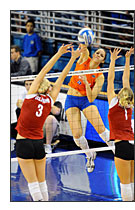 The D300 is one of the first cameras to support the UDMA CompactFlash read/write speed standard, which significantly improves buffer flush times. I now exclusively use Lexar Extreme IV and 300X cards in my D300. They write out very quickly, enabling me to keep a burst going long enough to cover just about any play in basketball, volleyball, lacrosse, tennis, baseball, softball, and football.
The D300 LCD is fairly bright, however in direct sunlight you may need to shade it some with your hand. Removing the included LCD protector can hurt in this situation, as the LCD seems brighter and more contrasty in without it. The screen itself is pretty durable, so I don't worry too much about taking the protector off every now and then.
The very high resolution has increased sensitivity to camera shake that some photographers noticed with the D2x and D200. The D300 requires good handholding technique to avoid motion-induced blur.
Image Quality
The D300 really raises the bar for image quality from APS-C crop sensors. Low ISO performance is exemplary with a tremendous amount of detail captured in every 12-megapixel file. Appropriate sharpening must be applied to the files, as the default sharpening of "3″ on the 0-9 picture control scale is a bit weak for the D300′s anti-aliasing filter. I normally shoot at "5″ and use unsharp mask as necessary in post-processing. Colors are rendered with natural skin tones and accurate color reproduction overall. I tend to boost saturation and contrast one notch, which results in colorful, punchy files that require only a tiny bit of post-processing.
Nikon has finally caught up with and even beaten Canon at its own game of high ISO image quality. As has become the norm for Nikon bodies, in-camera noise reduction is available and kicks in at ISO 800. I have had numerous ISO 1600+ photos published in newsprint and online, and the results have been fantastic. While ISO 6400 (Hi-1.0) adds some luminance speckling to the image, this can be cleaned up without a lot of effort using Photoshop, Capture NX, or your favorite noise reduction software. I've had success cleaning up the speckling with standard Photoshop CS3 filters such as a very high threshold Dust and Scratches filter. I have an 8×10 color print from a photo I took with the D300 at ISO 6400 under sodium vapor lamps. The noise is all but invisible in the print, and there is a huge amount of detail- with no additional noise reduction beyond setting the "High ISO NR" option in the Shooting Menu to "Low." However, I cannot stress enough the importance of proper exposure at high ISO. Above ISO 1600, if you mess up the exposure, you may encounter significantly more noise than you would have otherwise.
Click on thumbnails to view sample photos.
Conclusion
The D200 was designed to be a "baby" D2X. The D300 was designed to be a better D2X at a third of the cost. Nikon succeeded admirably in this design goal. The D300 delivers superb image quality along with worthwhile feature and functionality advancements. It also offers added versatility and some extremely compelling new features compared to the D200. Although priced higher than its closest competitors — Canon EOS-40D, Sony A700, Olympus E-3, and Pentax K20D — I believe the D300 is aimed a bit higher – in large part replacing the D2X as Nikon's new pro DX-format body.
I hadn't planned to buy a D300. But initial reports from camera trade shows got me interested enough to replace my D200 early. It was an excellent decision. The auto focus system alone was more than worth the jump. When combined with the MB-D10 grip, the D300 feels almost entirely as solid as the D3 and offers almost all the same features. But it can also be stripped down to a compact body in seconds.
Who Should Buy It
The D300 is for any serious photographer – the serious amateur, the occasional event shooter, and the full-blown professional. I've been all three of these, and I made a concerted effort during the past two months of testing to use it in situations that all three types of photographer would. In each case the D300 met or exceeded my every expectation, and surpassed every camera I've used shy of the D3.
The price point also makes it very accessible. Before upgrading to a D300, however, potential purchasers should evaluate the quality of their lenses, as the D300 shines when coupled with high-quality optics.
Photographers who may not need the D300′s huge feature set may wish to save a little money by purchasing a new or used D200. However, the D300 price will drop over time and cost will become less of an issue.
- end -
Contents of the Nikon D300 Box

Nikon D300 Body
Rechargeable Li-ion Battery
Quick Charger
USB Cable
Video Cable
Strap
LCD monitor cover
Body cap
Eyepiece Cap
Rubber Eyecup
Software Suite CD-ROM
Other Resources:
Nikon Review Page >>
Shop For Nikon D300 >>
Nikon D300 User Reviews >>
Write a Nikon D300 Review >>
Nikon D300 Camera Specs >>
Nikon D300 Sample Gallery >>
Nikon Web site >>
Nikon D300 Camera Manual >>
All Digital Camera Pro Reviews >>
Digital Camera Buyer's Guide >>
All Digital Camera Sample Images >>
deckcadet Profile >>