by Photo-John and Renee Lee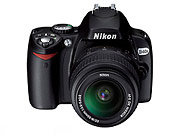 Nikon's entry-level D40x digital SLR is one of the smallest and lightest 10-megapixel DSLRs on the market. The D40x has a high-resolution 2.5-inch LCD display with a unique, user-friendly exposure information display and a built-in Help system. It was available as a kit that included an 18-55mm DX Zoom-NIKKOR kit lens. But due to the recent introduction of the Nikon D60, it's now available as a body only. If you want a kit you'll have to buy the D60 kit, which comes with the new Vibration Reduction version of the 18-55mm Nikkor kit lens.
Want to buy an Nikon D40x?
Compare prices and shop For Nikon D40x >>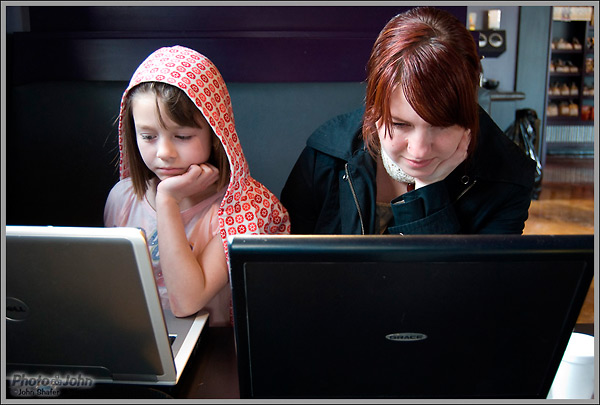 Pros
Compact and light weight
Unique Help menu and Shooting Information Display
ISO 100-3200 sensitivity range
10-megapixel sensor (3872×2592 pixels)
Noise Reduction option
Shooting Information Display
SD memory card (if you're stepping up from a compact digital camera)

Cons
Difficult to access some functions without using the menu
Slow 1/200 second flash sync
Only 3 auto focus points
SD memory card (if you already have CompactFlash cards)

Introduction
This review is a collaboration between Renee Lee and me (Photo-John). We both used the D40x extensively and shoot very different styles and subjects so we thought it would be interesting and fun to combine our experience and opinions into one review. And since the D40x is very similar to the previous D40 and the recently announced D60, we've also include some information on those cameras, too.
The D40x is an entry-level DSLR, however it offers several features you might expect from a higher end camera. These include a wide ISO range, 10.2-megapixel sensor, and a 2.5-inch LCD screen. The body and menu system are identical to its predecessor, the 6-megapixel D40. The D40x has been updated from the D40 with increased resolution, lower base sensitivity of ISO 100, faster continuous shooting at 3 frames-per-second, and a slower flash sync of 1/200th of a second. We tested it with both the 18-55mm DX Zoom-Nikkor kit lens and the versatile AF-S DX VR 18-200 f/3.5-5.6 Nikkor zoom lens. Nikon's new D60 has the same body and 10.2-megapixel sensor, Nikon's new EXPEED processing, an improved dust-reduction system, more in-camera processing options, Active D-Lighting, and an Eye Sensor that turns the LCD on and off when you're looking through the viewfinder. The D60 is also sold as a kit with a new Vibration Reduction version of the 18-55mm kit lens.
The compact size and high resolution of the D40x have made it a very popular camera and we were excited to see how it measured up. For Renee, a portrait and stock photographer, it offers the high resolution she needs in a small, light package. She wanted to see how it compared to the Nikon D70 and D200 she regularly uses. Renee used the D40x for a variety of photo jobs including a fashion photo shoot and some child portraits. I do a lot of outdoor photography and like the compact size and simplicity of the D40x. I shot our studio test photos, took it mountain biking and skiing, and took a lot of fun snapshot style photos.
10.2-megapixel sensor (3,872 x 2,592 pixels)
Sensitivity range from ISO 100-3200
2.5-inch LCD screen
Full range of exposure modes including full manual and 8 Digital-Vari Program Automatic Shooting Modes (scene modes)
3-Area Autofocus w 3 auto focus modes
3 frames-per-second capture rate
Creative in-camera effects including D-Lighting
Help button
Pop-up flash
The D40x's 10.2-megapixel sensor makes beautiful 16×20 inch prints easy and gives you extra space for cropping. This kind of resolution was unheard of for entry-level digital SLRs a couple of years ago. So it's pretty impressive to have it in the D40x, even if it is pretty much the standard for this class of camera now.
The D40x's wide sensitivity range starts at ISO 100 and goes all the way up to ISO 3200. That's a huge range that makes it possible to shoot in almost any lighting condition. The camera offers a full range of shooting modes, including Program, Manual, Shutter-Priority, Aperture-Priority, and 8 Digital-Vari Program Automatic Shooting Modes. The Digital-Vari Program Automatic Shooting Modes – Nikon's name for "scene modes" – include Sports, Landscape, Child, Portrait, etc. Between the manual exposure options, scene modes, and wide ISO range, almost any level and type of photographer should be able to get what they want with the D40x.
If it's too dark for ISO 3200 or you prefer flash, the D40x has a built-in pop-up flash with a flash synch of 1/200th second and a rear-curtain sync option. If the pop-up flash isn't enough, the D40x also supports all of the Nikon Speedlight flashes.
The D40x's high-resolution 2.5-inch LCD screen has a viewing angle of 170 degrees – great for sharing photos with friends. The D40x has a unique Shooting Information Display Page and easily accessible Help menu. The question mark button to the left of the LCD will display a description of a problem or feature. Anytime you don't understand something, just press that button to get an explanation. Pressing the bottom button to the left of the LCD while the Shooting Information Display Page is visible offers quick access to important settings like white balance, ISO, auto focus, image quality, and metering mode.
The D40x offers a bunch of auto focus options as well as manual focus. The photographer can select AF-S (single shot), AF-C (continuous auto focus), and AF-A, which chooses between continuous or single shot depending on the subject. There are three auto focus points and three ways to use them. Single Area AF allows you select a focus point as does Dynamic Area AF, the difference being that Dynamic Area AF will track a subject if it leaves the selected AF point. Closest Subject auto focus chooses the focus point on the subject closest to the camera. This range of auto focus options and a high-speed capture rate of 3 frames-per-second makes action photos of kids, pets, and simple sports a reality.
Camera Menus

Nikon D40x basic playback

Nikon D40x playback with histogram

Shooting Information Display

Shooting Information Display w. ISO selected for change

Nikon D40x menu display

Design
The Nikon D40x body with the 6-megapixel D40 and the new D60. If it works, don't fix it, right? These three cameras all have the same controls, menus, auto focus, metering, etc. The body is compact, lightweight and easy to carry. Like other entry-level DSLRs, it has only one exposure control dial and a thumb-actuated button to toggle between aperture and shutter speed control. There are almost no dedicated control buttons on the camera body, so most settings need to be changed through the menu system. Luckily, Nikon made it easy to access the most used settings through the Shooting Information Display Page. Pressing the "i" button once brings up the Shooting Information Display Page. Pressing it again gives you access to key settings like ISO, white balance, focus mode, etc.
Nikon D40x Top and Back Controls

Ergonomically The D40x feels a bit more solid and serious than Canon's entry-level Digital Rebel XTi, and other entry-level digital SLRs. It's a little sturdier, has a more comfortable grip, and generally feels like a more substantial camera. People with larger hands may have a hard time with the D40x since it is so small. But unless you're already used to holding a bigger camera, you probably wouldn't notice the difference. Camera fit is always an important consideration. On the other hand, a smaller camera is easier to pack and keep with you all the time.
The D40x is designed to use SD memory cards. That's great if you're stepping up from a compact digital camera and already own some SD cards. However, if this is a second digital SLR and you already own a few CompactFlash cards, it's not so good. Personally, I prefer CompactFlash memory and I'm not so happy about camera companies starting to design DSLRs for SD memory instead of CompactFlash.
Camera Experience
Renee and I both got to use the D40x quite a bit. We both agree that the D40x's best qualities are its compact size and how easy it is to use. Most people will be able to just pick it up and start shooting. And this isn't the norm with Nikon DSLRs. Photographers who are used to other camera systems often have a hard time getting used to higher-end Nikon digital SLRs. The D40x is definitely an exception to that rule.
When it was introduced, Nikon claimed that the D40 and D40x were the smallest available digital SLR cameras. I'm not sure if this is still true. But the camera is very small. Renee commented that when she first opened the D40x box, she was amazed at the small size of the camera: "I am used to carrying around a big, heavy camera that leaves me sore at the end of long photo sessions. The D40x is easy to carry around and fun to shoot with. The first shoot I did lasted about 2 hours and my arm didn't get tired once."
For me, the small size and light weight made it great for shooting skiing and mountain biking. Even with Nikon's somewhat chunky AF-S VR 18-200 lens, the whole package is very light and compact, making it easy to carry in a backpack.

Renee used the D40x for several studio and portrait jobs. "During my first shoot I set the camera to Programmed Auto (P mode) and all of my images came out wonderful without my having to think about settings. In fact, it almost felt like a point-and-shoot camera – but with better results. It was really easy to pick up and learn. Unlike more advanced Nikon digital SLRs, the controls are fairly intuitive and keeping the manual nearby isn't mandatory. At the end of each shoot I was very happy with the image quality and color." Renee shoots mainly stock photography, which has very high image quality standards. The Nikon D40x didn't let her down. She noted a little noise in photos with blue sky, but nothing that couldn't be fixed with a little post processing. The D40x has a lot of pro DSLR features, but there are things she said she missed, including a wider area of coverage by the auto focus points and dedicated control buttons for ISO, white balance, etc.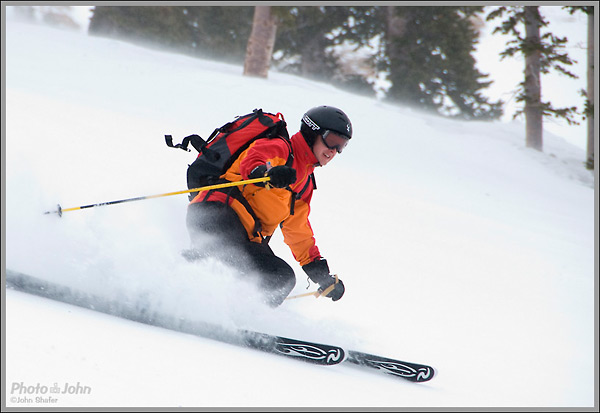 Renee and I both wished the camera had more than three auto focus points. She prefers the precision of the 11-area auto focus system on the D80 and D200. However, auto focus performance with those three points is very good. I shot a bunch of ski photos using the AF-C continuous auto focus mode and I was very impressed with the AF system's ability to keep up with fast-moving subjects. I don't know how it would be for motor sports or serious racing, but for recreational ski and mountain bike photography it works great.
Nikon's D-Lighting processing (see samples below) impressed both of us. D-Lighting is an in-camera effect that can be applied after an image is taken. It is most impressive on backlit and underexposed images but works admirably on most photos. A lot of difficult and time-consuming post-processing is achieved in-camera with D-Lighting. To apply the effect you go to the Retouch Menu and select D-Lighting. Then you choose the photo you want to adjust and apply Low, Normal, or High D-Lighting. The camera then applies the effect and saves the adjusted image as a separate copy so you don't lose the original. Nikon's new D60 has Active D-lighting which can be applied automatically instead of manually, as we did with the D40x. D-Lighting will be appreciated by photographers without post-processing experience as well as those shooting sports or other subjects where you don't always have time to set up a perfect exposure.



Nikon D-Lighting before and after sample photos. Click on images for larger versions.
The built-in Help menu is absolutely wonderful. For any menu feature or setting, the Help button displays a screen that describes exactly what that setting does. And it's not just for beginners. Renee said, "After years of shooting, I still appreciated the Help button. It is like having a little built-in manual." I really liked how the Shooting Information Display screen gave me quick access to key camera settings like white balance and ISO. It took me a little while to get used to using it. But once I did, I loved how easy it made it to change settings. However, it would have been nice to have dedicated ISO and white balance buttons. The Shooting Information Display page also makes it easy to understand how the aperture works with a graphic of the aperture that opens and closes as you change your f-stop.

Graphic shutter speed and aperture display. The left display image has a smaller aperture at f/18 and the right has a larger aperture at f/6.3.

The AF-S Nikkor 18-55mm f/3.5-5.6G II ED kit lens is a decent entry-level zoom lens. It's versatile and gets the job done. However, we did notice some softness on the edges of photos in low light situations where we had to shoot with large apertures. Nikon has discontinued the D40x kit so if you want a kit now, you'll have to buy the D60 with the new VR version of the 18-55mm kit lens. We haven't tried the new lens yet so we don't know if the optics have been improved. But Nikon's Vibration Reduction offers very real benefits to any photographer. Nikon sent us their AF-S DX Nikkor VR 18-200mm lens to test along with the D40x. It's a super versatile all-purpose lens featuring Nikon's Vibration Reduction system to help minimize camera shake and ensure sharp photos. Replacing the kit lens with the 18-200 VR or another more expensive lens is a great way to get the most from the D40x.
Image Quality
Image quality from D40x image files will be more than adequate for most photographers. Images are creamy and pretty much noise-free at ISO 100. It's only at ISO 1600 that the image quality starts to get a bit chunky – and even then the noise is film-like and detail holds up well. We made an uncropped 8.5×11-inch print from the ISO 800 studio test and were very impressed at how clean the image looked. Noise was really only visible in the bright color patches on the Macbeth color chart. Color was accurate and detail at ISO 800 was very good.
I am especially impressed at the D40x's auto white balance. It's very accurate and pleasing. This is especially noticeable in ski photos I shot. I also think the D40x renders skin tones very nicely. Portraits look very natural without too much saturation.
Most of Renee's images are shot for stock photography where image quality is critical. She noticed a little noise in blue skies when viewing low ISO images at 100%. But most photographers won't inspect their image files as closely she does. For me, getting the shot is more important than perfect image quality. Being able to push the ISO up to 800 without excessive noise means I can shoot action in low light without flash and without worrying about image quality. Overall the image quality is great, easily capable of delivering high quality prints up to 16×20 when shooting at low sensitivity and full resolution. I would have no qualms about submitting D40x images to magazine photo editors that I work with. The only real limitation is the kit lens, which is a bit soft around the edges at larger apertures. But that's not really a camera problem. The kit lens can be replaced with better optics if people find it's not up to their standards.
Click on thumbnails to view sample photos.
Conclusion
Overall, the testing the D40x was a great camera experience. Renee is a regular Nikon shooter and uses several different Nikon cameras including the D70 and D200. She commented that the D40x's image quality and performance were comparable to the higher-end Nikons she uses. I use all kinds of digital SLRs and compact digital cameras and was more than happy to take the D40x out on the trail or ski slopes.
The D40x will make a great entry-level digital SLR for beginners or a compact second body for photographers who want a backup. It's well-built, sturdy, and performs well for such an inexpensive camera. Standout features of the D40x are the image quality and high resolution, high-ISO performance, Nikon's D-Lighting in-camera image processing, and the built-in Help system. And for people who value a small camera, the D40x is a winner. Like I said in the review, even with the somewhat bulky 18-200 VR lens mounted, it's a very light and portable camera.
The recent introduction of the new Nikon D60 complicates things a little – but just a little. In my opinion, the new camera doesn't offer much more than the D40x – unless you buy the kit. Then you get the new AF-S DX NIKKOR 18-55mm f/3.5-5.6G VR image stabilization lens, which is definitely a worthy upgrade. However, if it was my money, I'd spend just a little more for the D40x and the Nikon 18-200mm f/3.5-5.6 AF-S VR lens. Sure, that combo will cost $1200 vs. $750 for the D60 kit. But it's a super versatile camera / lens combination and one that most photographers won't outgrow too quickly.
Who Should Buy It
The D40x is a great choice for photographers buying their first digital SLR, or photographers who like the convenience of a smaller camera. It also makes a great camera for hobbyists who don't really need a big, heavy, expensive DSLR with a million buttons on the body – save some money on the body and buy a better lens! For photographers who don't need lots of resolution, the less expensive D40 might serve just as well. Experienced amateur photographers already familiar DSLRs might be better off spending a little more money on a D80 or better.
- end -
Contents of the Nikon D40x Box
Nikon D40x Digital SLR Camera
EN-EL9 Rechargeable Li-ion Battery
MH-23 Quick Charger
UC-E4 USB Cable
PictureProject
DK-16 Rubber Eyecup
Camera Strap
BF-1A Body Cap
DK-5 Eyepiece Cap
BS-1 Accessory Shoe Cap
Other Resources:
Nikon Review Page >>
Shop For Nikon D40x >>
Nikon D40x User Reviews >>
Write an Nikon D40x Review >>
Nikon D40x Camera Specs >>
Nikon D40x Sample Gallery >>
Nikon Web site >>
Nikon D40x Camera Manual >>
All Digital Camera Pro Reviews >>
Digital Camera Buyer's Guide >>
All Digital Camera Studio Sample Photos >>