Canon has announced that their EOS-1D X professional digital SLR, announced last fall, will be delayed until "the end of April 2012." Originally, availability was projected for March 2012, so that it would be ready ahead of the upcoming London Olympics. Like other big camera makers the earthquake in Japan and flooding in Southeast Asia disrupted Canon's camera production. It's also possible they're having other challenges with the 1D X, although the official announcement is very brief and doesn't say anything other than the camera has been delayed.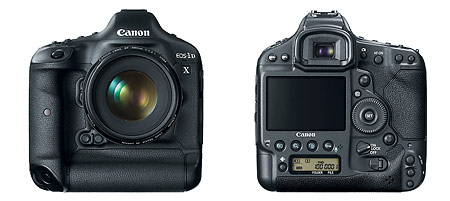 The Canon EOS-1D X is an 18-megapixel full frame digital SLR designed for professional sports, photojournalist, wedding and commercial photographers. With a brand-new 61-point auto focus system, up to 14 frames per second full resolution burst, full HD video and sensitivity to ISO 204,800 (expanded), it combines high speed and professional image quality in one camera. I got to see and handle it last October at the PhotoPlus Expo (Canon EOS-1D X hands-on article) but they weren't letting anyone take pictures with it at the time. Sample images have started to appear on the Internet recently.
There are also questions about the 1D X price, which Canon said would be about $6800 – an amount that caused some grumbling in spite of the 1D X's impressive specs. After Nikon's announcement, a few weeks ago, of their very competitive D4 pro DSLR (Nikon D4 announcement), priced at $5999.95 and scheduled to be available any day now, photographers wondered if Canon would lower the 1D X price to make it more competitive. No doubt, some Canon photographers also started thinking about jumping ship to get the latest and greatest from Nikon in their hands now. I'm still excited about the Canon EOS-1D X but it's pretty easy to get distracted with the Nikon D4 on its way and so many other new cameras hitting the streets since the initial announcement.
Canon EOS-1D X Announcement >>
Canon EOS-1D X First Impressions >>
Official Canon EOS-1D X Delay Statement >>

Related Content:
All Canon Reviews
All Digital SLR Reviews
Canon Cameras Forum
Digital SLR Forum
All Canon Camera News And Articles
Canon Cameras Web Site