Nikon D7000 Features & Design

With a burly magnesium chassis and weather-sealed body, the D7000 is a little bigger and more substantial feeling than an entry level digital SLR. It's still a reasonably small camera, though – especially if you compare it to a pro body like the Nikon D3s. For me, this is a good thing. I like smaller, lighter camera bodies that are easy to carry in a pack on my bike or skis. The D7000 also has a nice rubberized finish, adding to the solid and confidence-inspiring feel of the camera.
The controls split the difference between an entry-level digital SLR and a full-on pro body. The D7000 has separate shutter and aperture control dials at the thumb and index finger, as well as an exposure compensation button just behind the shutter release. Nikon trickled down the Release Mode Dial (below, left) from the D300 and FX full-frame bodies, an indication of Nikon's upgraded intentions for the D7000. The Release Mode Dial is below and around the mode dial and used to select burst mode, single shot, timer, etc.
| | | |
| --- | --- | --- |
| Nikon D7000 Release Mode Dial | | Nikon D7000 Live View lever |

My favorite thing about the D7000 controls is the intuitive new Live View toggle lever (above, left). To turn on Live View you just flip the lever to the right. To turn it off you flip it again. To start recording video you press the orange button in the middle with your thumb. It's spring-loaded so you don't have to toggle it back and forth like you do the Live View switch on the Canon EOS 7D. When I use another camera after the D7000 I really miss that Live View control. That's a pretty solid confirmation of a great feature design.
Nikon D7000 Intro Video:
Since I shoot a lot of outdoor action sports, I was really interested in the D7000′s new 39-point auto focus system, the six frames per second burst rate and the new 16-megapixel sensor's high ISO image quality. Of course, the D7000 also has upgraded video features that Nikon introduced with the D3100 — 1920 x 1080 full HD video, continuous auto focus in movie mode and a built-in intervalometer. The continuous auto focus is a big deal – currently, the Nikon D3100 and the D7000 are the only true digital SLRs with full-time continuous auto focus in movie mode. I think the D7000 is also the only digital SLR with a built-in intervalometer, which allows you to automatically take photos over a period of time for time-lapse movies. Usually this is an accessory that costs $100 or more. Check out my D7000 sample video (next page) for a time lapse of melting ice.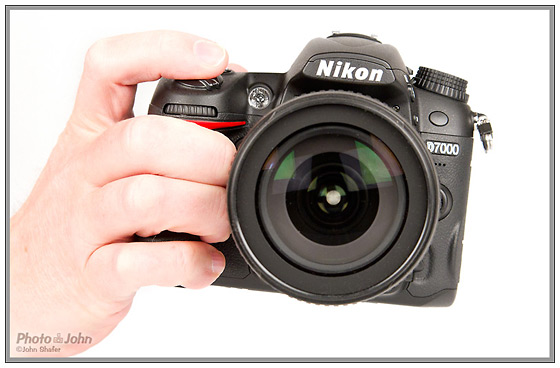 Next – Nikon D7000 Camera Experience >>


Nikon D7000 Review Navigation