Nikon D7000 Image Quality

Nikon has been the DSLR image quality leader for a few years now so I had high expectations for the D7000. I wanted to see how it compared to my personal camera, the Canon EOS 7D. I also got my hands on a Sony Alpha SLT-A55, which is rumored to use the same sensor. Having all three of cameras at the same time made for a very interesting image quality comparison.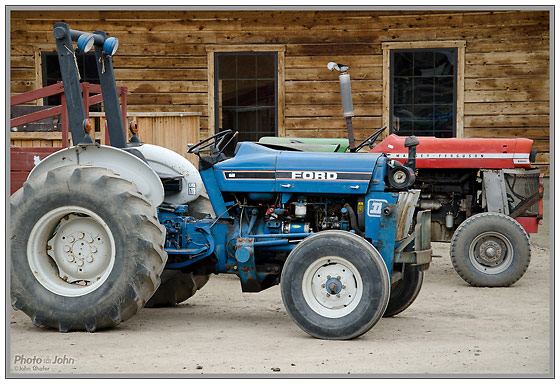 I had big expectations for the D7000 so I pushed it hard. Only in the past couple of years have I been willing to shoot over ISO 400 – and then only if I felt I had no choice. But I went out on a limb and shot most of my D7000 action photos at ISO 800. That made it easy to freeze skiers and cyclists at 1/1000th of a second or faster. And just for the hell of it I shot some ski photos at ISO 1600. Printed at 8.5 x 11 inches, ISO 800 and ISO 1600 images looked great. I think 11 x 14 prints would be fine for ISO 1600 and the sky is probably the limit with ISO 800 files. Even ISO 3200 is useable with subjects that don't need tons of detail. I wouldn't go over ISO 800 for landscape photos, though.
I shot more than sports with the D7000. I also took it to the Snowcial snow sports and social networking conference where I shot both skiing and speakers under crappy stage lighting. I shot the conference presenters at ISO 6400 and the photos are definitely a bit chunky but still totally usable – especially considering the subject and conditions. Last year I shot the same conference in the same lighting with my Canon EOS 7D and didn't go above ISO 1600. Those photos have less noise and a bit more detail but there were a lot more throwaways due to motion blur. Since Nikon DSLRs are supposed to have such great high ISO performance I thought, "What the hell?" and went ahead and turned it up to 11 (ISO 6400). Yes, the D7000 also has ISO 12,500 and 25,600 settings. Those are only for show-offs and emergencies, though. They do work and they are impressive. But you don't want to use them for photos you care about.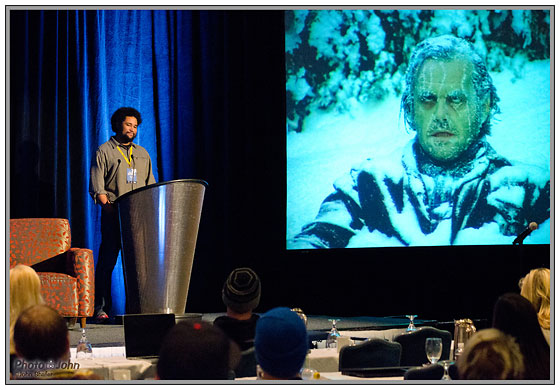 Pixel peepers beware – D7000 photos look a bit hard and chunky at 100%. At first I thought the crunchiness was a problem – I mistook it for increased noise. But after looking at photos at a more reasonable viewing size (50%) and printing a few I've decided that's not the case. I also discovered the Sony Alpha A55 images looked almost the same when viewed at 100% – a pretty sure sign that the A55 and D7000 use the same sensor. I believe the hard grain is a deliberate strategy intended to preserve detail. High ISO D7000 images do seem to render and hold details better than other cameras I've used. This was most noticeable at very high ISO settings where image from cameras I've used in the past start to get soft and lose detail. For reference, I compared ISO 6400 studio tests for the D7000, the Sony A55 and the Canon EOS 7D. I was surprised to discover that, aside from white balance and exposure differences, the D7000 noise was about the same as the Sony and Canon (see below).
100% crops from (left to right) the Nikon D7000, Sony Alpha A55 and Canon EOS 7D cameras

No doubt about it – the Nikon D7000 has great image quality and it's totally useable up to ISO 3200 and even 6400, depending on your subject. However, after comparing to the Canon EOS 7D and Sony Alpha A55 I have to conclude the image quality is about equal to those two cameras. I have to admit – I expected more from the D7000. I'm not saying it's bad – not at all. The image quality is great. But based on the past few years of clear Nikon dominance I thought the D7000 would be noticeably better than the Canon EOS 7D and Sony A55.
Click on thumbnails to view sample photos.

Next – Nikon D7000 Conclusion >>


Nikon D7000 Review Navigation