To complement their impressive new OM-D E-M5 camera, and hot on the heels of Panasonic's 12-35mm f/2.8 zoom lens announcement, Olympus is introducing another fast prime lens for the Micro Four Thirds system. The new M.Zuiko Digital ED 75mm f/1.8 prime lens is equivalent to 150mm on a full-frame digital SLR, making the f/1.8 aperture a bigger deal than it might seem at first glance. Olympus says the new 75mm lens is "optimized for studio, stage, indoor sports and portrait photography." Really, it's perfect for anyone who needs a medium telephoto lens with a large aperture for low light photography or depth-of-field control. And with a rounded, 9-blade aperture, the bokeh should be beautiful. I expect it will really shine as a portrait lens.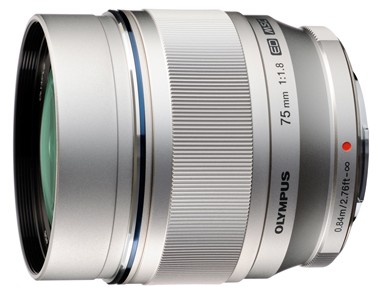 Looking at the Olympus-supplied product photos, the new 75mm f/1.8, with its silver metal finish, looks especially handsome mounted on a silver E-P3 Pen camera. Olympus is also offering a matching accessory lens hood and lens cap to go with the new lens (see gallery, below). It's not just fast and pretty, though. The official press release makes an extra effort to emphasize performance. The lens has three ED (Extra-low Dispersion) optical elements and Olympus's "exclusive ZERO (ZUIKO Extra-low Reflection Optical Coating) lens coatings" to ensure excellent image quality. Olympus says the Zero coatings reduce internal lens reflections to half of what you'd get with most lenses. That means sharper photos with better contrast and less flare. The 75mm f/1.8 also uses Olympus's MSC (Movie & Still Compatible) auto focus motor for silent, speedy focusing in both video and still modes. The contrast detect auto focus used on Micro Four Thirds and other mirrorless cameras still isn't as fast as a good digital SLR for moving subjects. But on still subjects, the Micro Four Thirds cameras have been setting new bench marks. So as long as you aren't trying to use continuous auto focus for fast action, the 75mm f/1.8 auto focus should be excellent.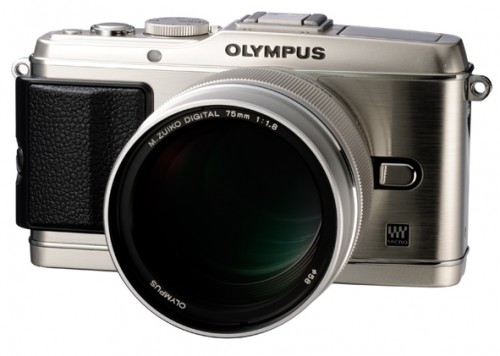 With the new M.Zuiko Digital ED 75mm f/1.8, Olympus now has five fast Micro Four Thirds primes. Add the two new Sigma Micro Four Thirds prime lenses and the five Panasonic Micro Four Thirds primes and (correct me if I missed any) there are now a total of 12 dedicated, fast-aperture prime lenses for the Micro Four Thirds system. That's pretty good range of lens options for people who appreciate the low-light, depth-of-field control and optical qualities of prime lenses – especially when you consider that the Micro Four Thirds format has only been around for a few years. I'm still anxious for fast zoom lenses since I mostly shoot with zooms. The new Panasonic 12-35mm f/2.8 was a welcome announcement but it's just a start. Plus, the optical image stabilization in the Panasonic is redundant with Olympus Micro Four Thirds cameras since they all have built-in, sensor-level image stabilization. Ever since Olympus introduced their first Micro Four Thirds camera, the E-P1, I've been asking them for a Micro Four Thirds version of their excellent 12-60mm f/2.8-4 Four Thirds zoom lens. That's my Micro Four Thirds dream lens.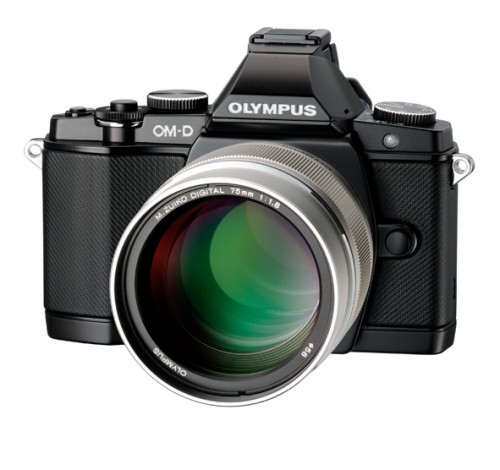 The Olympus M.Zuiko Digital ED 75mm f/1.8 press release says the lens will be available, "in summer 2012." That's a little vague but I'd bet it's out before the end of July. The price should be about $899. That's a lot of dough but comparable digital SLR lenses cost a lot more. Olympus's own 150mm f/2.0 Four Thirds DSLR lens lists for $2500, Sigma's 150mm f/2.8 sells for $1100, the Canon 135mm f/2.0L is about $1000, and the Nikon 180mm f/2.8 also sells for $899. So the Olympus 75mm f/1.8 estimated price isn't bad at all – especially not when you consider that it should have excellent image quality – especially for portrait photographers who really want shallow focus.
Olympus M.Zuiko Digital ED 75mm f/1.8 Press Release >>
Related Content:
All Olympus Camera & Lens User Reviews
All CSC Lens User Reviews
All CSC Camera User Reviews
Compact System Cameras Forum
Olympus Cameras & Four Thirds Forum
More Olympus Camera News And Articles
More Micro Four Thirds Camera News And Articles
Olympus Digital Cameras Web Site