This is a great announcement for Micro Four Thirds mirrorless camera owners. Panasonic has announced a much-needed addition to the Micro Four Thirds lens options, a fast, fixed-aperture zoom lens. The new Panasonic Lumix G X Vario 12-35mm/F2.8 Asph./Power O.I.S. zoom lens has a large f/2.8 aperture and the 12-35mm focal length is equivalent to 24-70mm on a 35mm/full-frame camera. The 24-70mm f/2.8 lens is standard equipment for pro digital SLR shooters. The 12-35mm f/2.8 zoom is also the first fixed aperture zoom lens to be introduced for Micro Four Thirds cameras – that includes Olympus's Pen cameras and their new OM-D E-M5 as well as Panasonic's G-Series interchangeable lens mirrorless cameras.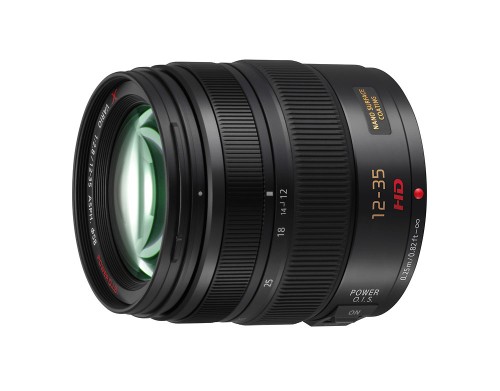 Panasonic Lumix G X Vario 12-35mm f/2.8 Lens Key Features & Specs:
12-35mm zoom range – equivalent to 24-70mm in 35mm/full-frame format
Optics: 14 lenses in nine groups
Seven aperture blades
Inner focus system with silent auto focus for stills and video
POWER O.I.S. (Optical Image Stabilizer)
58mm filter threads
There are plenty of fast prime lenses available now for Micro Four Thirds and other mirrorless camera systems. But there is a distinct lack of pro quality zooms. I've recently been testing Olympus's new OM-D E-M5 Micro Four Thirds camera, a much-higher performance body than their smaller, less-expensive Pen cameras. One of the things I noted while using the E-M5 is the higher level of performance makes the need for pro-level zoom lenses more obvious. So I'm really pleased to see that Panasonic has stepped up and made a worthy zoom. I saw that dpreview had a pre-production lens to play with so I took a look at their preview article and sample photos. The sample photos look good, with more depth-of-field control than I'm used to with Micro Four Thirds cameras. However, the article points out that the smaller Four Thirds sensor means the f/2.8 aperture behaves more like an f/3.5 lens on an APS-C camera or an f/5.6 lens on a full-frame camera. That sounds about right. It would be nice to have an f/2.0 or f/1.8 version for better depth-of-field control. But let's not forget that there are no other fast, fixed aperture zooms for the Micro Four Thirds system and the Panasonic 12-35mm f/2.8 is going to be a huge improvement over all the f/3.5-5.6 and f/4-6.3 zooms we have right now. Also, a larger aperture would have meant a bigger lens. With the f/2.8 aperture, Panasonic was able to keep the lens under 3 inches in length and less than 2.5 inches wide – a very travel-friendly package. To my mind, the bigger concern is, when can we expect a 35-100mm f/2.8 zoom lens?
The new Panasonic Lumix G X Vario 12-35mm/F2.8 Asph./Power O.I.S. zoom lens is scheduled to be in stores in August. No price has been announced yet.
Panasonic Lumix G X Vario 12-35mm f/2.8 Lens Press Release >>
Related Content:
All Panasonic Digital Camera User Reviews
All Compact System Camera User Reviews
All Compact System Camera Lens Reviews
Compact System Cameras Forum
More Compact System Cameras News & Articles
More Panasonic Camera News & Articles
Panasonic Digital Cameras Web Site