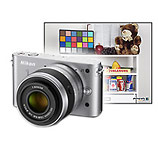 The new Nikon 1 interchangeable lens mirrorless camera system has been a source of controversy since it was announced. The new 10-megapixel "CX" sensor format is smaller than the Four Thirds sensor used in the Olympus and Panasonic Micro Four Thirds compact system cameras and a lot of people believe that the image quality is too compromised by the smaller sensor. I invite you to decide for yourself by viewing the full resolution studio sample photos below. They were taken at all ISO settings with the J1, the less expensive of the two Nikon 1 system cameras. However, both cameras have the same sensor and processing so the image quality should be the same.

One thing to keep in mind – image quality isn't always the top criteria for a camera. And in this case I don't think the image quality tells the whole story. The new Nikon 1 system is proving to have auto focus and burst speed (10 FPS continuous auto focus and 60 FPS with focus locked!) superior to any of the other mirrorless camera systems. For that reason it's stirred up a lot of interest in the outdoor action sports photography community where photographers and athletes are interested in a small, light, packable camera system that has the performance for stills and video of skiing, snowboarding, mountain biking – even active kids and pets. For more on the Nikon 1 action performance, check out my hands-on action preview, linked below the sample photos. And stay tuned for a full pro review!
Click on the thumbnails below to see the Nikon J1 sample photos at their original resolution. These photos were taken in RAW mode with the 10-30mm kit lens in aperture priority at f/8. They were converted to 16-bit TIFFs with Nikon View NX and the logo, text and graybar were added in Photoshop before they were saved as maximum quality JPEGs. No adjustment, noise reduction or sharpening have been applied. Warning: these files are BIG – be patient while they download.

Nikon J1 Hands-On Preview >>
Nikon 1 System Intro >>
All Digital Camera Sample Photos >>
Related Content:
All Nikon User Reviews
All Nikon J1 Sample Photos
Nikon Cameras Forum
EVIL & Micro Four Thirds Cameras Forum
All EVIL Cameras News & Articles
All Nikon News & Articles
Nikon Web Site
All Digital Camera Pro Reviews
All Digital Camera Studio Sample Photos