Pentax has expanded their mini mirrorless Q camera system with a second camera, a new telephoto zoom lens and a K-mount lens adapter. For the most part, the new Pentax Q10 appears to be the same as the original Q (Pentax Q Announcement), which Pentax introduced a little over a year ago. Like the Q, the Pentax Q10 is "barely larger than a deck of cards," it uses a point-and-shoot-sized 1/2.3-inch backlit CMOS sensor with 12.4-million pixels, it has full manual controls (P, A, S, M) and DNG RAW shooting and it captures full HD video. But even though the sensor specs look the same, Pentax does say the Q10 has a "newly adopted CMOS image sensor" with "higher quality images and faster autofocus (AF) operation. " The new lens and K-mount adapter are the real news here. The new 15-45mm (83-249mm equiv.) telephoto zoom lens is the 6th Q-mount lens, hence the "06" moniker. It has a fast, non-variable f/2.8 aperture and it's a perfect complement to the "02" 3x (27.5-83mm equivalent) standard zoom lens.


Pentax Q10 Key Features and Specs:
"Newly adopted" 12.4-megapixel 1/2.3-inch backlit CMOS with improved image quality
5.5x sensor crop factor
Lens: Q-mount
Faster auto focus performance
Sensor-shift SR Shake Reduction for image stabilization with all lenses
1920 x 1080 full HD video
3-inch 460k-dot LCD display
Sensitivity: ISO 100 to 6400
Auto Picture mode, 21 scene modes and P, A, S, M modes
DNG RAW
5 frames per second high-speed burst (JPEG-only)
Built-in, adjustable HDR mode
Flash hot shoe and built-in pop-up flash
Dimensions: 4 x 2.3 x 1.3 inches (101.6 x 58.4 x 33mm)
For a toy-like camera that has a point-and-shoot sensor, an f/2.8 telephoto zoom lens is a pretty bold move. If you look at the mirrorless lens options, fast aperture zooms are a rarity and no other camera company makes a fast telephoto zoom comparable to the new Pentax 15-45mm f/2.8 (below). Increasing the number of Q-System compatible lenses in a huge way, the new Adapter Q allows the use of all K-mount lenses on the Q and Q10 cameras. The adapter has its own mechanical shutter to eliminate rolling shutter effect and there's a 5.5x conversion factor – great news for sports and wildlife shooters but not so great for wide-angle photographers. With the 5.5 crop factor a standard 50mm K-mount lens will effectively be converted to 275mm; or a 200mm lens would have the reach of an 1100mm. Pentax says there are 25 million existing K-mount lenses. So photographers who already own a Pentax system or those who don't mind a bit of pawn shop or eBay shopping have a of new lens options for the Q and Q10 – although most K-mount lenses will be bigger than the actual camera.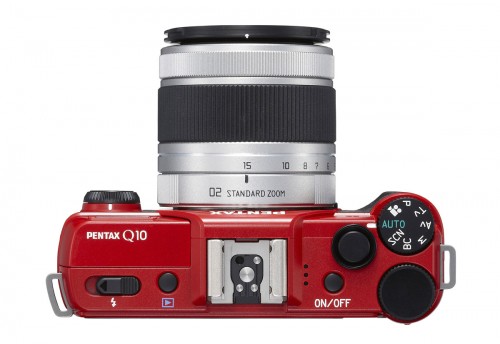 The Q10 is cute and the new telephoto zoom and K-mount adapter are cool. But there's no getting around the Q10's point-and-shoot sensor. In the West, we're mostly obsessed with image quality and the 1/2.3-inch sensor just can't compete with the Micro Four Thirds and APS-C sensor mirrorless cameras. On the other hand, mirrorless cameras and all things cute and cuddly are supposed to be super popular in Asia so I'm sure that's the real target market. I'll admit, the first time I saw it in person, I was enamored by the Q's diminutive charm (Pentax Q First Impressions). But ultimately, I don't see it as being more than a novelty camera – at least in North America. After all, I can buy a pocket superzoom camera with a comparable sensor and 14x or longer zoom for a lot less money.
If you're a camera collector, a Pentax lover or just someone who likes cute stuff, the Pentax Q10 will be in stores next month (October 2012). It will come in red or silver and sell for US $599.95 with the "02" 3x kit lens. The new Pentax "06" 15-45mm f/2.8 zoom lens and Adapter Q should be available at the same time. They will sell for $299.95 and $249.95, respectively.
Related Content:
All Pentax Camera User Reviews
All Mirrorless / Compact System Camera User Reviews
Compact System Cameras Forum
Pentax Cameras Forum
Pentax Camera News And Articles
Pentax Cameras Web Page