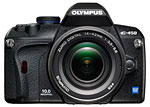 Olympus has announced a new entry-level camera to their E-System line of digital SLRs. The Olympus E-450 digital SLR has a 10-megapixel Four Thirds sensor, a 2.7-inch HyperCrystal II LCD with Live View and it includes three Art Filters – Pop Art, Pin Hole and Soft Focus.

The E-450 digital SLR is an entry-level follow-up to last year's E-420, the world's smallest digital SLR. It shares the same 10-megapixel sensor as the E-420 and the Art Filters from the E-30 and E-620. Like the E-420, the E-450 sacrifices the excellent built-in image stabilization that other Olympus E-System DSLRs offer. It's designed to be comfortable and familiar to photographers stepping up from compact digital cameras so Live View behavior is the same as a point-and-shoot – turn Live View on and you can focus and compose in the LCD just like with a point-and-shoot camera. Auto focus works in Live View mode and Face Detection makes taking pictures of people even easier. Even if your subject is moving, the E-450′s Face Detection system will track the faces to keep them in focus and ensure proper exposure.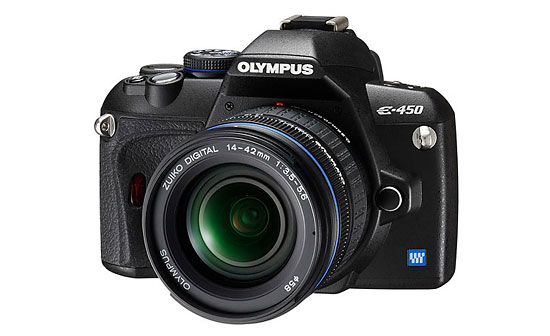 Turn the E-450′s mode dial to ART/SCN and you can choose from the 3 Art Filters or 18 scene modes. The Art Filters were introduced with the E-30. They offer sophisticated in-camera effects and I was surprised how much I liked them when I first tried the E-30. They're a lot easier than trying to achieve the same results with Photoshop or other software. The E-450 offers 3 of the 6 Art Filters that the E-620 and E-30 have. I think they're the most useful of the 6 and include my favorites, Pin Hole and Soft Focus. For more on the Art Filters, see my Olympus E-30 intro article.
Olympus Art Filter Sample Photos (left to right): Pop Art, Soft Focus, and Pin Hole. Click thumbnails to view photos.
(samples taken with the Olympus E-30)

The E-450 also includes Shadow Adjustment Technology, TruePic III+ image processing, the Olympus Dust Reduction System and wireless flash control (with Olympus FL-50R and FL-36R flash units).
At $699 for a kit that includes the ED 14-42mm f/3.5-5.6 Zuiko Digital and ED 40-150mm f/4.0-5.6 Zuiko Digital zoom lenses, the Olympus E-450 is a great value for photographers buying their first digital SLR. With the 2x digital crop factor of the Four Thirds sensor, those two lenses offer a range of 28mm to 300mm (35mm / full frame equivalent). That's as much as most casual photographers will ever need. The E-450 should be on store shelves in July of 2009.
Related Content:
All Olympus User Reviews
All Olympus DSLR User Reviews
More Olympus Camera News And Articles
Olympus Camera Forum
Digital SLR Cameras Forum
Olympus Cameras Resource Page
Olympus Web Site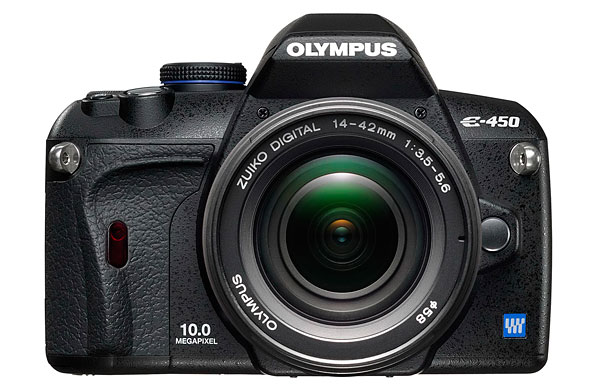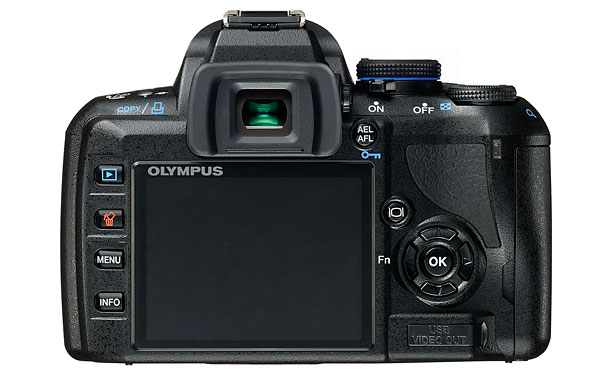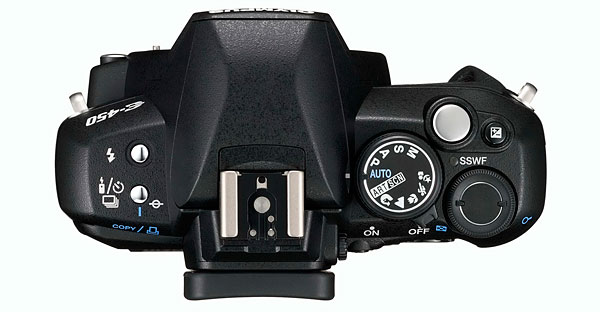 next page – Olympus E-450 Press Release >>