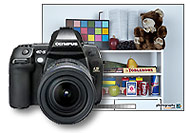 Below you'll find high-resolution studio sample photos taken with the Olympus E-5 pro digital SLR. The E-5 is a 12-megapixel Four Thirds format digital SLR and Olympus claims they've done a bunch of stuff to improve the image quality over other 12-megapixel cameras that use the same sensor (that includes other Olympus DSLRs as well as Olympus and Panasonic Micro Four Thirds cameras). The E-5′s sensor has a thinner anti-aliasing filter to allow for more detail and the processing has been improved to reduce noise and improve image quality.


These sample photos were shot in RAW mode using the tungsten white balance preset and converted to TIFF with Olympus Viewer 2 (Lightroom 3 doesn't support the E-5 yet). The logo, text and graybar were added in Photoshop before the images were saved as maximum quality JPEGs. No post-processing, noise reduction, sharpening or exposure adjustments have been applied. The lens used for the E-5 sample photos was the excellent Olympus Zuiko Digital ED 12-60mm f/2.8-4.0.
Click on the thumbnails below to see the Olympus E-5 sample photos at their original resolution.




Other Resources:
Compare Prices For Olympus E-5
Olympus E-5 User Reviews
Write an Olympus E-5 Review
Olympus E-5 Camera Specs
Olympus E-5 Sample Gallery
All Olympus User Reviews
Olympus & Four Thirds Cameras Forum
Digital SLRs Forum
More Olympus News And Articles
Olympus Web Site
All Digital Camera Pro Reviews
Digital Camera Buyer's Guide
All Digital Camera Studio Sample Photos