Olympus E-620 – Performance Features And Improvements
Other performance upgrades to the E-620 are 7 auto focus points, 4 frames-per-second shooting speed and of course, the 12-megapixel sensor. The 7 AF points are a huge improvement over the 3-point system on the E-520 (see the AF point selection LCD display, below). There's a lot more frame coverage and 5 of the AF points are faster, more accurate cross points. Like the E-3 and E-30, the E-620 also has a double AF point system where each AF sensor actually has a double, right next to it. In other words, there are actually 14 AF points grouped into a 7-site array. This redundant system means if one sensor is having trouble its partner should find something to lock onto. As far as auto focus goes, this is a very different camera from the E-520. As I said earlier, the pre-production body I had didn't have final firmware so I wasn't able to evaluate the speed and accuracy of the auto focus. But based on the specs, AF performance should be closer to the E-3 and E-30 than the E-520.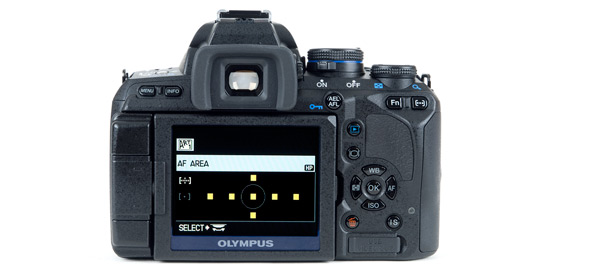 Olympus E-620 – Image Quality
The Olympus E-620 is using the same 12-megapixel sensor as the E-30. I've been shooting with the E-30 for a while now and I love the image quality I'm getting. It's the first sensor in an Olympus DSLR where I haven't worried about image quality at all. I use whatever ISO I want (up to ISO 800) with no concern about noise or other image quality problems. So I'm really pleased to see the same sensor being used in the E-620. I haven't been able to test the camera for image quality since the firmware wasn't final. But I believe this sensor means the E-620 should truly be a no-compromise camera as far as image quality goes. I believe most photographers will be able to shoot with the E-620 with no worries about image quality, regardless of their subject or lighting conditions.
Olympus E-620 Sample Photos >>
Olympus E-30 12-Megapixel Sensor Sample Photos >>
next page – Olympus E-620 – Conclusion >>