Just in time for summer adventures, Olympus is introducing a first-of-its kind premium waterproof, shockproof camera, the 12-megapixel TG-1. The new Olympus Tough TG-1 iHS includes Olympus' iHS technology, which makes it faster and gives it better image quality. But Olympus took quality a step further than any previous waterproof point-and-shoot by giving the TG-1 a super-bright f/2.0 aperture lens. Most rugged, waterproof point-and-shoot cameras have much slower ("slower" meaning they let less light in) lenses, in the neighborhood of f/3.5 to f/6.0. The TG-1's 4x 25-100mm f/2.0-4.9 zoom lens sets it apart from the competition – way apart. The faster aperture means better low light photos and based on the way the Olympus reps are talking about the camera, I'm also hoping for better optical quality. I've been a fan of waterproof pocket cameras since they first hit the market, 9 or 10 years ago. They're the best for rainy mountain bike rides, skiing deep powder days, and incriminating hot tub photos. But I've always been frustrated by the overall compromised performance and image quality. With the TG-1 iHS, it looks like Olympus may have finally built the waterproof, outdoor camera I've been waiting for!


Olympus Tough TG-1 iHS Key Features and Specs:
12-megapixel 1/2.3-inch backlit CMOS sensor
4x 25-100mm f/2.0-4.9 (equivalent) optical zoom, plus 8x Super-resolution Zoom (digital)
Converter ring allows use of waterproof fisheye and telephoto converter lenses
TruePic VI image processing
1920 x 1080 full HD video
3-inch 610k-dot OLED display
Sensitivity: ISO 100 to 6400
Waterproof to 40 feet / 12m
Shockproof from 6.6 feet / 2m
Crushproof to 220 pounds / 100 kilograms
Freezeproof to 14 degrees Fahrenheit / 10 C
5 frames-per-second high-speed burst at full resolution and 15 or 60 FPS at 3-megapixels
Built-in GPS with electronic compass and manometer / altimeter
To improve image quality, Olympus recently switched to a 12-megapixel backlit CMOS sensor in some of their new Tough cameras, including the new TG-1. Combine the f/2.0-4.9 aperture lens with the new sensor and I have high hopes for something that produces standout image quality. In my phone briefing with Olympus about the TG-1, they described the camera as somewhere between a standard point-and-shoot and a top-of-the-line compact like their XZ-1 – one of my favorite compact cameras ever. Based on the sensor size, I'm guessing the TG-1 will be closer to a normal point-and-shoot than the XZ-1. But the fact that they even mentioned the XZ-1 says a lot.
Besides a (far) better lens and sensor, the TG-1 iHS has an action-worthy 5 frames per second full resolution burst rate, a 610k-dot OLED sensor, full HD video and built-in GPS with an electronic compass and manometer for tracking underwater depth and altitude. The TG1 is built to take most anything a mountain biker, skier, kayaker, climber or surfer could throw at it – or throw it into. It can handle drops of about 6 feet, sub-freezing temperatures won't break it and it's even crushproof. Olympus increased the waterproofing so the TG-1 can now handle depths of up to 40 feet (12m), compared to 33 feet for previous models. There's even a converter ring that allows the use of two waterproof accessory lenses, a fisheye and a telephoto, both of which are waterproof to 40 feet, just like the camera.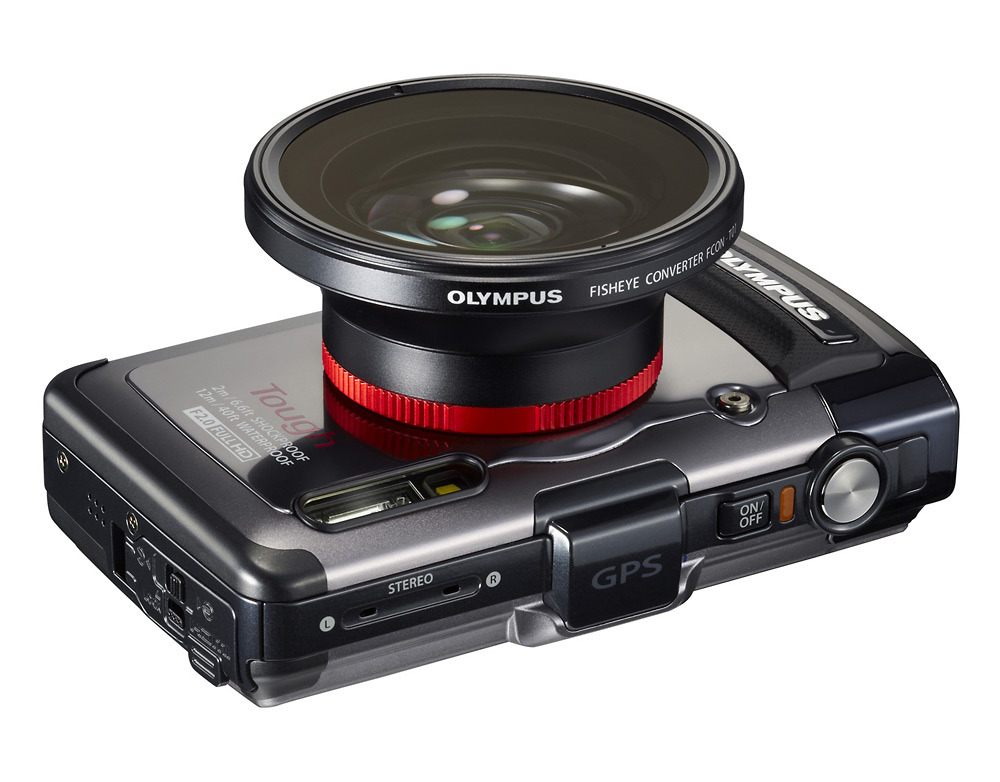 The only things the TG-1 is missing are manual exposure control and RAW shooting. Maybe we'll get those in the next version. The f/2.0 lens is a big advance for waterproof, outdoor cameras though, and I have high hopes that this one will have the performance and image quality I've been waiting for. Past Olympus Tough cameras have been a bit on the slow side and the 5 frames per second burst will make a real difference for timing action photos. The TG-1 can also shoot 3-megapixel still photos at 15 or 60 frames per second. That 60 FPS mode is perfect for analyzing your golf swing. To further ensure successful action photos, the new Super Sport Mode, located right on the mode dial, "combines high-speed autofocus with extra fast shutter speeds – up to 1/2000 – to freeze the action. " The OLED display is also a big deal. Olympus has used OLED displays on a few of their high-end cameras (the XZ-1, E-P3 Pen and the new OM-D E-M5) and they make a real difference in the overall camera experience. The OLED is so much sharper and richer than a standard LCD display that it makes using the camera feel better and it makes sharing photos on the camera more fun.
The Olympus Tough TG-1 iHS waterproof, shockproof pocket camera is scheduled to be available in June for $399.99 – perfect timing for great summer outdoor adventure photos and videos! I aim to get one to carry on my mountain bike this summer – for review, of course! So keep your eyes open for TG-1 mountain bike action photos and a hands-on intro video. Can't wait!
Olympus Tough TG-1 iHS Press Release >>
Outdoor & Waterproof Camera Guide >>
Related Content:
All Olympus Digital Camera Reviews
Olympus Digital Cameras Forum
General Digital Cameras Forum
All Olympus News
Olympus Web Site