Olympus hit the parts bin and combined features of their popular OM-D E-M5 and E-M1 mirrorless cameras to create the new E-M10, a smaller more affordable OM-D. The E-M10 appears to use the same 16.1-megapixel CMOS sensor and electronic viewfinder as the E-M5, with the latest TruePic VII image processing, built-in Wi-Fi and dual controls from the E-M1. To complement the E-M10's smaller body, Olympus is introducing a new pancake version of their 14-42mm kit lens that's less than an inch deep, making it the "world's slimmest standard zoom lens."

Olympus OM-D E-M10 Key Features And Specs:
16.1-megapixel Four Thirds format Live MOS Sensor
TruePic VII image processing
3-Axis sensor-shift image stabilization
81 area Fast AF system
Built-in Wi-Fi
Dual control dials
Large 1.44-million-dot electronic viewfinder (EVF)
3-inch, 1.04-million-dot tilting touchscreen LCD display
Touch auto focus and touch shutter
1920 x 1080 full HD video with built-in stereo mic
Sensitivity: ISO 200 to 25,600
8 frames per second high-speed burst
Art Filters
Built-in intervalometer
Built-in flash
The Olympus OM-D cameras are among the most coveted and respected mirrorless system bodies. They offer DSLR performance and control in a much more discreet and portable package. The OM-D E-M10 puts that performance and control in an even smaller body – smaller still with the new M.Zuiko Digital 14-42mm f3.5-5.6 EZ pancake zoom lens. Olympus says that E-M10 mounted with the 14-42mm pancake zoom is thinner even than the world's smallest DSLR without a lens – Canon's EOS Rebel SL1. And even though the Olympus has a smaller sensor, there's little or no image quality compromise when compared to the Canon. I've been amazed with what Olympus has done with their Four Thirds sensors. I've said it before and I'll say it again – they're better than they have any right to be.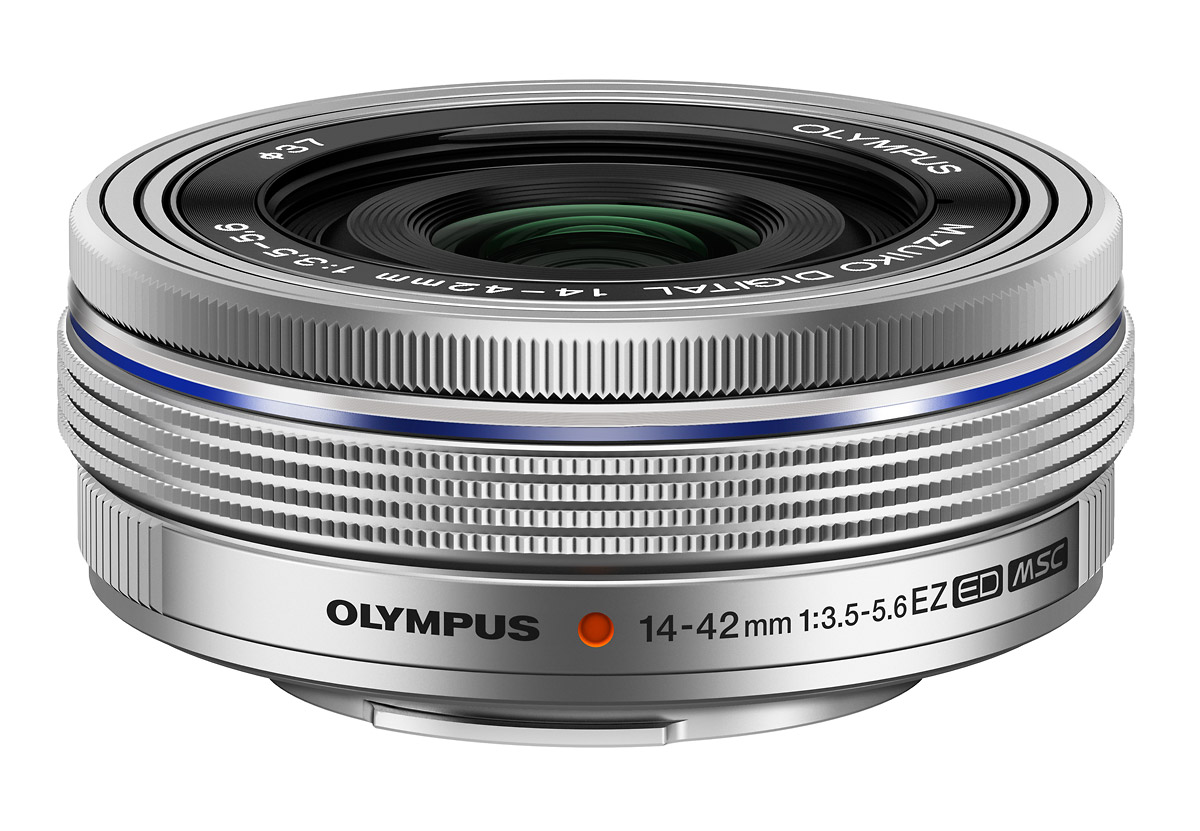 There doesn't seem to be much compromise at all with the E-M10. The main thing you give up compared to the other OM-D bodies is 5-axis image stabilization. Both the E-M5 and E-M1 use 5-axis sensor shift systems but the E-M10 gets a money-saving 3-axis system. That's not really a huge compromise, though – especially when it saves you hundreds of dollars. The E-M10 doesn't have phase detect auto focus like the E-M1. But that's not a problem unless you're shooting serious sports. Even then, if you can pre-focus and use the 8 FPS burst, you'll get good action photos, anyway. I never had a problem taking mountain bike photos with the E-M5, which has the same sensor as the E-M10. Yes, the E-M1 is better. But honestly, most photographers won't be able to tell the difference and don't need the extra boost.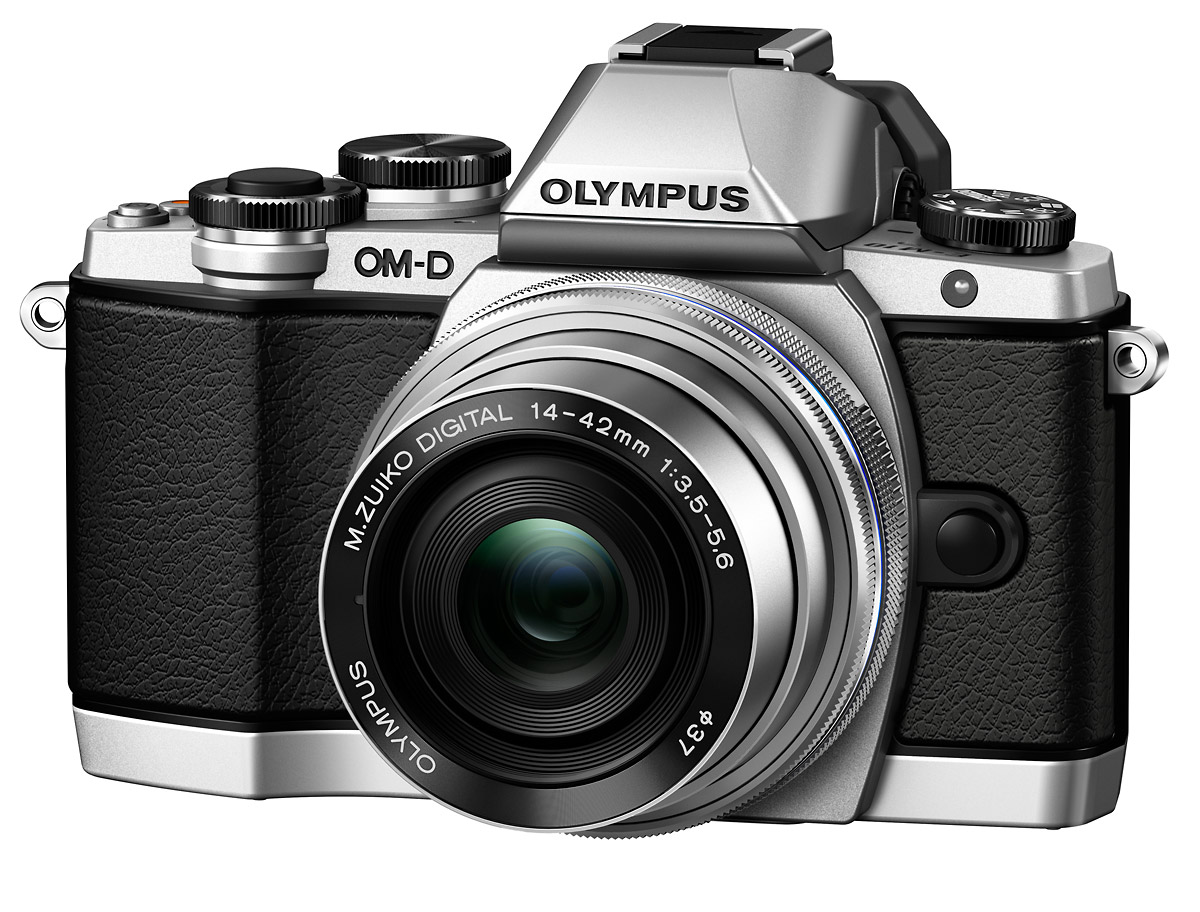 One thing that makes the original Olympus OM-D E-M5 look a little out of date now is its lack of Wi-Fi. That's one very real reason to choose the E-M1 over the E-M5 – until now. Now you can buy the E-M10, spend less, and get built-in Wi-Fi. If you haven't really looked into cameras with Wi-Fi, basically it allows you to wirelessly transfer photos and videos from the camera to a mobile device. You just have to install the Olympus app on your phone or tablet. Olympus has one of the best camera Wi-Fi systems available, too. It's easy to set up and it offers sophisticated remote control options as well wireless file transfer. You can see the E-M1's Wi-Fi in action in my digital camera Wi-Fi demo video.
So how much smaller is the E-M10? Not actually a hell of a lot smaller. Compared to the E-M5 it's 1/10th of an inch shorter in width, 1/10th of an inch thinner, about 1/4 inch shorter and less than one ounce lighter. But it is smaller and lighter. And if you use it with the new 14-42mm pancake zoom, it's a very small camera – especially considering the level of performance it offers.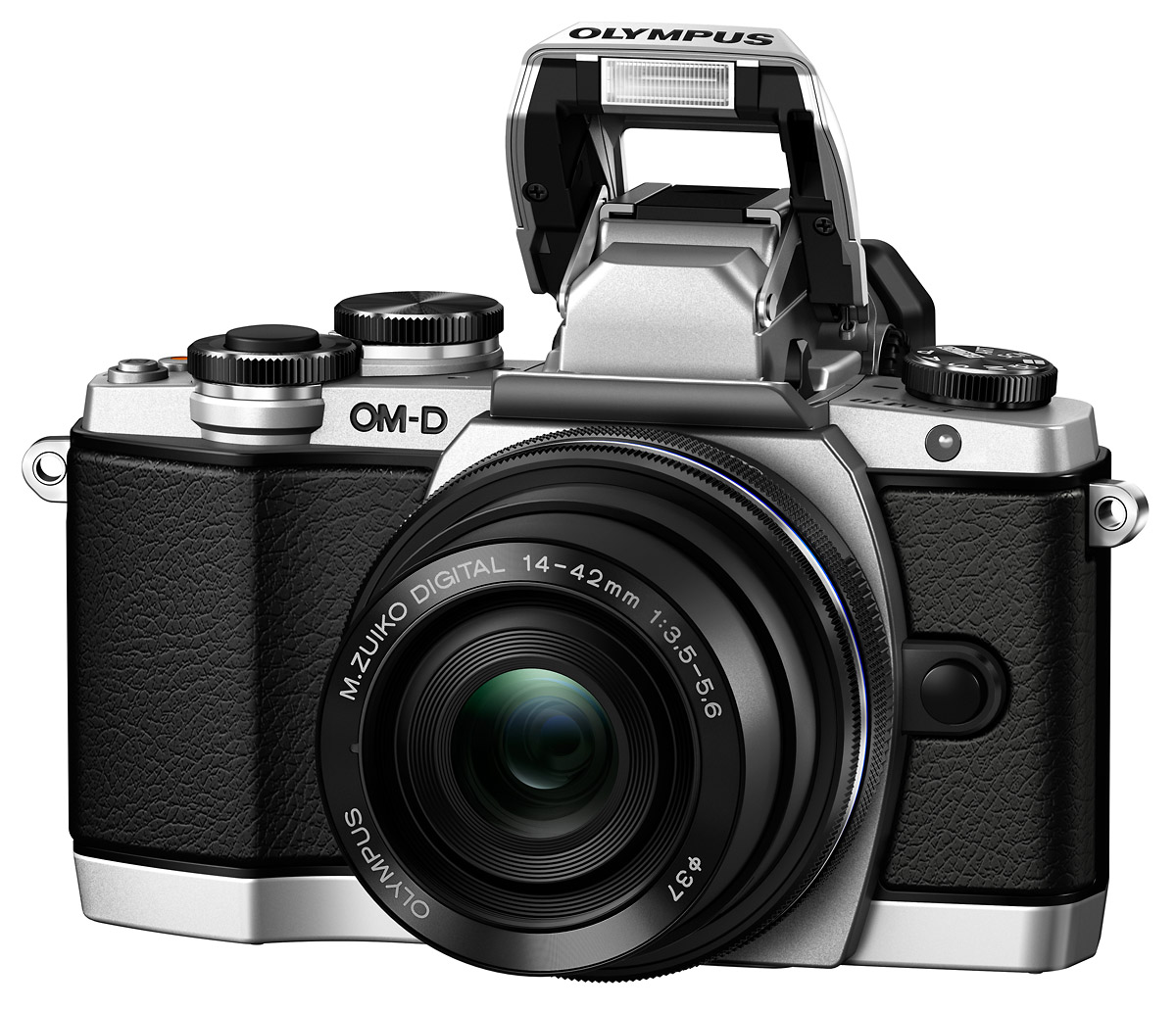 One other feature that needs to be mentioned is the flash. The Olympus E-M10 is the first OM-D body to have a built-in pop-up flash. It's good for about 8 feet at ISO 200 and syncs at 1/250th of a second (the E-M10 syncs with external flashes at 1/200th second). The flash is perfect for portrait fill and can also be used to trigger remote flashes.
Olympus is introducing some new accessories besides the M.Zuiko Digital 14-42mm f3.5-5.6 EZ pancake zoom lens. One of the most interesting is the Automatic Opening Lens Cap (LC-37C). It's made to work exclusively with the 14-42mm pancake lens and, as the name suggests, it opens and closes automatically, kind of like a point and shoot lens. When you turn on the camera the lens cap automatically opens so you don't have to take it off to get the shot. There's also a new 9mm f/8 Fish Eye Body Cap, a macro converter (MCON-PO2), a new grip for the E-M10, and a new M.Zuiko Digital 25mm f/1.8 prime lens (50mm equivalent).
Olympus says the new OM-D E-M10 will be available from your favorite camera stores and online dealers in March of 2014. It will come in either black or silver and will sell for a very reasonable US $699 for the body only, or $799 in a kit with the new M.Zuiko Digital 14-42mm f3.5-5.6 EZ pancake zoom lens.
Related Content:
All Olympus Digital Camera User Reviews
All Compact System Camera User Reviews
Olympus Digital Cameras Forum
Compact System Cameras Forum
All Compact System Camera News & Articles
All Olympus News
Olympus Web Site