Fujifilm just announced pricing and availability for their ninth X-mount lens. The Fujinon XF23mm F1.4 R prime lens is scheduled to be in stores next month (October, 2013) for US $900. It's compatible with all Fujifilm X-mount interchangeable lens cameras – the X-Pro1, X-E1, and X-M1. The 35mm effective focal length (with 1.5x APS-C sensor crop factor) is traditional for street photography, photojournalism and event photography. Between the medium-wide angle-of-view and fast f/1.4 aperture, the new XF23mm F1.4 R lens looks to be a perfect all-purpose prime lens that Fujifilm says, "will exceed our users' expectations."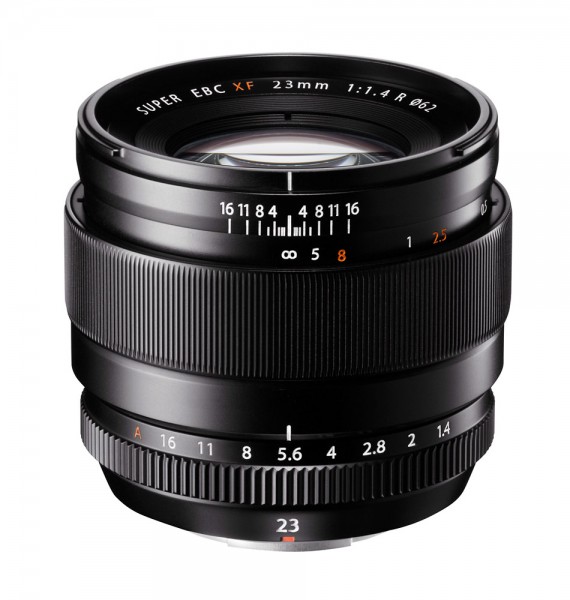 Fujifilm XF23mm f/1.4 Lens Key Features and Specs:
35mm equivalent focal length: 35mm (with 1.5x conversion)
Optical design: 11 elements in 8 groups with 1 aspherical element
Aperture range: f/1.4-16
Aperture construction: 7 rounded blades
Minimum focus: 11 inches / 280mm (in macro mode)
Filter size: 62mm
Dimensions: 2.8 x 2.5 inches (72 x 63mm)
Weight: 10.6 ounces (300.5g)
The lens options for the Fujifilm X-Series mirrorless system are starting to get pretty good. With the XF 14mm F2.8 wide-angle prime and XF 55-200mm F3.5-4.8 OIS zoom, there's now a 21mm to 300mm (with 1.5x conversion) range. And with the XF 35mm F1.4, the new XF23mm F1.4 makes two super-fast all-purpose f/1.4 primes. The optics and build quality of Fujifilm's XF lenses is excellent, too – about as good as it gets. The XF 18-55mm F2.8-4.0 OIS zoom I used when I reviewed the Fujifilm X-E1 (read our Fujifilm X-E1 review) blows every other 18-55mm kit lens out of the water.
As far as build and specs go, the new XF23mm F1.4 R lens looks excellent. The lens has an old-school manual aperture ring and the large f/1.4 aperture has seven rounded blades to ensure smooth, natural bokeh (out-of-focus image quality). To ensure that you only get blur when and where you want it, Fujifilm says, "Lens distortion has been reduced to an absolute minimum using only optical rather than digital correction, thereby delivering the highest possible picture quality." The lens also uses Fujifilm's HT-EBC (High Transmittance Electron Beam Coating) coatings to minimize flare and chromatic aberration. They kept the optical design light and simple, with just four elements, including one aspheric element. In fact, Fujifilm says the 10.6-ounce (300.5g), 2.48-inch (63mm) XF23mm F1.4 R lens is the smallest and lightest lens in its class. The minimal, lightweight optical design should also help with auto focus performance.
It's good to see Fujifilm's X-Series mirrorless system growing and maturing. They've done a great job of adding new cameras and lenses to address all needs and price points and the X-Series has become a very competitive and viable camera system. Fujifilm is also making some of the best sensors available now. If the 16.3-megapixel APS-C X-Trans CMOS II sensor in the X100S we're testing (learn more about the X100S) is any indication of what we can expect, the next generation of X-Series cameras is really, really good.
Fujifilm's new Fujinon XF23mm F1.4 R prime lens should be available in October. The suggested retail price will be US $899.95.
Fujifilm XF23mm f/1.4 Lens Press Release >>
Related Content:
All Fujifilm User Reviews
All Digital Camera User Reviews
Digital Cameras Forum
More Fujifilm News & Articles
Fujifilm Web Site