Latest Waterproof & Shockproof Digital Camera From Olympus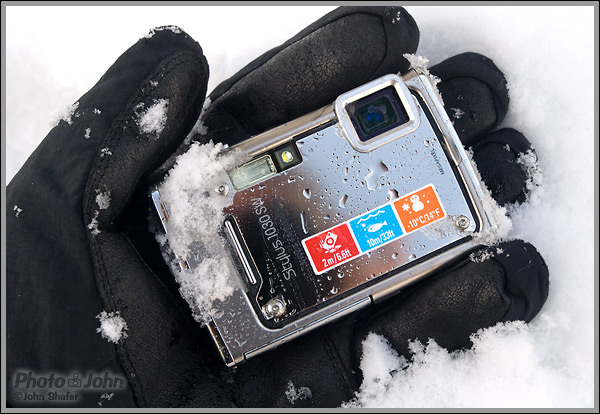 We've got the latest Olympus Stylus SW camera in our hot little hands!
There are lots of excellent, high-resolution pocket cameras available right now. Among the most interesting point-and-shoots are the waterproof, shockproof, crushproof, and freezeproof Olympus Stylus SW digital cameras. The recently announced Olympus Stylus 1030 SW is in-house and currently being tested for an upcoming review. I reviewed the first Olympus Stylus SW digital camera (Olympus Stylus 720 SW) a couple of years ago and was very impressed with durability. To this day, nothing can match the durability and waterproofing of the Olympus Stylus SW cameras. Their exceptional build makes them a great choice for outdoor photographers or anyone who needs a point-and-shoot camera that can stand up to really punishing conditions
Olympus has increased the resolution of the new Stylus 1030 SW from to 7 to 10 megapixels and the camera has a new 28mm wide-angle zoom lens. The shockproof rating has been increased so that the camera can now withstand a drop from 6.6 feet. Waterproofing was improved in the previous model (Olympus Stylus 770 SW) and the 1030 SW can be submerged to 33 feet. The camera has a 2.7-inch HyperCrystal II LCD, a bunch of exposure modes, and sensitivity from ISO 80 to ISO 1600. See below for studio and field sample photos as well as links to related pages. And stay tuned for a complete hands-on review!
Olympus Stylus 1030 SW Studio Sample Photos
More Olympus Stylus 1030 SW Sample Photos:
Related Content:
Olympus Stylus 1030 SW User Review Page
Olympus Stylus 1030 SW Press Release
Olympus Digital Camera Reviews
All Olympus Stylus 1030 SW Photos
Olympus Cameras Forum
Digital Cameras Forum
2008 PMA Olympus Stylus SW Preview
Official Olympus Stylus 1030 SW Web Page