Olympus Stylus 1030 SW Camera Features
The 1030 SW is Olympus's top-of-the-line Stylus SW camera, with the most advanced durability and performance the company offers in a waterproof, shockproof camera. Everything in the camera is built for abuse. There are rubber gaskets on every part of the camera that might admit moisture and the 3.6x optical zoom lens is completely internal and sealed. All zooming is done inside the camera and the lens never protrudes. A protective waterproof glass lens allows you to shoot underwater. The lens has a 28mm equivalent wide-angle for wider landscape photos and better coverage in tight quarters.
Durability specs:
Waterproof to 10m/33ft
Freezeproof to -10C/14F
Shockproof from 2m/6.6ft
Crushproof to 99.8kg/220lb
Other key Olympus Stylus 1030 SW features:
10.1-megapixel sensor
3.6x 28-102mm wide-angle zoom lens
2.7-inch HyperCrystal II LCD display
3-Mode panoramic capability (with Olympus xD memory card)
3 macro modes, including LED mode
Live histogram display
Face detection auto focus
Shadow Adjust in-camera processing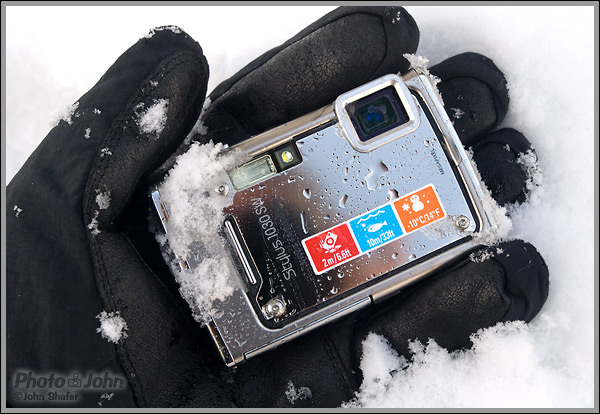 The mode dial has eight settings: five still photo settings, two playback modes, and movie mode. Still photo modes offered are Auto, Program, digital image stabilization, SCN (scene modes), and Guide, which gives step-by-step instructions for shooting in specific conditions. Exposure is all auto, with exposure compensation available in Program and selected scene modes. Twenty-four scene modes include Sport, Indoor, Night Scene, Landscape + Portrait, Portrait, and more specialized options like Auction, Documents, and Cuisine. There are also four underwater scene modes: Underwater Snapshot, Underwater Wide 1, Underwater Wide 2, and Underwater Macro. The sensitivity range is user-selectable from ISO 80 to 1600, with an auto ISO mode also available.
The Shadow Adjust feature provides optional in-camera image adjustment to brighten shadows and even out harsh exposures. It can be automatically applied to all photos or selectively applied to individual images, in which case it makes a copy of the original to process. That way, if you don't like the effect, you still have the original photo.
The panoramic feature has three options – two in-camera stitch modes and one computer stitching mode. However, as with all Olympus digital cameras, the panoramic features require an Olympus xD Picture Card.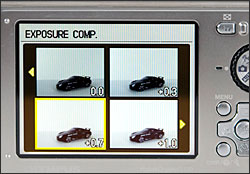 The 2.7-inch HyperCrystal II LCD display can be seen from a wide variety of angles. Something I've never seen before is the way Olympus displays exposure compensation settings in a grid of sample images instead of just a +/- scale (see right). For focusing, the 1030 SW has Spot mode, iESP, and Face Detect, as well as four macro focusing modes. The iESP AF mode determines the best subject in a scene to focus on. Spot limits the AF system to the center spot so the photographer can choose the subject to focus on and recompose. Face Detect AF focuses on people's faces, tracks them, and adjusts exposure to make people look their best. One of my complaints when I reviewed the original Olympus Stylus 720 SW was that it didn't have a histogram display; fortunately, the 1030 SW does.
The Olympus Stylus 1030 SW has three macro modes – Macro, Super Macro, and S-Macro LED. The standard macro allows focusing from 10 cm/3.9 inches to 30 cm/7.9 inches. The S-Macro LED mode is something I've never seen before: a white LED light on the front of the camera that helps illuminate subjects too close for flash. It actually works really well! The Super Macro disables the zoom but allows you to shoot as close as 2 cm/0.8 inches.
Camera Menus
| | | |
| --- | --- | --- |
| Olympus Stylus 1030 SW during capture with info & Histogram | | Olympus Stylus 1030 SW Main Menu |
| Olympus Stylus 1030 SW Playback w. information | | Olympus Stylus 1030 SW Playback w. Info & Histogram |
Olympus Stylus 1030 SW Camera Design
Olympus made the 1030 SW as burly as possible. You can see it and feel it when you pick up the camera. For an outdoor sports guy like me, the chunky screws, metal lens cover, and stainless steel body make this one of the sexiest point-and-shoot cameras I've seen. Strong is beautiful!
Olympus Stylus 1030 SW design details – protective metal lens cover, stainless steel, and chunky screws.
The Olympus 1030 SW has gaskets and seals at all openings, a chunky stainless steel body, and a waterproof glass cover lens. It's waterproof to 10m/33ft, freezeproof to -10C/14F, shockproof from 2m/6.6ft, and crushproof up to 99.8kg/220lb. The 10-foot depth limit of previous models was limiting for people who really wanted to do serious underwater photos. And better sealing will benefit anyone who takes pictures in wet or dusty environments.
Olympus Stylus 1030 SW Black rubber O-ring on the I/O port & battery / xD Picture Card slot
Camera controls are all accessed with the right thumb. The only controls on the top of the camera are the power button and shutter release. Frequently used controls like white balance, ISO, focus, and frame rate are accessed via the OK/FUNC button in the middle of the four-way control. The flash, exposure compensation, macro, and self-timer each have dedicated buttons on the four-way control. The metal buttons feel nice, are well-sized and easy to reach and push. Shooting modes are selected with the mode dial. The zoom is controlled with two buttons just above the mode dial.
next page – Olympus Stylus 1030 SW Camera Experience >>