Olympus Stylus 1030 SW Camera Image Quality
The people most likely to buy the Olympus Stylus 1030 SW are outdoor enthusiasts and those who want a vacation camera that can go in the water. It will probably get used for a lot of landscape snapshots, beach photos, and probably a fair number of fishing and hunting trophy shots. Image quality is not where this camera's strength lies. At low ISO settings (80-100) it's pretty good, with some exceptions. But over ISO 400 the images start to get poor. I've used some pretty nice point-and-shoot cameras in the past year and the Olympus Stylus 1030 SW photos don't have the silky- smooth quality of my favorites.
The photo above was taken at ISO 80 and has haloing between the snowboarder's pants and snow. Fine details like trees are soft and have a smeared look. Click on the image to the right for a 100%, unedited detail.
The Olympus 1030 SW has very good auto exposure, resulting in well-exposed photos with accurate color. But this camera has problems with noise, softness and haloing. My images have a somewhat mushy,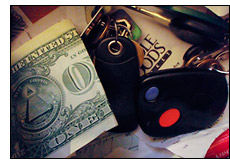 flat feel, probably from a combination of overprocessing, oversharpening and too much JPEG compression. Our studio sample photos show noise at all ISO settings, especially at ISO 200 and higher. Images started losing fine details at ISO 400. However, I always preach against judging image quality only on what you see at 100% on the computer screen. In print tests, I found quite a few real-world, high ISO images that actually looked pretty good — even a few at ISO 1600. Unfortunately, the 1030 SW doesn't render details very well, even at ISO 80 and 100. Trees and leaves look smeared and mushy, as well as crunchy from oversharpening. There's obvious haloing in high-contrast edges like skiers on snow or mountains against the sky. Since I shoot a lot of outdoor photos, this is a bummer.
However, I don't want to get too tied down with the 1030 SW's image quality. Does the image quality compete with the best compact digital cameras out there? No. But those cameras won't go where this one goes. I found myself having so much fun with this camera and taking pictures I wouldn't have been able to get with more delicate cameras. Unfortunately, as a professional, I wouldn't be comfortable giving most of my 1030 SW photos to a magazine or selling big prints from them. The image quality is good enough for point-and-shoot snapshots and casual 8×10 prints, but not much more.
Click on thumbnails to view sample photos.
next page – Olympus Stylus 1030 SW Conclusion >>