Last week I put in a rush order with Olympus for their brand new Stylus Tough-8010 waterproof point-and-shoot digital camera. I was in a hurry because I picked up a magazine job shooting a salt-water hot springs in the Utah desert that has tropical fish – including sharks! I wanted to be able to take underwater photos if possible, and in my experience, the Olympus waterproof cameras have been the most trustworthy. Plus, Bonneville Seabase is one of the coolest underwater camera testing environments you could ask for. I got lucky and e-mailed the day they got their first shipment in. The next day, the 8010 was on my doorstep.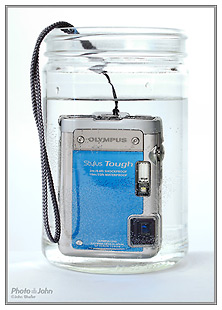 The Olympus Stylus Tough-8010 is a 14-megapixel pocket-sized camera that's waterproof to 33 feet and can withstand drops of over 6 feet. It's freezeproof and crushproof as well so it's safe to leave it in the path of a fast-moving glacier. Other important Stylus Tough-8010 features are 720p video, a 28-140mm optical zoom (equivalent), dual image stabilization and tracking auto focus. For a hands-on overview, watch my super amateur box-opening video (below).
In less than a week I've taken the Olympus Stylus Tough-8010 camera salt water snorkeling and skiing and I predict I'll get some mountain bike photos with it before the week is out. I challenge other reviewers to match that kind of testing diversity in such a short period! I love Utah! This camera is gonna get abused!
My first impression is that the new Olympus Stylus Tough-8010 is built better than other Olympus waterproof / shockproof cameras I've used. I noticed right away that it has just one compartment for the battery and memory card, whereas previous Olympus waterproof cameras had separate doors for memory and battery. The new single-door design leaves less chance for a leak and it looks like they've beefed up the gaskets and added an extra locking mechanism that further tightens the battery compartment door after its closed. I had it in the water at the hot springs for about half an hour, followed by a freshwater rinse and shower. A couple of days later it was subjected to below freezing temps and a good dusting of snow. Yesterday it had to endure a portrait session in a jar of water. I even dropped it for effect in my intro video. I haven't really pushed the limits, though. I doubt it went any deeper than 3 feet under water and the drop was only a couple of feet. Unless Olympus asks me to try to break it, I'm not going to do anything out of the ordinary. And so far, my ordinary – which is a bit on the extreme side – hasn't done any damage.
So far, I have one issue with the 8010 – image quality. I haven't done close comparisons with other cameras but my initial impression is that the images are over-processed and probably over-compressed. Take a close look at the sample images below and you'll see that they're very mushy and watercolory, probably due to lots of in-camera noise reduction. In my experience there's always an image quality compromise with the rugged, waterproof point-and-shoot cameras. The 8010 photos aren't horrible or unusable but for one of the more expensive point-and-shoot cameras ($399) on the market and Olympus' top-of-the-line outdoor camera, I think the image quality should be better at the Fine JPEG setting.
Click on thumbnails to view sample photos.
See all Olympus Stylus Tough-8010 Photos >>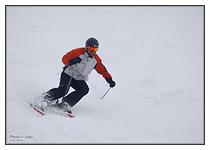 I haven't shot any video with the Olympus 8010 yet but I have been playing with the tracking auto focus. It allows you to manually lock onto a subject and then the camera tracks it as long as you keep it in the frame. My initial tests aren't perfect, but still pretty impressive for a pocket-sized point-and-shoot. I tested it on the ski slopes this weekend and it was cool to watch the auto focus point follow the subject through the frame. I think the auto focus will be the weak link but for people without technical photography skills, it should still do a better job than they're used to. I am going to continue to play with it and see how consistently it can deliver usable photos.
There's more testing to be done with the Olympus Stylus Tough-8010, including controlled studio tests and more action photos. My initial impressions are a bit mixed, due to the mushy image quality. Aside from the image quality, the performance is better than other waterproof / rugged point-and-shoots I've used and the build feels bombproof. Watch the site for more on the Olympus Stylus Tough-8010.
Olympus Stylus Tough-8010 Announcement >>
Related Content:
Olympus Digital Camera User Reviews
Olympus Cameras Forum
General Digital Cameras Forum
Outdoor and Waterproof Digital Cameras Guide
More Olympus News And Articles
Olympus Digital Cameras Web Site