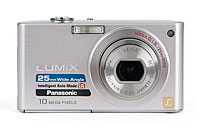 The 10.1-megapixel Panasonic Lumix DMC-FX35 has one of the widest lenses offered in a pocket-sized point-and-shoot digital camera. The 4x Leica optical zoom is 25mm at the wide end with an f/2.8-5.6 aperture and Panasonic's MEGA O.I.S. optical image stabilization. The FX35 also features the 4th generation of Panasonic's Venus image processing for faster image capture, start-up, and a super-fast frame rate. It's all packaged in a very compact, attractive metal body with a 2.5-inch LCD.
Want to buy a Panasonic Lumix DMC-FX35?
Compare prices and shop for a Panasonic Lumix DMC-FX35 digital camera >>

Pros
25mm 4x Leica wide-angle lens
Pocket-sized
Panasonic's MEGA O.I.S. image stabilization
Intelligent ISO
Panasonic Venus IV processing
Lots of auto focus options

Cons
Image quality is poor from over-processing
Auto focus struggles with low-contrast scenes
Face detection doesn't work well
Telephoto end is short

Introduction
One of my biggest complaints about point-and-shoot digital camera has been the lack of real wide-angle lenses. Most compact digital cameras have 35mm lenses on the wide end (35mm equivalent focal length). That's not nearly wide enough for my taste. Panasonic was one of the first companies to introduce a pocket-sized point-and-shoot camera with a 28mm equivalent lens. And when I saw Panasonic's Lumix DMC-FX35 at this year's PMA tradeshow, I got very excited. I've always liked the simplicity, compact size, and image stabilization of the Panasonic Lumix FX cameras. So a point-and-shoot Lumix with a 25mm lens really got my attention and I let my Panasonic guy know I wanted to test one as soon as possible.
Features
On the surface, the Panasonic Lumix DMC-FX35 is a pretty standard pocket-sized point-and-shoot camera. Having a 10-megapixel sensor or optical image stabilization doesn't set a camera apart anymore. But there's a lot more than meets the eye with the FX35. Some of the standout features are:
25mm super-wide Leica zoom lens
Panasonic MEGA O.I.S. optical image stabilization
Venus IV Processing Engine
Intelligent Auto Mode
Intelligent ISO
Quick Auto Focus
High-def video capture
The Leica 4x optical zoom lens is equivalent to a 25-100mm zoom on a 35mm camera. It has a maximum aperture of f/2.8 at 25mm and f/5.6 at the telephoto end of the zoom.
The new lens was designed specifically for the FX35 by Leica and features special aspherical lens elements to control distortion, a common problem with super-wide lenses. The lens is equipped with Panasonic's proven MEGA O.I.S. optical image stabilization which helps compensate for camera shake in low light or at full zoom. Image stabilization is an invaluable feature that helps ensure more sharp photos for all types of photographers.
The FX35 uses Panasonic's new Venus IV Processing Engine. Panasonic claims the new processor produces better quality photos and makes the camera significantly quicker. In Burst Mode the camera is capable of capturing up to 6 frames-per-second (at reduced resolution) and can capture 2.5 frames-per-second at the full 10-megapixel resolution. The FX35 also has a very fast reaction time with as little as 0.005 seconds of shutter-lag. No doubt the Venus IV Processing Engine also contributes to the FX35′s high-def Motion Picture Mode which can capture video at 1280×720 resolution and 30 frames-per-second.
Panasonic added a sophisticated new auto exposure mode called Intelligent Auto Mode to the FX35. It combines their Intelligent ISO, Quick AF, Intelligent Scene Selector, Face Detection, and Digital Red-Eye Correction technologies to automatically expose and capture better photos. Intelligent Scene Selector chooses from the camera's Scenery, Portrait, Macro, Night Portrait and Night Scenery modes to best match a scene's lighting and content. Face Detection, Quick AF, and Face Detection are all available options in the Normal picture mode and selected Scene modes. Quick AF continuously adjusts focus to minimize lag when the shutter is released. Intelligent ISO can bet set to ISO 400, 800, or 1600 and the camera will then make the best ISO choice within the set range.
The FX35 offers more auto focus settings than any other point-and-shoot camera I've used. There's the Quick AF feature I mentioned above and six other focus options including Face Detection, 9-Area-Focusing, 3-Area-Focusing (High speed), 1-Area-Focusing (High speed), 1-Area-Focusing, and Spot-Focusing.
For exposure, the Panasonic Lumix DMC-FX35 offers three main modes on the Mode Dial, the Intelligent Auto Mode I described above; Scene Mode, with 22 options including Sports, Party, Self Portrait, Hi-Speed Burst, Snow, and Underwater; and Normal Picture mode, which allows the most manual control. The2.5-inch LCD can display a grid and live histogram to help with composition and exposure.
Camera Menus
| | | |
| --- | --- | --- |
| Panasonic Lumix DMC-FX35 shooting display w. info & histogram | | Panasonic Lumix DMC-FX35 Playback w. info & histogram |
| Panasonic Lumix DMC-FX35 Scene Mode menu | | Panasonic Lumix DMC-FX35 main menu |
| Panasonic Lumix DMC-FX35 Q.Menu with auto focus options | | Panasonic Lumix DMC-FX35 exposure compensation control |

Design
Despite all the tools and technology inside it, the FX35 has a surprisingly small, sleek body. It will easily fit in a pants or shirt pocket and the brushed metal body feels pretty durable, although I'm pretty sure it would get dented if you tossed it in a tight pocket with your car keys. There are some raised spots on the back where your right thumb rests and the "Lumix" text on the front is raised to offer some grip. However,

the camera still feels slippery and I was always afraid I'd drop it. Using the supplied lanyard is definitely recommended.
The control layout is simple and intuitive and the manual is only necessary if you're digging into the camera's more sophisticated features. The FX35′s most commonly used controls are available via both dedicated buttons and the menu system. The Q.Menu button below the 4-way keypad gives quick access to important settings like white balance, ISO, auto focus, etc., depending on the shooting mode you're currently using.
Camera Experience
I was excited to test the Panasonic Lumix DMC-FX35 camera because of its super-wide angle Leica lens. I do a lot of solo hiking, biking, and skiing so I am an aficionado of the arm's-length self-portrait. Most point-and-shoot digital cameras don't have lenses wide enough for me to get both my face and the background when I'm on the ski lift. A couple of rare exceptions are the Nikon Coolpix 8400 and the Kodak EasyShare P880, which both have a 24mm equivalent on the wide end. But neither of those cameras will fit in your pocket. The FX35′s 25mm (35mm equivalent) lens absolutely has this covered – and then some. It's awesome. Leica has outdone themselves with the 4x DC Vario-Elmarit lens. Distortion is minimal and controlled and not distracting for most subjects. You do give up a little at the long end of the zoom for the 25mm wide end. But for me, it's a fair trade. For those who really want more on the telephoto end, Panasonic recently announced the Lumix DMC-FX500, which has the same 25mm wide end in a 5x zoom.
Super-wide 25mm Leica DC Vario-Elmarit 4x zoom lens & FX35 LCD and rear controls

The Lumix FX35′s exposure metering is very good. The LCD is decent, but my photos were consistently better than it led me to believe. We should never trust the LCD, anyway. For best exposure control, only trust the histogram – if your camera has one. And this one does. I generally set the display to show a composition grid and the excellent live histogram. But most of the time I didn't even need the histogram because the camera's exposure was right on. I like more control so I used the "Normal Picture Mode" most of the time. It let me control exposure compensation, white balance, auto focus, and burst mode via the Q.Menu button on the back of the camera. One push of the thumb and all those regularly used controls are right there. I also enjoyed the Intelligent ISO feature. I have a hard time trusting cameras to make the right decisions. But being able to limit auto ISO to a maximum of 400 and then not worry about it works for me. I know that ISO 400 image quality won't disappoint me and most of the time the FX35′s exposure metering actually kept the ISO lower than I expected.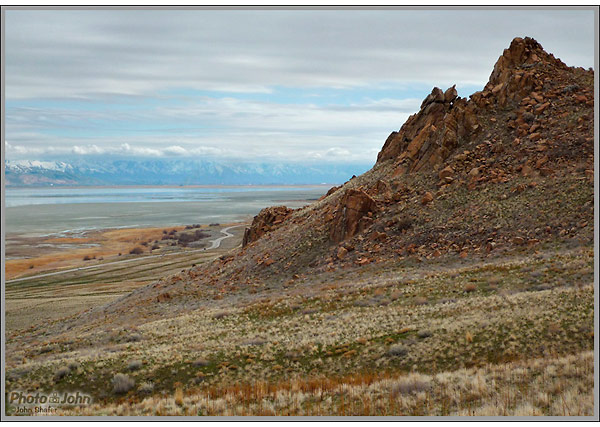 And although I like more control, I also played with the more automated exposure modes so I could report back. I tested the Snow Scene Mode and Intelligent Auto Mode. They both worked quite well. The Intelligent Auto Mode uses all kinds of technology (detailed in the Features section) to make better pictures simple and easy. And I was impressed with how well it works. I actually waited until I was writing the review to try it out. But if I had tried it earlier, I might have used it more. It really makes pure point-and-shoot photography look good.
I played quite a bit with the FX35′s different AF functions. I liked the combination of the FX35′s Quick AF and 3-Area-Focusing (High speed) for taking outdoor and candid photos. Quick AF isn't quite the predictive continuous auto focus I'm used to from shooting with DSLRs. You can't use it to track and capture a moving subject. But it does keep the camera on its toes and generally keeps it focusing quicker. The 3-Area-Focusing uses three focus points in a horizontal line across the frame and picks your most likely target. Generally, I'm a center point auto focus kind of guy. But I found that the 3-Area Focusing was usually quick enough and definitely more convenient. When it didn't cut the mustard, I'd switch to 1-Area-Focusing or Spot-Focusing for maximum precision. I also played with the Face Detection a bit, just to check it out. I've been very impressed with face detection systems with some other cameras. But I did not find the FX35′s Face Detection to be up-to-par. It did detect faces, but slowly, and somewhat unpredictably. If I owned this camera, I would not use the Face Detection auto focus. I also found that the FX35′s auto focus had trouble in low contrast situations like hazy horizons, flat light in the snow, and clouds. This is pretty normal auto focus behavior. But the FX35 was worse than most. More than once I tried a different point-and-shoot camera on a subject the FX35 was having trouble with, and usually the other camera focused with no problem.
The Lumix FX35 uses Panasonic's latest Venus IV processing, which controls auto focus, processing, and metering. A better processor should mean faster auto focus, a faster burst rate, and possibly better image quality. I didn't do any quantitative analysis. But the FX35 is quick and I never noticed any shutter-lag or felt like I missed a shot because the camera was too slow. Start-up was quick, and when it worked, auto focus was snappy and accurate. But as I mentioned, the FX35 auto focus had trouble sometimes, although I don't think those were processing issues.
Overall, my experience with the Lumix FX35 was very positive. I love the small size and the 25mm Leica lens is excellent. The only problem with the lens is that you have to give up some reach on the telephoto end. But I think that's a small price to pay for getting real wide-angle coverage. And with a 10-megapixel sensor, you've got some room to crop if you don't have quite the reach you want.
Image Quality
The most important elements of digital camera image quality are the sensor, the lens, and the image processing. I've already raved about the FX35′s Leica zoom lens. Contrast is good, images are sharp, and distortion is minimal – especially for such wide, point-and-shoot camera lens. And the Panasonic MEGA O.I.S. image stabilization further contributes to the overall image quality by keeping images sharp in low light and allowing the camera to use lower ISO settings.
With compact digital cameras that only capture JPEG image files, it's hard to tell the real image quality of the sensor. That's because we only see the images after the camera's processor adjusts color, contrast, saturation, noise, etc. And the FX35 does some pretty heavy adjustment. When I first looked closely at low ISO image files, I was dismayed at what I thought was excessive noise. However, after looking at more images from the camera, I realized it's not noise. It's actually some kind of processor-introduced pattern probably no doubt intended to minimize or mask digital noise. Unfortunately, the pointillist texture is as much or even more of a distraction than actual sensor noise. Small details appear mushy, smeared, and have a soft watercolor appearance. And faces and other subjects that should have smooth shades and blends are spoiled by this unpleasant texture. Check the ski portrait samples below for an example. Personally, I'd rather see the actual digital noise than have my photos compromised by a distracting pattern introduced by camera engineers. The pattern was even visible in ISO 100 8.5×11-inch prints.
Panasonic Lumix FX35 processing sample. Right detail is unedited 100% crop. – Click Photos to View Larger Samples
The Panasonic Lumix DMC-FX35′s exposure metering was excellent. And the easily accessible exposure compensation makes it easy to lighten or darken images if they aren't quite right. Generally, auto white balance was excellent – even in snow. However, in some photos with lots of sky the auto white balance choked and deliver an image a bit on the cool side. But overall, white balance and color from the FX35 were very good. And if I shot a little on the dark side to hold highlight details, I had tons of room for adjustment in Adobe Lightroom and Photoshop. I was very impressed with the dynamic range of the FX35 image files.
One thing that's happily missing from my FX35 photos is purple fringing. With previous Panasonic Lumix cameras, as well as many other digital cameras, purple fringing in contrasty areas (like tree limbs against a bright sky) was a pronounced problem. That's no longer the case. I looked very hard for purple fringing and other chromatic aberration in my FX35 photos and could find little to none. Thanks for that, Panasonic!
Click on thumbnails to view sample photos.
See All Panasonic Lumix DMC-FX35 Photos >>
Conclusion
The 25mm Leica 4x zoom lens on the Panasonic Lumix DMC-FX3 is the star of the show. I love this lens! And shooting with the FX35 is almost always a joy. It's quick, very compact, and rarely fails to capture images that don't look great. That is – until you print or look at the photos on your computer. And then I was always a little disappointed at the lack of detail and processing-introduced digital artifacting. Image quality is definitely the weak link in the FX35′s otherwise excellent features and performance. Auto focus also let me down on occasion. But that's something you can compensate for by changing technique or reshooting. With a compact camera that only captures JPEGs, there's not much you can do about image quality.
Overall, I think this is a great camera and I am honestly willing to trade a little image quality for great features and performance. And I wouldn't describe the FX35′s image quality as "bad." But the excellent image quality I've been seeing from other pocket-sized digital cameras makes the FX35′s image quality hard to swallow. The lens makes me want to love it and give it both thumbs up. But when I look at my final images I am often a little disappointed. On the other hand, as soon as I returned the camera I started to miss it. I am very conflicted about this camera! Please Panasonic – improve the image quality a bit so I can love the FX35!
Who Should Buy It
Photographers who shoot in tight spaces, shoot a lot of wide landscapes, or do a lot of group portraits will love the Panasonic Lumix DMC-FX35. The quick response and multiple auto focus options will please point-and-shoot action photographers, too. But photographers who are looking for a pocket-sized point-and-shoot digital camera to compliment their digital SLR will likely be disappointed.
- end -
Contents of the Panasonic Lumix DMC-FX35 Box

Panasonic Lumix DMC-FX35 Digital Camera
Battery Charger
Battery Pack
Battery Carrying Case
AV & USB Cables
Strap
CD-ROM
Other Resources:
Shop For Panasonic Lumix DMC-FX35 >>
Panasonic Lumix DMC-FX35 User Reviews >>
Write a Panasonic Lumix DMC-FX35 Review >>
Panasonic Lumix DMC-FX35 Camera Specs >>
Panasonic Lumix DMC-FX35 Sample Gallery >>
Panasonic Web site >>
Panasonic Lumix DMC-FX35 Camera Manual >>
All Digital Camera Pro Reviews >>
Digital Camera Buyer's Guide >>
All Digital Camera Sample Images >>
Photo-John Profile >>