Panasonic recently announced the new Lumix G6 interchangeable lens camera with built-in electronic viewfinder (EVF) and new integrated Wi-Fi for easier sharing. Designed for beginning to advanced photographers, the 16-megapixel full-HD video G6 is Panasonic's 5th generation G-Series Micro Four Thirds camera.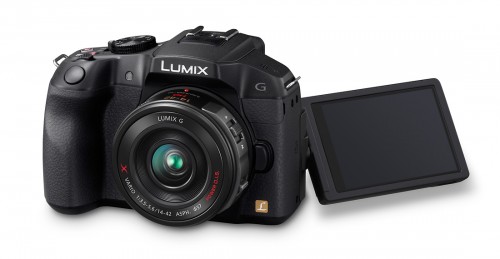 The original Panasonic G1, introduced in 2008, was the very first non-SLR, interchangeable lens digital camera – or what we now call a "mirrorless" camera. Although the Panasonic Lumix G6 looks very similar to the original 12-megapixel G1, performance has improved remarkably since 2008. The G6 has a 16-megapixel Live MOS sensor and a new Venus Engine for sensitivity all the way up to ISO 25,600. It can also capture 1920 x 1080 full HD video at 60 frames per second – the G1 had no video capability at all. The G6 now has a touchscreen display as well as a seriously improved electronic viewfinder. The G1's EVF was arguably its biggest liability, with only passable image quality and a slow refresh rate that made it nearly impossible to use for action photos. Electronic viewfinders have improved enough now that I actually prefer them to optical viewfinders and I have no doubt the G6's new 1.4-million-dot OLED EVF is excellent. Add built-in Wi-Fi so you can use a Smart Phone or tablet for sharing and remote camera control and it's like we're living in the future or something!
Panasonic Luix G6 Key Features and Specs:
16.05-megapixel Four Thirds format Digital Live MOS sensor (2x crop factor)
Micro Four Thirds lens mount
1920 x 1080 full HD video at 60 frames per second
Built-in Wi-Fi with NFC (Near Field Communication)
1.4-million-dot electronic viewfinder (EVF)
3-inch 1 million-dot tilt-swivel LCD display
Sensitivity: ISO 160 to 12800, expandable to ISO 25,600
P,A,S,M shooting modes
RAW, RAW + JPEG
Intelligent Auto Plus Mode
7 frames per second high-speed burst (9 frame limit)
New Clear Retouch in-camera retouching
Built-in pop-up flash
Flash hot shoe
Mirrorless cameras have been more popular than DSLRs for a couple of years in Asia and they're starting to gain traction in the West now, too. Panasonic's top-of-the-line GH-Series cameras have been especially popular with filmmakers because of their excellent video performance, small form factor and relative affordability. The new G6 offers most of that performance in an even smaller, less expensive package. It's also quite competitive when compared to similarly priced DSLRs. It has a full range of shooting modes, including PASM manual modes. For less experienced photographers, it has Panasonic's Intelligent Auto Plus mode, which automatically analyzes a scene and selects from high-tech features like AF Tracking, Intelligent Scene Selector, Face Recognition and Intelligent ISO Control in order to deliver good quality regardless of the subject or conditions. Panasonic has even integrated a cool new editing feature called Clear Retouch. It allows you to remove things from your images by simply tracing them on the touchscreen LCD display. I am really curious to see Clear Retouch in action because normally that's something that has to be done on the computer with post-processing software and even then it can be pretty difficult.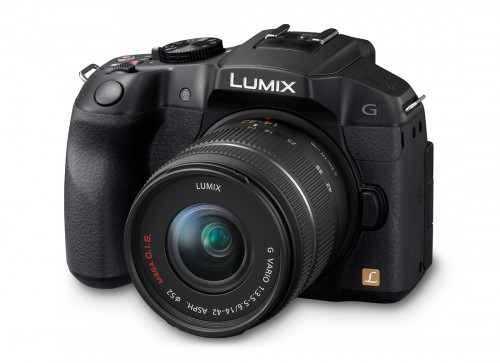 Built-in Wi-Fi is one of the more exciting developments with digital cameras right now and it's one of the things that sets the G6 apart from most comparable DSLRs and mirrorless cameras. It's not the only camera with built-in Wi-Fi – wireless connectivity is actually becoming a popular feature in point-and-shoots now. But it's still relatively rare for interchangeable lens cameras. The obvious benefit is that you can wirelessly transfer photos and videos from the camera to your Smart Phone or tablet so you can share from almost anywhere. You don't even need a wireless network – the camera creates its own. One of the new built-in Wi-Fi options is the ability to use your Smart Phone or tablet as a remote control – including being able to use your mobile device as a monitor to see what the camera is seeing. Think about that one for a minute – imagine the possibilities. The G6's Wi-Fi also includes NFC (Near Field Communication) technology, which allows you communicate by simply touching the camera to compatible mobile devices.
Panasonic hasn't announced a price or ship date for the G6 yet. However, based on past Panasonic G-Series pricing, I expect the G6 will cost somewhere between US $600 and $800. I'll update this page as soon as more information is available.
Panasonic Lumix G6 Press Release >>
Related Content:
All Panasonic Digital Camera User Reviews
All Compact System Camera User Reviews
Compact System Cameras Forum
More Compact System Cameras News & Articles
More Panasonic Camera News & Articles
Panasonic Digital Cameras Web Site