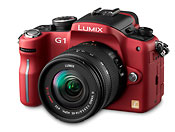 At the beginning of August, Panasonic and Olympus made a joint announcement about Micro Four Thirds, a brand new camera standard. The goal of the new camera format is a smaller, lighter camera with changeable lenses, built around the Four Thirds digital SLR sensor. The smaller camera size is achieved by eliminating the mirror system used in all SLRs. I'm always interested in smaller, lighter pro-level camera gear that's easy to travel with and I've been anxiously waiting to see the first Micro Four Thirds camera. On Friday, Panasonic introduced the first – the Lumix DMC-G1.

The 12.1-megapixel Panasonic Lumix DMC-G1 weighs less than a pound (0.85 lbs / 386 g), and by eliminating the SLR mirror system the body size has been considerably reduced. The camera dimensions are approximately 4.9 inches x 3.3 inches x 1.8 inches (124mm x 84mm x 45mm). Although the Panasonic press release says it's half the size of a current DSLR, they're comparing it to their Lumix DMC-L10. Compared to the world's smallest DSLR, the Olympus E-420, it's one third smaller and a few grams heavier. (Olympus E-420 body-only weight is 380 g / dimensions: 129.5mm x 91mm x 53mm) Given that the Micro Four Thirds lenses are also smaller and lighter, that should make for an exceptionally light and compact camera.
When the Micro Four Thirds format was announced (Micro Four Thirds announcement article), my biggest concern was the viewfinder system. Since the mirror is being eliminated, I was worried the camera might only have an LCD display. Thankfully, that is not the case. The G1 has a high resolution (1.44 million dot equivalent) Live View Finder EVF (electronic viewfinder). Performance of the EVF is yet to be seen, but it's definitely the right choice for this camera. Shooting any kind of action with only an LCD is pretty much impossible. EVFs have had a bad rap because of poor resolution and slow refresh rates, making it hard to accurately time photos or track action. But If the resolution and refresh rate are good enough, this could mark the beginning of professional level EVF viewfinders.
Besides the EVF, the Panasonic Lumix G1 has a fully-articulated 3-inch LCD display (180 degrees horizontally and 270 degrees vertically). Photographers stepping up from a compact digital camera will be able to compose and shoot with the LCD as they would with point-and-shoot digital cameras. The tilt/swivel LCD will be particularly useful for outdoor macro photos (i.e., flowers and bugs) and tabletop studio photography, making it easier to compose and focus when shooting at awkward angles.
Along with the G1, Panasonic also announced two Micro Four Thirds lenses – the Lumix G VARIO 14-45mm/F3.5-5.6 ASPH/MEGA O.I.S kit lens and the Lumix G VARIO 45-200mm/F4.0-5.6/MEGA O.I.S.lens. Both lenses include Panasonic's MEGA O.I.S. optical image stabilization system. Normal Four Thirds lenses from Olympus, Leica, and Sigma can also be mounted on the G1 with an optional adapter.
The camera also includes some of Panasonic's latest innovative technology like Intelligent ISO, Intelligent Scene Selector, new Venus Engine HD image processing, and Quick AF. The Panasonic Lumix DMC-G1 will be available in mid-November. Prices for the camera body, kit, and lenses haven't been announced yet but should be published by the middle of October.
The Micro Four Thirds cameras may be the perfect compromise between point-and-shoot and DSLR cameras, making it possible to get pro-quality performance and image quality without the weight and bulk of a digital SLR. They'll be a great option for people currently considering superzoom digital cameras like the Panasonic Lumix DMC-FZ50 or the Canon PowerShot S5 IS as well as an interesting alternative to premium compact cameras like Canon's PowerShot G9 or Panasonic's recently announced LX3. Outdoor and travel photographers like myself who need to pack small and light but don't want to compromise on performance should also be interested in the G1 and the Micro Four Thirds system. Olympus should also be making a Micro Four Thirds camera announcement soon – hopefully at Photokina, next week. It will be interesting to see how their first Micro Four Thirds camera differs from the Panasonic G1.
Panasonic Lumix DMC-G1 Press Release >>
Related Content:
Original Micro Four Thirds Announcement Article
Panasonic Digital SLR User Reviews
All Panasonic User Reviews
Four Thirds Cameras Forum
Digital SLR Forum
More Panasonic News And Articles
Panasonic Cameras Web Site