Panasonic Lumix ZS10 Camera Experience

Panasonic sent me a ZS10 to review a few months ago. It's over 1000 pictures later and I've taken it hiking and mountain biking, used it for lots of family and food snapshots, and taken it traveling – most notably on my honeymoon in Europe. I absolutely love having a camera with this kind of zoom range that fits in my pocket or a small pouch on the shoulder strap of my backpack. The 24mm wide end of the lens means you can get good coverage in tight situations like an elevator, airplane or boat and the telephoto end of the zoom has crazy reach that allows me to shoot angles in the mountains that I could never get with a shorter lens. Take a look at the three sample photos below to get an idea of the full range of the 24-384mm Leica zoom lens.

The ZS10 also has a 10 frames-per-second burst mode, which is great for action photos and faster than most other pocket superzoom cameras. I just pre-focus where I want my photo, shoot a short burst and pick the photo with the best timing. It's time-consuming but you can also layer your burst photos into sequences like the one below. [burst sample] This is the same way I'd do a professional shoot for a magazine. The ZS10 can't match the quality of my digital SLRs, of course. But the no-penalty size means I have the camera with me all the time so I'm always ready for a photo opportunity. And even if I have a bigger, "better" camera with me, pulling out the ZS10 is usually faster and means I don't miss the shot. Sometimes accessibility is more important than ultimate quality.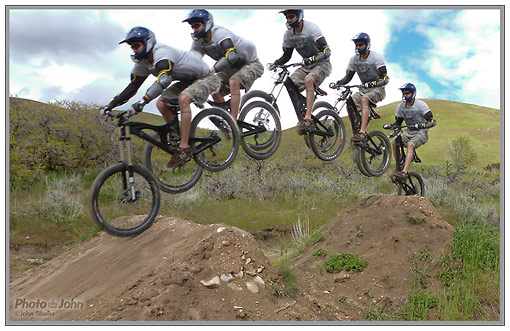 Besides the huge zoom, the most interesting features on the ZS10 are the touchscreen LCD display and the built-in GPS. The video intro in this review (see below) includes a touchscreen LCD demo where I show the Touch Shutter and Touch Auto Focus features in action. They're very impressive and work very well. But in the end, I found using the touchscreen to take pictures didn't work well for me. When I used Touch Shutter I'd always moved the camera a bit, messing up my composition. Maybe I'm just old fashioned but using the shutter release button to lock focus and take pictures is more stable, predictable and works just fine. If it ain't broke, why fix it? I did find the Touch Auto Focus useful when I wanted precise focus point selection. It's nice to be able to compose and then touch your subject on the screen to focus exactly where you want. Ultimately, I think the coolest thing about the touchscreen display is being able to browse photos and videos by "swiping," just like I do with my iPhone.
The built-in GPS is pretty cool and it's starting to become a common feature in more advanced compact cameras. Some of you are probably wondering why you'd want GPS in a camera. This isn't like the GPS unit you have in your car to give you directions. The GPS in the ZS10 saves your coordinates with your photos so that you can search and share photo by location. If you use an online photo sharing service you may have noticed a map with links to photos. That's what the GPS in the camera is for. Important tip – turn off the GPS when you're at home so people can't use photos you post online to find out where you live.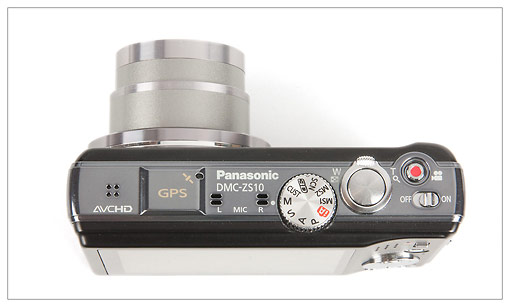 Recording full HD video with the ZS10 is as easy as pushing the red dedicated video button on top of the camera. You can do it no matter what mode you're in and you can even take a picture while you're recording video. The zoom lens works in video mode as well; something wasn't possible with most compact cameras until about a year ago. The AVCHD movie format is a good one. It compresses the video files more so that you can get more on your memory card and it's also supposed to conserve power so your batteries will last longer.
One of the things that got me interested in the ZS10 is it has full manual exposure controls (aperture and shutter speed) as well as aperture priority, shutter priority, program and a bunch of scene modes. It also has Panasonic's excellent Intelligent Auto mode (iA), which evaluates what's in the frame and chooses the most appropriate scene mode for the conditions. The iA mode works a lot better than you might expect and has even surprised a few experienced photographers, including yours truly. I ended up using aperture priority most of the time because it's quick and offers the best of both the manual and auto exposure. It's great that the ZS10 has so many shooting mode options to fit the needs of all kinds of photographers. There really is something for everyone, for every subject and every situation.
Next – Panasonic Lumix ZS10 Image Quality >>


Panasonic Lumix ZS10 Review Navigation