Pentax has announced the K-50, an update to last year's 16-megapixel, weatherproof K-30 APS-C digital SLR. For the most part, the Pentax K-50 is the same as the K-30. The main differences are, the K50's max sensitivity has been increased one stop to ISO 51,200, the body styling has been updated, and Pentax is introducing a new customizable body color program with over 120 color combinations. They're also offering an even more affordable, non-weatherproof version, the K-500.


Pentax K-50 DSLR Key Features And Specs:
16.3-megapixel APS-C CMOS sensor
1920 x 1080 full HD video recording
Sensitivity: ISO 100-51,200
In-camera SR (Shake Reduction) image stabilization
11-point SAFOX IXi+ auto focus system with 9 cross-type sensors and subject tracking
3-inch 921k-dot LCD display
100% viewfinder
Eye-Fi wireless SD card compatibility
81 weather seals
Dual exposure adjustment dials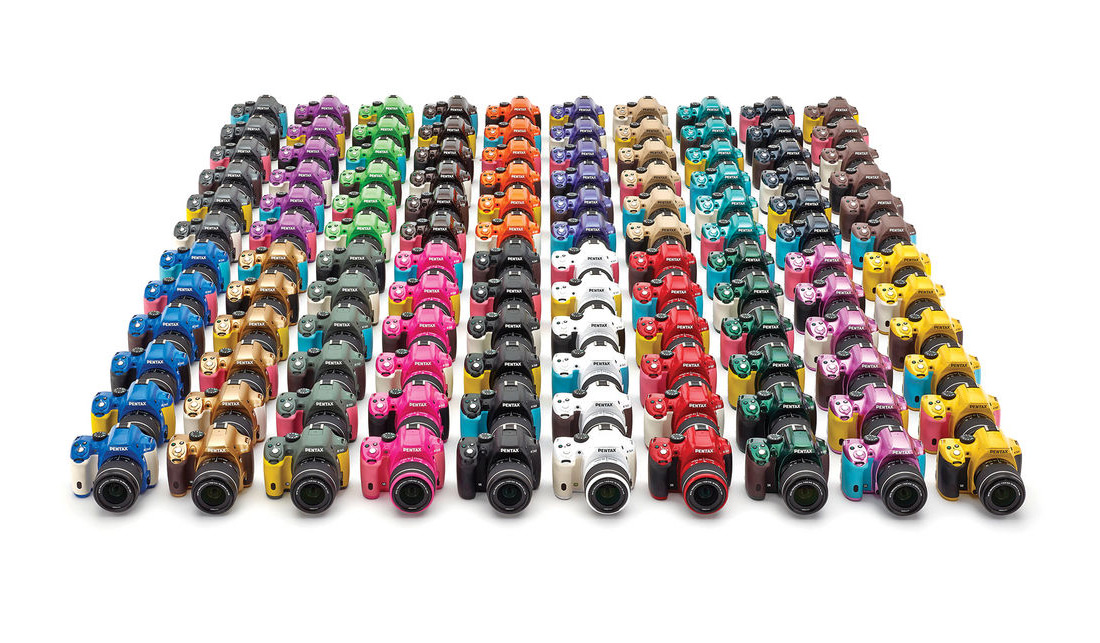 There's no denying Pentax is an underdog at the moment. However, they've made a place for themselves in the ultra-competitive DSLR market by building APS-C sensor cameras that give photographers more for their money – weatherproof bodies, unique shooting modes, built-in sensor-shift image stabilization, and backwards compatibility with all K-mount lenses. For $779 with a weatherproof 18-55mm kit lens, the K-50 is hard to beat. It has a proven 16-megapixel APS-C CMOS sensor, an 11-point auto focus system, full HD video, a fast burst rate of 6 frames per second, and it's the only camera in its class with separate aperture and shutter speed adjustment dials. Photographers looking for higher-end performance at a low price – especially outdoor photographers – should take a close look at the K-50. I used the K-30 a bit last year and I really enjoyed it – especially the image quality.
The Pentax K-50 is scheduled to be available next month (July, 2013), along with two new weather-sealed zoom lenses, the DA-L 18-55mm f/3.5-5.6AL WR, and the DA-L 50-200 f/4-5.6ED WR. The suggested retail price for the K-50 body alone is US $699.95. It will also be sold with the new DA-L 18-55mm WR weather-sealed lens for $779.95; or in a two lens kit with both the DA-L 18-55mm WR and the DA-L 50-200mm WR weatherproof zooms for just $879.95. If the K-50 is still out of your price range, there's also the new Pentax K-500, which is basically the same as the K-50, sans weather sealing. The Pentax K-500 will sell for $599.95 with the DA-L 18-55mm lens (non-weather-sealed) and $699.95 with the DA-L 18-55mm and DA-L 50-200mm zoom lenses.
Related Content:
All Pentax Camera User Reviews
Pentax Cameras Forum
Digital SLRs Forum
Pentax Camera News And Articles
Pentax Cameras Web Page