Pentax – or should I say, Ricoh – just announced a hell of a new APS-C DSLR. It's not the full-frame camera that the rumor mills have been pumping. But it's a big deal, nonetheless. The brand new Pentax K-3 has the features and specs to put it squarely at the front of the crop sensor prosumer DSLR category; and it's a perfect example of how Pentax almost always gives you more than anyone else. The K-3 has a 24-megapixel APS-C CMOS sensor with a proprietary selectable anti-aliasing filter, new PRIME III imaging engine, and sensitivity to ISO 51,200. It has built-in 5-axis sensor-shift image stabilization that works with any lens, a super-fast 8.3 FPS burst rate, a new 27-point auto focus system, and full HD 60i video with a headphone input and adjustable audio levels. It's even dust and weatherproof. And did I mention beautiful? There's a special Premium Silver Edition K-3 that I think is the best-looking DSLR I've ever seen. Aesthetics isn't something that usually comes into play with digital SLRs. But the Pentax K-3 Silver Edition is a damn sexy camera.


Pentax K-3 DSLR Key Features And Specs:
24-megapixel (23.4 effective) APS-C CMOS sensor
Proprietary selectable anti-aliasing filter (simulator)
New PRIME III imaging engine
Sensitivity: ISO 100-51,200
New 27-point SAFOX11 auto focus system with 25 cross-type sensors
86,000 pixel RGB metering system with improved algorithms
8.3 FPS burst rate
1920 x 1080 60i full HD H.264 video recording
Headphone input
Stereo mic input
Manual audio levels control
Built-in 4k intervalometer
5-axis in-camera SR (Shake Reduction) image stabilization
3.2-inch 1.04-million-dot LCD display
Dual SD memory card slots
"Nearly" 100% viewfinder
200k-rated shutter
Dust and weatherproof
Magnesium alloy body
We're going to do something different with the Pentax K-3 camera announcement. Rather than me telling you about the new features and comparing it to the competition, I'm going to let someone else tell you about it. That person is professional photographer, Tom Sparks, a longtime, dedicated Pentax shooter (www.sparky.cc). Here's what he has to say about the new Pentax K-3:
I've been shooting with Pentax cameras since the fall of 1981. As a high school graduate I bought a K1000 35mm SLR, which I still own and shoot with. I was still using that camera in 2008 when I decided to go digital and purchased my first DSLR, the Pentax K10D. I loved that camera. It's my backup body now and soon to be my daughter's camera. About 3 years ago I bought a Pentax K7 and I've been lusting after and saving up for a K5 II. I mostly photograph people. I build portfolios for models, I shoot family portraits and weddings, and I shoot the occasional soccer game. I also teach workshops for photographers in Salt Lake City and teach models how to build their careers. Other than the fact that I have a full-time job for 9 months of the year I consider myself a full-time, semi-pro photographer.
Moving on to the new Pentax K-3 DSLR: there's lots of cool new stuff here. The K3 has a lot more resolution (24 megapixels vs. 16 megapixels), more frames per second, more AF points, dual card slots, better video, etc. There's really too much to talk about in short form, but here goes. I like the increased resolution, but it's not really that important to me. The 14-megapixel sensor in my K7 is working fine for me in my portrait business. I'm most excited about the dual card slots and the improved auto focus system. I've found the 11-point AF system in my K7D to be limiting and slow and I'm betting I'll be very happy with the new 27-point system. It has 25 extra-sensitive cross-type points and three dedicated low-light points, all of which should add up to faster and more accurate. Dual memory card slots is also a biggie for me. The weakest link in my data-preservation chain is having only one copy of an image until I can remove the card and back it up. Being able to write two copies of an image the moment it's shot is a big deal for me.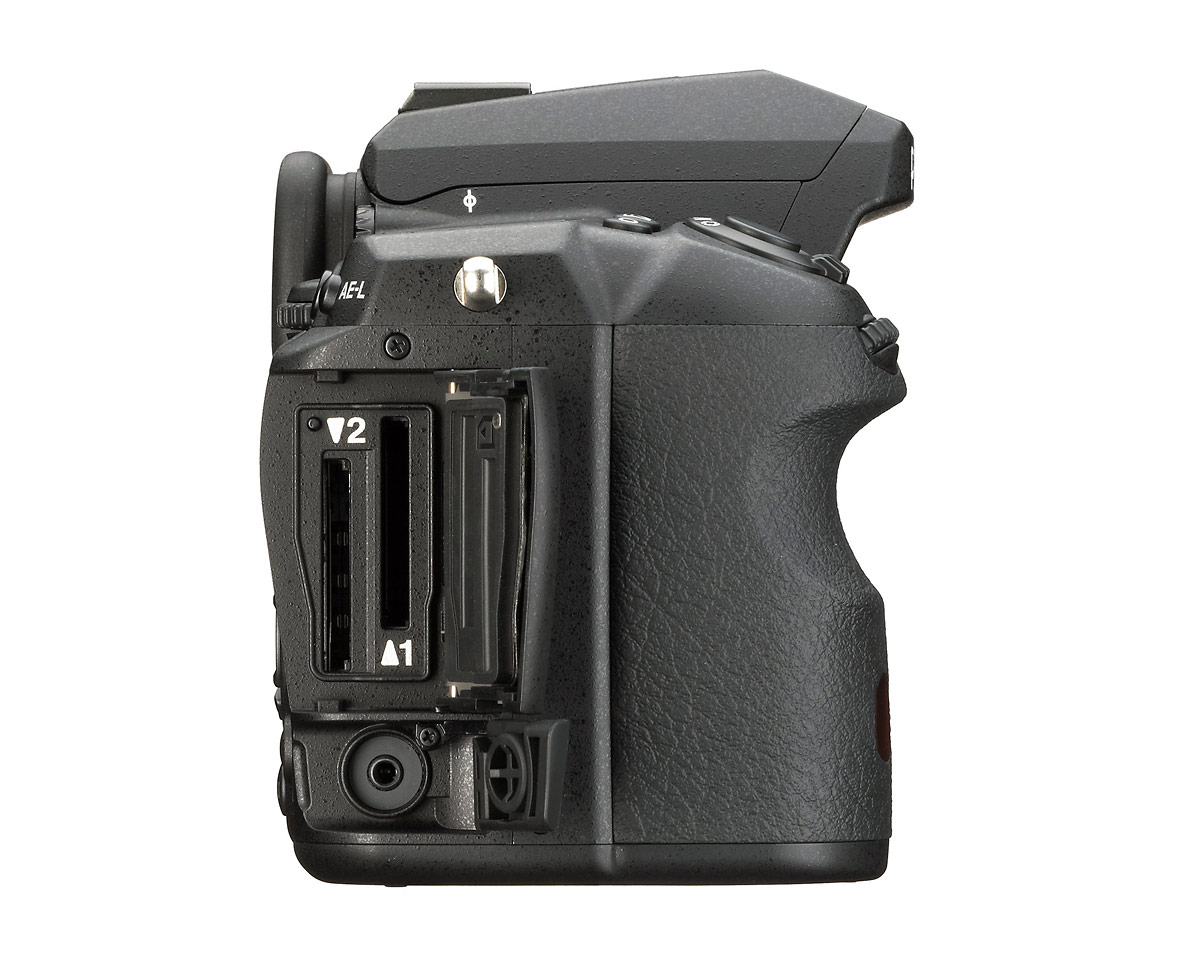 The faster burst rate also matters to me, since I occasionally shoot soccer and being able to shoot at 8.3 FPS for 60 JPEG or 23 RAW frames will help me get the killer instant of impact or perfect facial expression. I'm also looking forward to doing more with video. Having full manual controls for video, along with audio in and out will really help as I move more into short video production. The new FLU SDHC memory card, which gives the camera wireless connectivity, will be very welcome at studio shoots with clients. I'll be able to wirelessly share full-size previews on a big screen for art directors or even models.
The main disappointment I have with the K-3 is the slow 1/160th second flash sync speed. I don't complain about this much, but come on Pentax, isn't it about time we had a pro-level sync speed of 1/250th second?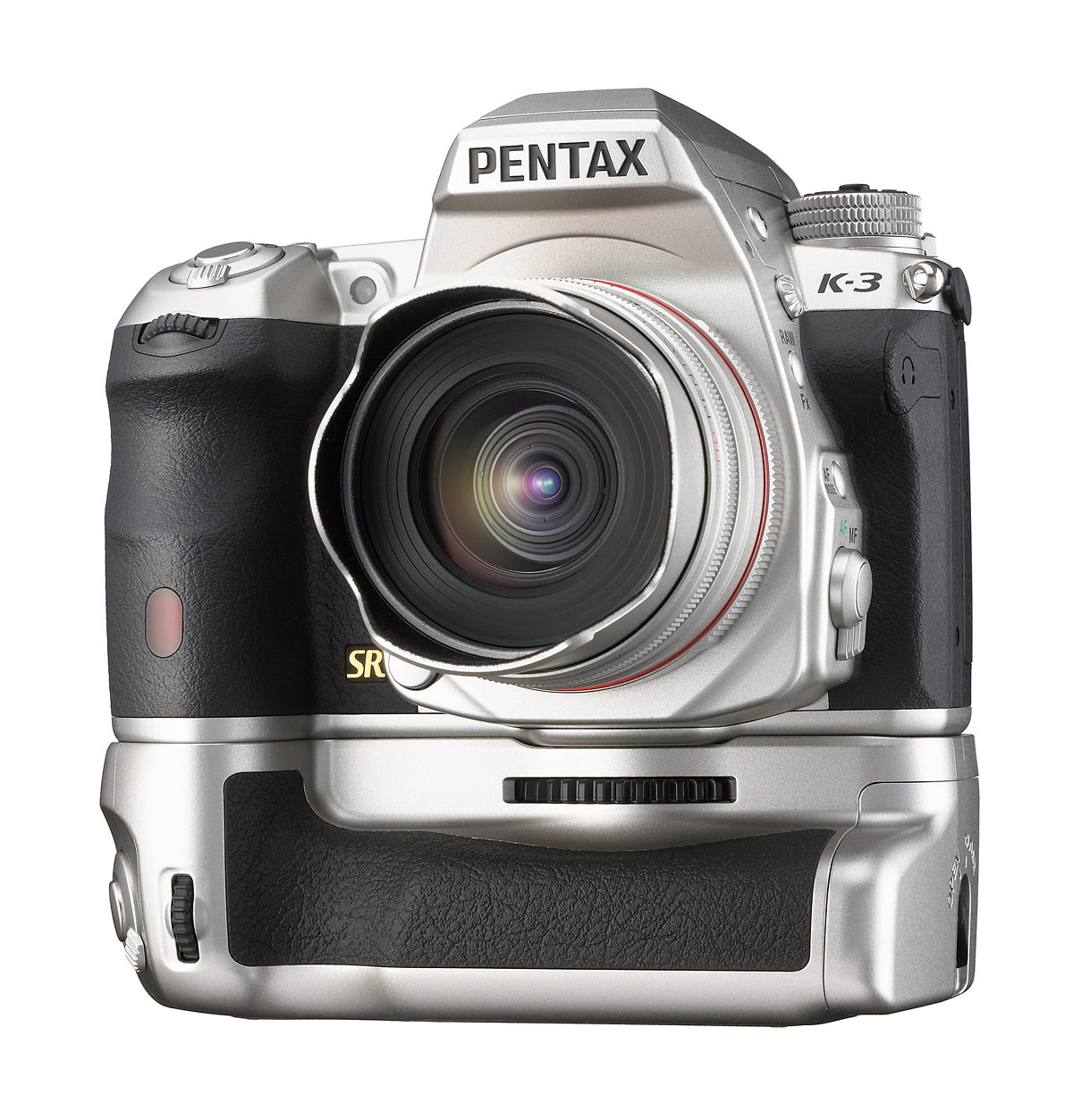 There's one final thing I want to say about the K-3. I like style and I want my camera gear to make people take notice. So I will definitely be buying the Pentax K-3 Premium Silver Edition. It won't take better pictures. But if it starts one additional conversation that leads to a job, it's worth the extra $70.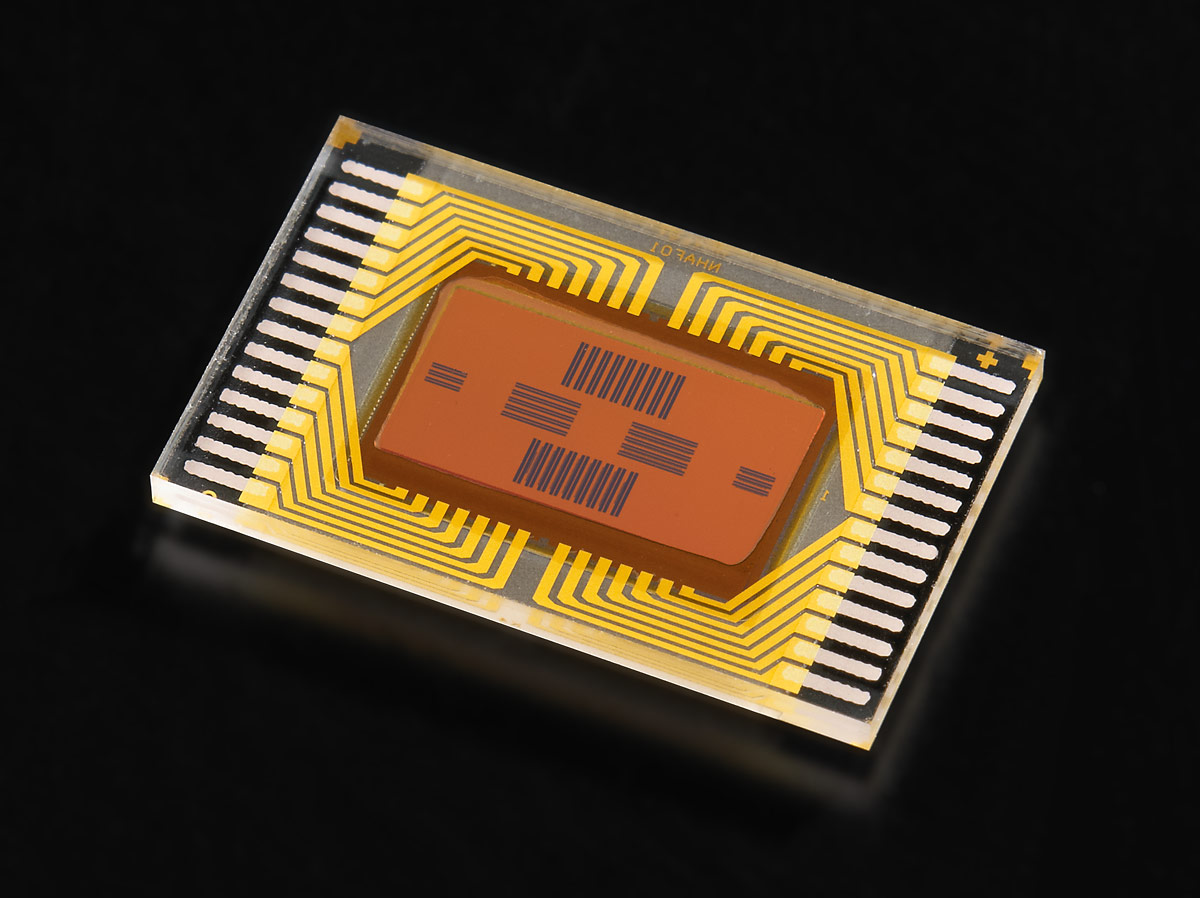 Thanks to Tom Sparks for giving us a Pentax shooters point-of-view on the new K-3 digital SLR. My very first 35mm SLR was also a Pentax – a Program Plus my dad gave me when I graduated from high school way back in 1985. As a result, I've always had a soft spot for Pentax cameras. I was really impressed with the features, specs, build and image quality of the Pentax K-30, the last Pentax DSLR I got to spend some time with. But I was disappointed with the poor continuous auto focus performance. So for me, the most important update in the K-3 is the brand new SAFOX11 auto focus system (see photo of new AF array, above), which Pentax says will have "high-accuracy auto-focusing during the shooting of fast-moving subjects."
I'm also very interested in the new 24-megapixel CMOS sensor (below). Recent Pentax DSLRs have had excellent sensors sourced from Sony, as have Nikon APS-C sensor DSLRs. The Nikon D7100, announced early this year (read our Nikon D7100 review), could very well be using a Nikon-spec'd version of the same sensor. And right now, the D7100 has the best image quality I've seen from any APS-C sensor camera. Between that and the K-3's "anti-aliasing simulator," which makes it the first camera where you can turn the AA filter on and off, I'm very, very curious to see what kind of image quality the K-3 produces. Tom Sparks says he doesn't really care about the increased resolution. But if the sensor is as good as I think it might be, then he's going to be very, very happy.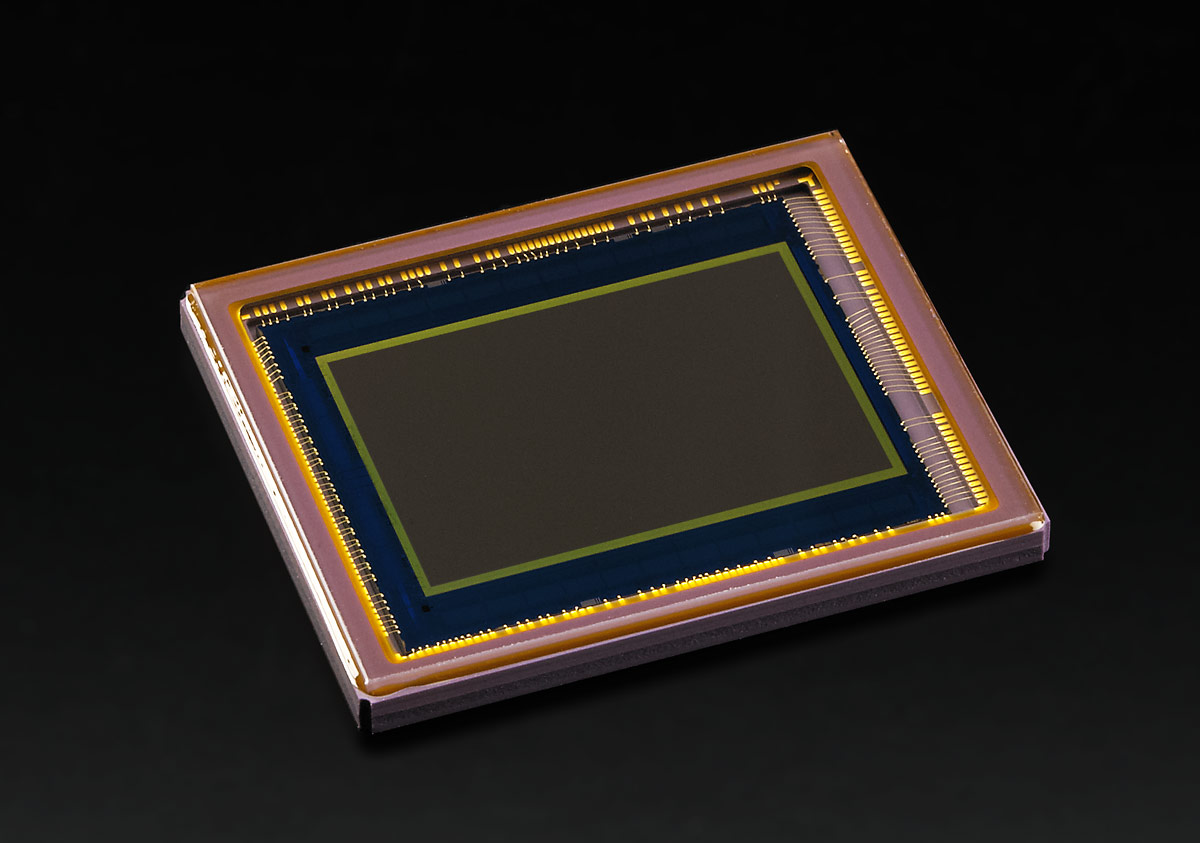 To put the K-3 in context – the sensor looks competitive with the best cameras in its class, the 8.3 FPS burst is faster than most of the competition, built-in image stabilization means you get sharper photos no matter what lens you use, and the video is pretty much up to par with other APS-C DSLRs. It is missing three important features – built-in Wi-Fi, continuous auot focus for video, and an articulated LCD display. Pentax has attempted to address the lack of built-in Wi-Fi with their FLU SDHC wireless memory card, though. It's not the same as built-in Wi-Fi but it shows they know it's an important feature. The real unknown, in my opinion, remains the auto focus. If the new auto focus system delivers, then the K-3 could end up being one of the best APS-C DSLRs of 2013. And as far as sexy goes, it has no competition.
Besides the K-3 DSLR body, Pentax also announced a new HD Pentax-DA 55-300mm f/4-5.8ED WR weather-proof telephoto zoom, and the FLU SDHC wireless memory card that Tom mentioned. The K-3 body, the 55-300mm zoom and FLU wireless memory card are all scheduled to be available in November (2013). The body-only price for the Pentax K-3 is US $1,299.95. The limited edition K-3 Premium Silver Edition, of which only 2000 will be made, will sell for $1,599.95. That price includes a special strap and matching silver battery grip. The K-3 will also be available packaged with the versatile DA 18-135mm f/3.5-5.6 WR zoom lens. That kit will sell for $1,699.95. The new HD Pentax-DA 55-300mm f/4-5.8ED WR zoom lens has a list price of $449.95. The 16 GB Pentax FLU SDHC wireless memory card has suggested retail price of $99.95.
Thanks to professional photographer and Pentax user Tom Sparks, for taking the time to share his thoughts on the new Pentax K-3. To see Tom's photography, please visit his Web site, www.sparky.cc.


Related Content:
All Pentax Camera User Reviews
Pentax Cameras Forum
Digital SLRs Forum
Pentax Camera News & Articles
Pentax Cameras Web Page