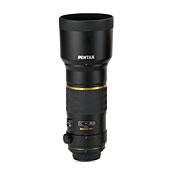 Like everyone else, we spend the majority of our time and attention on Nikon and Canon camera gear. But there's a lot of other great photography equipment out there. So here's an excellent review for something different. The Pentax SMC DA* 300mm f/4 SDM telephoto lens is compact, light and weather-sealed, making it a great lens for outdoor photographers who want an easy to carry lens with a lot of reach. Pentax makes great digital SLRs and lenses and anyone shopping for their first DSLR would do well to take a close look at the Pentax system before they spend their money. If you own Pentax camera gear, please write reviews for your camera and lenses – your reviews are the foundation of this site!
---
Featured Review: Pentax SMC DA* 300mm f/4 ED (IF) SDM Lens
by Scott (Intermediate)
Price Paid: $1100.00
Review Date: December 1, 2010
Used product for: 3 Months to 1 year

Overall Rating: 5 of 5
Value Rating: 4 of 5

Summary:
I have pictures and such in my blog article on this lens: http://photographybanzai.com/2010/11/24/lens-review-pentax-da-300mm-f4-sdm/
Strengths:
What I like about the lens:
- While I have not scientifically tested the lens, I feel that it is sharp enough from it's widest aperture and have never found an image that was was not good enough due to optical quality.
- It follows the tradition of Pentax rendering with vivid contrast. This lens is also very strong at controlling chromatic aberrations such as purple fringing.
- Seems very good at controlling flare, but I almost always use the lens hood.
- The bokeh can be beautiful (at times), especially in combination with a sharp subject producing a strong 3D effect.
- The lens seems bright throughout the whole frame event at the widest aperture (it is a full frame lens by design and has been confirmed "good enough" on pentaxforums.com with film cameras).
- The construction is top notch and one of the best lenses I've personally owned.
- SDM is quiet in focusing compared to screw-drive lenses.
- Quick-shift focus with a nice feature to have.
- Topnotch weather sealing.
- Small and light for it's abilities relative to similar lenses.
- The lens is very versatile considering how long the focal length is, which is partly due to the short minimum focusing distance.
- I can easily hand-hold this lens and pan-focus on moving subjects.
- The lens is still very sharp and usable with a 1.5x Kenko teleconverter.
Weaknesses:
What I'm not too fond of:
- Maximum aperture of f4 is challenging at times with my K-7 because I like to keep the ISO low, but I'm not sure how much having f2.8 would really help…
- The lens isn't cheap hovering around $1100, but good lenses hold value well.
- Pentax SDM hasn't had the best track record, but my lens has been problem free. I did have two instances when I first got the lens where I needed to slightly rotate the screwdrive screw on the camera body after seeing that the lens locked up of sorts when I tried to auto-focus. For whatever reason the screw-drive connection wasn't complete and held up the SDM from functioning. I'm guessing the screw drive connection in the lens was just a bit stiff initially (especially since the screw-drive bit isn't used but on the oldest of camera bodies).
- Focus isn't "lightning fast" with the K-7 and K10D, but it works fine. I think the K-5 might be better in this regard.
- Not specific to this lens as I have not had SDM issues, but I feel Pentax should allow users to select either SDM or screw-drive focus mode in the camera body. I have a feeling the lens would be faster in screwdrive mode as well.
- Bokeh can be wavy depending on the scene and conditions, which is most likely due to having sharper more contrast-y background blur or possibly just a property of the glass elements in how they handle the light and how you are facing a close background. I always use a lens filter, so I can't say if it's caused by that or just a property of the lens design.
Similar Products Used:
Tamron AF 75-300mm f/4.0-5.6 LD



Related Content:
All Pentax User Reviews
All Digital SLR User Reviews
Pentax Cameras Forum
Digital SLRs Forum
All Featured User Reviews
All Pentax Camera News & Articles
Pentax Web Site