Phoxle makes two unique products to help you manage your white balance: SpectraSnap white balance filters and flash-matching filters. The SpectraSnap filters even come in a pocket-camera size. A variety of white balance products exist out there from ExpoDiscs to grey cards to do-it-yourself Pringles cans and gels with velcro. If you're wondering what makes Phoxle's offerings different or if you're wondering, "why is this so much better than AWB?" read on. Trust me, it's more than just saving you time in Photoshop.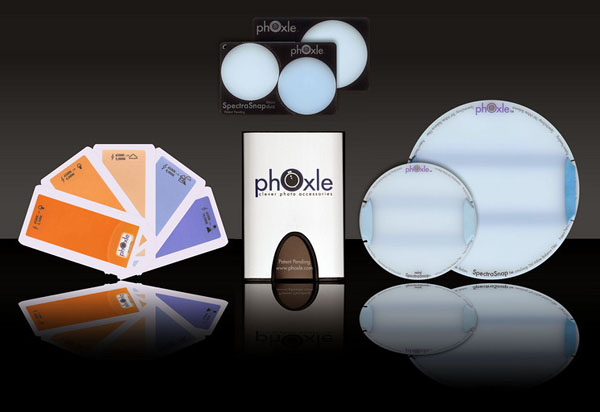 SpectraSnap White Balance Filters
There are three basic choices for setting the white balance for a photo: use one of your camera's settings (e.g. AWB, tungsten), place a gray card in the scene, or use a lens-mounted white balance filter. We've all seen our camera's white balance get it wrong, which can be really bad if you're not shooting RAW. AWB in particular is wildly inconsistent and can cost a lot of time in post-processing. Gray cards also have a major disadvantage: sports photographers like myself can have trouble placing the gray card where it needs to be.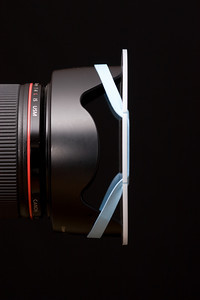 I find the lens-mounted filters preferable as you just have to be able to point your camera at your light source. The ExpoDisc is the king of this market, winning praise for its accuracy and the ease of slipping it over the end of your lens, but it comes at a steep price: around $100 per lens diameter. It also has it inconveniences: you have to take off your lens hood to use it and carry a separate ExpoDisc per lens diameter. I was delighted, then, to hear about Phoxle's SpectraSnap white balance filter products. It maintains the ease of use of lens-mounted filters but eliminates my two major complaints: one size fits all of your lenses and it works with lens hoods. At $59.95, it's a lot cheaper as well.
The original SpectraSnap filter is a 120mm white disc that attaches to the lens with a rubber band. The rubber band sounds cheap, but after much use of the product I honestly couldn't think of anything else as versatile or effective. It attached easily to the lens hoods of my Canon 70-200mm f/2.8 and 16-35mm f/2.8 II lenses. You're free to use it without the rubber band, in which case you have to hold it with your free hand. Using the SpectraSnap filter is very easy: attach the filter to your lens, point your camera at the light source you wish to balance against, take a photo, and then use your camera's custom white balance settings to do the rest.
Phoxle recently expanded the SpectraSnap line to offer two new sizes: the SpectraSnap Mini, which is a smaller and less expensive 80mm disc for those that don't need or want 120mm and the SpectraSnap Micro, which is a credit-card-sized filter designed to work with pocket-sized cameras like the Canon ELPH series. There are also warming filter options in each of the product sizes now, including the innovative SpecraSnap Micro Duo, which has both a neutral and warming filter.
Flash Matching Filters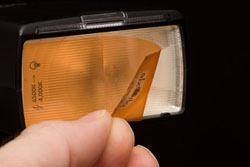 Correcting the color of a flash is often a do-it-yourself art. Many photographers order swatch books from Roscoe or LEE and then use a variety of methods — velcro, paper clips, gaffer tape — to affix the gel to the end of the flash. This DIY option can be inexpensive, but also inconvenient. Phoxle makes a booklet of flash matching filters that are designed to stick of the end of your flash. You simply peel the filter out of the booklet, stick it over the end of your flash, and shoot. The filters are the exact same height as my Canon 580EX II flash head and slightly wider with a pull tab for easy removal. There's no sticky residue, so you needn't worry about damaging your equipment.
The booklet contains five gels — 3,100K, 4,000K, 5,000K, 8,000K and 10,000K — that give you several warming (CTO) and cooling (CTB) options. This leaves you well supplied if you're trying to match an ambient light source or even contrast against it, and the gels are even labeled with color temperature and illustrative icons. Unfortunately there are no green filters for matching fluorescent lighting.
next page – Phoxle SpectraSnap and Flash Matching Filters Experience >>