Ahead of the Consumer Electronics Show in Las Vegas January 8-11, 2013, Samsung launched their NX300 to the press in New York City today. The latest in the NX series of compact, mirrorless digital cameras with interchangeable lenses, the NX300 updated the lightweight camera with a 3.3-inch AMOLED flip-up view screen from a 3-inch display on the NX200. For former film camera shooters, gone is the USB slot below the hot shoe for a digital viewfinder, but it does retain a button to trip the shutter in addition to touchscreen focus and exposure options. Additionally, a button on the front of the camera activates i-Depth which allows depth-of-field preview and manipulation on-screen. While the NX300 stays at 20.3 megapixels like the NX200, the Samsung-developed DRIMe IV imaging engine improves image quality and auto focus speed has been improved with hybrid phase and contrast detection, and a top ISO of 25600.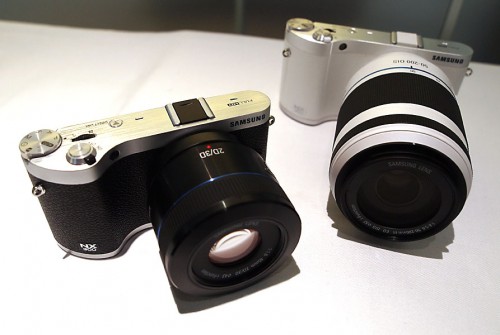 Samsung NX300 Key Features And Specs:
20.3-megapixel APS-C CMOS sensor
Samsung DRIMe IV imaging engine
Sensitivity range: ISO 100 to 25,600
New Hybrid Auto Focus system combines contrast detect and phase detect AF
8.6 frames per second high-speed burst
1920 x 1080 full HD video at 6 frames per second
3.3-inch (84mm) tilting AMOLED touchscreen display
Built in Wi-Fi connectivity and Samsung SMART CAMERA App for iOS and Android
SMART Camera 2.0 controls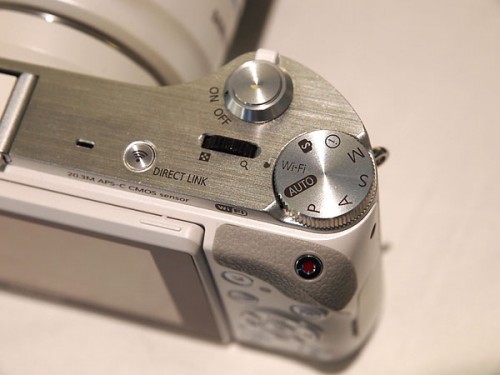 One of the more innovative selling points of the NX series is the dual-band 5G Wi-Fi capabilities (see Wi-Fi on mode dial, above). Touted as a "smart camera," apps for Android and iOS smartphones can be downloaded that will instantly allow you to upload your photos directly to social media such as Facebook using the Direct-Link hotkey, interface with your smartphone to send photos or use the phone as a remote viewfinder, cloud backups, and automatically be notified of system software updates. Using "Smart Mode," the user can select a setting such as Creative Shot that will capture images in HD or Action Freeze, a dynamic sport mode. Simultaneously launched with the NX300 was a 45mm 2D/3D lens, facilitating 3D still images as well as 3D 1080p HD video.
Hands-on with the NX300, the first thing I noticed was the simple ease of the user interface. Logical and intuitive, I was able to quickly move through the options and figure out how to change settings without the use of the camera manual. The AMOLED display appeared clear and vivid without any drag when moving between subjects, but I couldn't check the actual output because at this point, image files were not made available as the camera is still pre-production. The auto focus reacted fairly quickly to my touch when using the 50-200mm lens, and slightly faster with the 45mm and other shorter lenses. Toggling between modes is achieved using a traditional knob on the top of the camera. The NX300 was very lightweight in comparison to my traditional DSLR – specified at 280 grams without a battery – but since we all use cameras with batteries, lenses and SD cards, it's a bit heavier than that. It's a nice-looking black camera with classic matte silver metallic trim, or, white with metallic if you prefer.
There are currently twelve lenses available for the NX system cameras, four flashes and even a boom mic that attaches to the hot shoe. The NX300 will be bundled with a 20-50mm kit lens, Adobe Lightroom DVD and retail for $749.99 with March 2013 availability. The 45mm 2D/3D lens will be sold separately for $599.
Related Content:
All Samsung Camera User Reviews
Digital Cameras Forum
All Samsung Camera News & Articles
Samsung Digital Cameras Web Site