Sigma has an updated version of their compact, all purpose 18-250mm OS superzoom lens for APS-C digital SLRs. The new Sigma 18-250mm F3.5-6.3 DC Macro OS HSM zoom has a closer minimum focus distance for better close-up photos; and thanks to a new lens barrel material called Thermally Stable Composite (TSC) they were able to make the new lens significantly smaller and lighter than the previous, non-macro lens.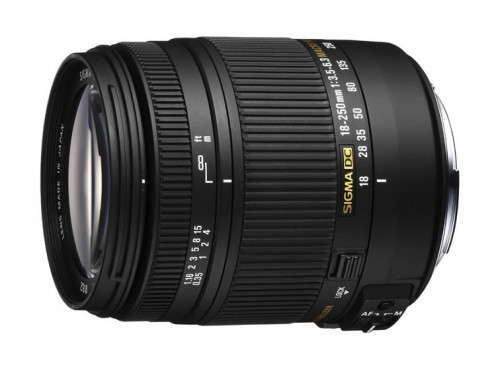 I love 18-200mm zoom lenses for all-purpose outdoor and travel lenses. Last year I had a chance to take a quick, hands-on look at Sigma's non-macro 18-250 at the annual PhotoPlus tradeshow in New York (Sigma 18-200mm And 18-250mm – Great All Purpose Zoom Lenses). It's a compact, inexpensive alternative to owning multiple zoom lenses and it gives you a little more than an 18-200mm lens for a little less money. The new 18-250mm F3.5-6.3 DC Macro OS HSM is half an inch shorter, just under a quarter inch smaller in diameter and it weighs just over a pound – that's almost half a pound lighter than the previous version. It's hard to say how the optics compare without using both lenses but the new TSC material used in the lens barrel is more stable in varying temperatures, which should mean more accurate focus and sharper photos in all kinds of conditions.
The "Macro" in the new lens name indicates it has a shorter minimum focus distance and better reproduction ratio than the previous, non-macro lens. With the new lens you can focus as close as 13.8 inches with a reproduction ratio of 1:2.9. With the previous lens you could only get as close as 17.7 inches with a reproduction ratio of 1:3.4. That 13.8-inch minimum focus distance is also better than the Nikon 18-200mm VR II, the Canon 18-200mm IS and Sigma's own 18-200mm II DC OS HSM zoom lens. So if you want a bit more reach and you love taking close-up photos, the Sigma 18-250mm F3.5-6.3 DC Macro OS HSM zoom looks like a great new lens option – especially for outdoor and travel photographers who want a light, compact DSLR kit that allows them to take close-up photos of flowers, food, and other details.
The Sigma 18-250mm F3.5-6.3 DC Macro OS HSM is scheduled to be available next month – July, 2012. The price hasn't been announced yet but based on the price of the non-macro 18-250mm and the 18-200mm Sigma lenses, I expect the street price will end up being somewhere between US $450 and $500.
Sigma 18-250mm DC Macro OS HSM Press Release >>

Related Content:
All Sigma Lens User Reviews
Discuss Sigma Lenses (DSLR forum)
All Sigma News And Articles
All Lens News And Articles
Sigma Web Site