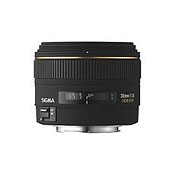 The Sigma 30mm f/1.4 was the first lens designed to give crop-sensor digital SLR users the look and performance of a classic 50mm lens. The 30mm focal length is effectively converted to approximately 50mm (depending on the camera) on an APS-C sensor DSLR (Nikon D60 or D90; Canon XSi/450D, T1i/500D, EOS 50D, etc.). The large f/1.4 aperture is great for low-light shooting as well as portraits and other types of photography where a shallow depth-of-field is desirable. We're featuring bhobg's Sigma 30mm f/1.4 review because the lens deserves more attention and this review covers the benefits of the lens well.
Reviews by community members are the foundation of PhotographyREVIEW.com. Please share your experience by writing reviews for your cameras and lenses. You don't have to be an expert – everyone's opinion counts.
---
Featured Review: Sigma 30mm f/1.4 EX DC HSM Prime Lens
by bhobg (Intermediate)
Price Paid: $0.00
Review Date: August 17, 2009
Used product for: 3 Months to 1 year

Overall Rating: 5 of 5
Value Rating: 4 of 5

Summary:
I bought this lens about 8 months ago and it is almost always on my camera. Perfect for shooting snapshots, parties, concerts, portraits, and even indoor sports. I use it to shoot basketball and you get great undergoal shots like this:
http://www.flickr.com/photos/bhobg/3804830340/
That bright f/1.4 is really fantastic.
I like this lens a lot but when I got it, Nikon had not yet released its 35mm f/1.8 AF-S. I might have sprung for that if it were available since its significantly cheaper.
Strengths:
Terrific sharpness, especially at f/4 down. Very good for parties in dark places with flash. Bright f/1.4 aperture allows you to shoot in some nasty light.
I've dropped this thing from a height of about 3 feet and it still works perfectly.
Weaknesses:
Backfocuses more often than I'd like, but when you nail the focus, it's brilliant. The thing is also heavy but I'm used to it.
There's also lost of barrel distortion, unlike the Nikon 50mm f/1.8 but that's to be expected.
It isn't cheap. I got mine for about US$400. But f/1.4 has never been affordable.
Similar Products Used:
Nikon 50mm f/1.8, Nikon 28mm f/2.8, Nikon 85mm f/1.8
Related Content:
All Sigma Prime Lens User Reviews
All Sigma Camera And Lens User Reviews
Digital SLR Forum
All Featured User Reviews
All Sigma News & Articles
Sigma Photo Web Site