Sony Alpha SLT-A55 Camera Experience

My first impression of the A55 was excellent. I took it out for a sunset photo session in temperatures well below freezing. Unlike my fingers, the camera didn't misbehave in the cold and the built-in sensor-shift image stabilization worked great as the sun went down and I tried to milk the last bits of light. I got great photos that evening and couldn't wait to use it again.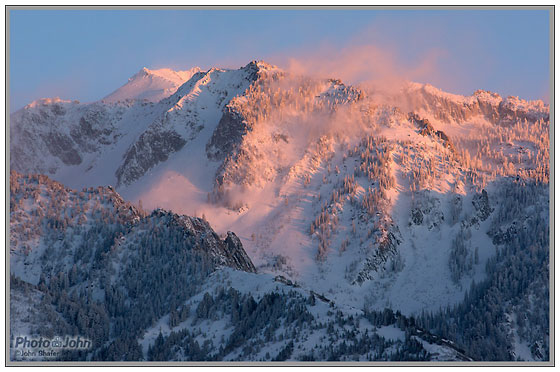 There are a whole bunch of reasons to be excited about the A55 but as an outdoor sports photographer its small size and speedy performance specs really caught my attention. The size and weight did not disappoint. Compared to the digital SLRs I usually use (Canon EOS 7D, Nikon D7000, Canon EOS-1D Mk IV, Nikon D3s) it looks and feels like a toy. But size isn't as important as performance, right ladies? My main concerns were whether the shooting speed was as good in the field as it is on paper, and if the auto focus was up to the task of shooting fast action.
Using an electronic viewfinder is weird if you're used to a traditional SLR. It definitely doesn't give as clear and natural a view as an optical viewfinder. However, it does have its benefits and I've found I adapt quickly when I use camera with an EVF. The main benefit of the EVF is it can display all the same things the LCD can. You can even review photos and videos and I especially like being able to see the histogram display in the viewfinder (more about the histogram display). However, there's a dark side to the EVF – literally. Most electronic viewfinders black out after a shot making it very difficult to pan while shooting in burst mode, which I do a lot shooting skiers and cyclists. The first couple of times I shot high-speed action bursts with the A55 I was caught off-guard by the blackout. After some experimentation I discovered the A55 only blacks out after you stop shooting. As long as you hold the shutter release down you can see just fine. But if you pause you have to wait for the camera to save and refocus, pretty much blowing your chances for any more photos.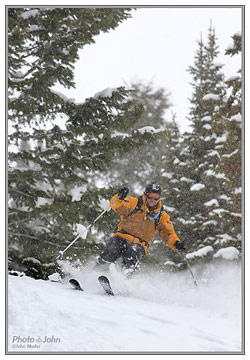 The Sony A55′s 15-point auto focus is quick and accurate and the continuous AF tracks moving subjects very well. The only problems I had were with the coverage of the auto focus points and trying to focus on snow. The fifteen AF points are arranged in the middle of the frame and I would have liked wider coverage for focusing on subjects closer to the edge of the frame. Focusing on snow? Well, to be fair, trying to focus on snow is one of the hardest things you can ask of a camera. The A55 costs a lot less than the prosumer Nikon and Canon cameras I've also been using so I don't want to judge it too harshly. But I did miss some ski photos because I wasn't able to pre-focus where I wanted. However, when I had something to focus on besides plain white snow, the camera did great. And the continuous auto focus in movie mode rocks! It walks all over the Nikon D7000 video auto focus, which has hard time tracking moving subjects and can't really keep up if there's any speed involved. The A55, on the other hand, stayed focused on fast skiers and snowboarders with no apparent trouble. I was really impressed.
Although the A55 didn't turn out to be the compact, inexpensive action camera I hoped, it's still very capable and I got some great ski and snowboard photos with it. To be fair, I am pushing it harder than most photographers will and most definitely harder than Sony intended. I expect it will actually outperform most photographers' expectations. I offer this arty snowboard pan sequence of fellow action photographer Patrick Branch as proof.

For the more casual photographers considering the Sony Alpha A55 as a family camera, a travel camera or as a step up from a compact – you won't be disappointed. For landscapes, people photos, still life and snapshot photography the performance and image quality are excellent. My only issues are at the extreme end of the performance spectrum. Unless you're a professional photographer used to cameras that cost hundreds or even thousands of dollars more, I'm confident the A55 will surprise and delight you.
Next – Sony Alpha SLT-A55 Image Quality >>


Sony Alpha SLT-A55 Review Navigation